This is a placeholder text
Group text

by Rik on 07 July 2018 - 00:07
jm, on page 73 of the post linked above, Fred Lanting gives a pretty good answer to your question.



by Jessejones on 07 July 2018 - 01:07
Yes, the withers should always be the highest point. The rounded part (upside-down boomerang) you are describing on some sl dogs comes after the withers/shoulderblades and the level thoracic vertebras (which are not very flexible at all) leading into a downward kyphotic curve in the lumbar vertebras (which are flexible) followed by a steep-ish croup. This creates a lower rear-end and more angulation. AIUI.

by Hundmutter on 07 July 2018 - 05:07
However, where the dog has too exagerated a 'bow' over the actual Back section of spine, the
withers are unlikely to look as though they are set high; they tend to be a flatter wither in such dogs, else you get a very steep & obvious entry to the point where Neck becomes Withers. And/or another where it joins the Back.  And that can make the dog look more obviously 'wrong', because it gets a topline like a roller-coaster.
Perfect illustration: see photo of winning dog in podium photo on the above-mentioned 'page 73' !!!

And a word of caution - there is often a premium in some minds about having a high, pronounced wither. Well that's fine to an extent, especially in a 'stallion' male. The Standard just calls for the wither to be 'well defined'; but it also calls for a 'smooth,unbroken, flowing line' along the whole upperline of the dog's spine. If you look at the photo collections [rather than current ads for pups and studs] you won't see many 'too pronounced' withers, in either the early dogs or the best / show-winning animals of subsequent generations (regardless of type, how 'flat' backed or longer-cast they are).

The other effect of a very high wither is to make the dog look too deep all through that section of the body, sometimes giving a depth of chest that is illusary.
Balance and moderation in all things !

by ggturner on 09 July 2018 - 13:07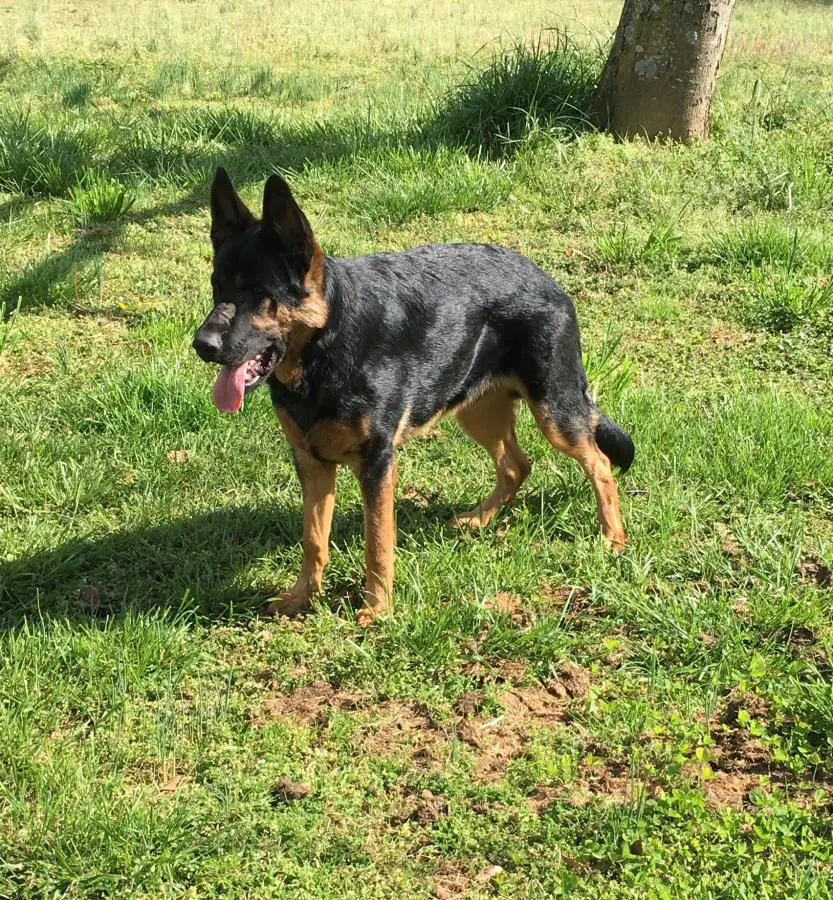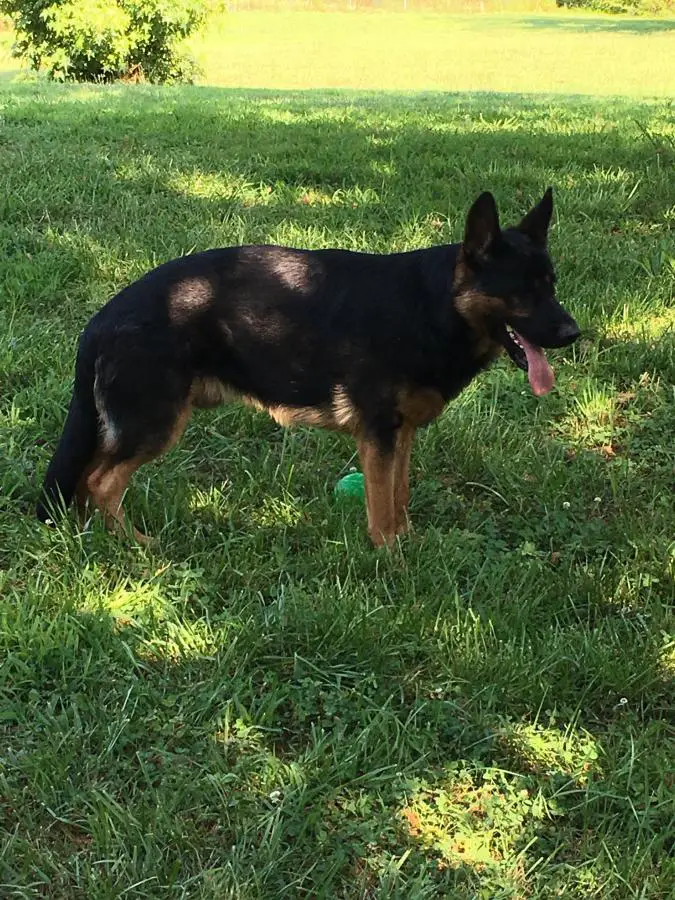 My male turns one later this
month.  He is 26 inches tall at his withers and weighs 86 pounds. Very fast and agile.  In the video I took the
other day, he is the faster dog (slower dog is a female that turns 8 next months with an arthritic elbow). Pictures show him standing still in natural poses. 

by Hundmutter on 09 July 2018 - 18:07
Note to Les P. who is lurking and keeps e mailing me:

In referring to the "bow" over the back I was merely trying to use similar terminology to the OP who asks:
"eg you see a dog whose back looks like a(n) upside down boomerang ..." In order that we are visually 'on the same page'.

You ought to know by now that I do not myself use such illustrative terms for a raised topline, nor do I rely on "banana", "carp", "roach" or "wheel". I think I have already set out clearly where the Back proper is, and ought to be thought of.
Perhaps you should read more than the last entry on any thred, before you start shouting.

Not that I deny there has been a problem in many modern dogs. (I cite, again, that Australian winner.)

by mrdarcy on 10 July 2018 - 20:07
Who is the above post aimed at Hundmutter?

by Hundmutter on 11 July 2018 - 16:07
Only way I can communicate with Les 'The Kiwi' Pauling, as he says admins will not allow his 'unbanning' from PDB.
Have told him if he can give you appropriate assurances then you will allow him back, as I understand matters - but he'd rather 'lurk' and keep sending me critical e mails. He cannot of course use PM system while he cannot post on PDB. He won't accept e mail from me as he cannot get on with the e mail server / software I want to use. I have told him I am not a mouthpiece for his views, neither do I think I should 'correct' what I write according to his instructions - but he keeps sending to me. I am now going to block his e mails. This was a one-off, last ditch communication with him, partly deliberately to draw attention to the fact that if he wants to get back on PDB, he has to ask you; and agree to whatever you want in terms of the way he posts.

by Western Rider on 11 July 2018 - 18:07
Hundmutter I know there is a joke here somewhere in your post,  right?
---
---
Contact information
Disclaimer
Privacy Statement
Copyright Information
Terms of Service
Cookie policy
↑ Back to top