by Swarnendu on 28 December 2017 - 10:12
DDR...Protection dog, by any chance is this breeder known as Shawn or Mith? We have read about some EXCELLENT (!!) training ideas of agitating dogs from puppyhood without confidence building here.
by joanro on 28 December 2017 - 13:12

OP: "Just got her in five days ago and she is scared of my husband and other people. Will run out the doggie door when anyone goes in dog room to see her. If you go out in the yard with her and turn her loose she just keeps circling you with hackles up. She will be six months old the end of this week. Has had no lead work done...I have done some and she's good with me but freaks around men; also scared of new women approaching her. High energy level. * Real disappointment for a future protection dog*."


*if this pup could speak, she might say she is 'real disappointed in what she thought was going to be her new home.'. ...'home' instead of 'dog room' with doggie door, which translates to ' in and out kennel.'

Bring her into the house, get her out of the kennel and let her acclimate before you pronounce her a shitter.

by Hundmutter on 28 December 2017 - 14:12
Joan has a point, certainly; even if this pup was raised to a kennel only, taking her indoors would do no harm in helping her adjust better to human company.

Swarn, Mithuna is in no position to be breeding & selling as far as I can work out from what he told us about his living circumstances on here (town house, urban NYC); who knows about Shawnicus but there is still doubt he even HAD a dog, let alone a breeding pair or facilities to broker. Besides which neither is all that likely to trade in dogs using their PDB username, huh? There is more evil out there selling 'DDR' breeding than just those two goons who are obsessed with it ...

by Sunsilver on 28 December 2017 - 15:12
There is more evil out there selling 'DDR' breeding than just those two goons who are obsessed with it ...

Very true! I remember a certain member who had DDR as part of her user name. She seemed very knowledgeable about the DDR dogs. Meanwhile she and her dogs and her elderly mother or mother-in-law were living in absolute squalor, and she was eventually arrested for abusing both the dogs and the mother!



by Hundmutter on 30 December 2017 - 18:12
I do not think the OP is going to come back to this thred; since she is implicated as one of those breeders who had been cited in the posts about people claiming to be selling "genuine DDR breeding" right up to the present, she must be aware that the blood she was buying with this dog was no more guaranteed to be all East German Bloc border guarding dogs without external influence from WGSL etc, than a fly in the air. And if she has been breeding GSDs (DDR or not) for 40 years she must also be familiar with the occasional unexplained appearence of something unwanted in them. That's life. Some of what has been said on this thred about what she can do next is so stunningly obvious; but whether she will do it, FOR THE PUPPY, is something we may never find out. She is clearly most interested in getting something negative said about what dogs are being produced by whoever she bought this one from ( I think ValK is right) - despite what she claims.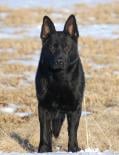 by Jenni78 on 30 December 2017 - 20:12
No, she started a new one, Hund.

by Hundmutter on 30 December 2017 - 22:12
So I see, Jenn !
by Doddlebug50 on 31 December 2017 - 16:12
We still have not gotten a response from Alexander Sosnovsky (STASI German shepherds) about the airport this dog arrived into the US from and never got any airline paperwork or international health certificate. The transporter, a woman by the name of Tina (had a Michigan cell phone number) kept calling with different arrival times (one was 3 or 4 in the morning)...she finally arrived in small rental car and our dog was in a crate sitting on top of other broken down crates. She said she made several deliveries. She even kept the crate. Dog smelled like feces and was thin under her heavy coat. We have groomed her up and been giving her a premium puppy food and she is going "through the groceries".

Dog is still scared of people, and yes, at this point, I agree this is genetic softness. I plan to offer her for sale for reasonable price today to someone who wants to work with her. Alexander offered me to return her but we would lose $1300 in shipping plus another $1300 return shipping plus crate to get her back to him ($2600 plus in shipping vs $3300 dog). Since he is supposed to be a working dog kennel he obviously knew the problems with this dog. To date she has destroyed three kennel panels and screams if you leave her in an outside run. I have a 100 year old mother in law in bad health and we have to fly to NC frequently and I cannot board this dog out due to her insecurities. As a kennel I need the shipping receipts on this dog as we do kennel taxes and I have nothing but a passport book.
by Doddlebug50 on 31 December 2017 - 16:12
You can always tell when the "Liberals" get on here to make comments...never anything constructive :)

by Hundmutter on 31 December 2017 - 18:12
Wouldn't call Joanro a 'liberal'.
Don't consider it 'non-constructive' to suggest taking the puppy indoors, either. But I can see you might find it difficult with your ailing ma-in-law.
Reckon (all of) Jenni's advice to you on your second thred was spot-on.
---
---
Contact information
Disclaimer
Privacy Statement
Copyright Information
Terms of Service
Cookie policy
↑ Back to top