This is a placeholder text
Group text
by cyberdan30 on 11 August 2022 - 21:08
would like to get a female dog with the dog Cordon An-Sat in her lines if this is still even still possible and any input on this dog would be appreciated or if someone knows of similar type of dog/lines input on them or breeders' with this type of dog would be good too. looking for civil style dog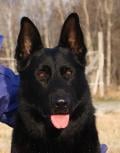 by arra on 12 August 2022 - 16:08
by Mike Delaney on 22 August 2022 - 15:08
by duke1965 on 23 August 2022 - 02:08
to have a name on a pedigree doesnot guarantee that you will get that type of dogs from breeding to it, you have to look at the actual dogs you are breeding with first,
@ Mike Delaney , Gall was a real nice dog, great looker, but not a Tom or Cordon typical dog in caracter/work
by Mike Delaney on 23 August 2022 - 09:08
Thanks Duke-
Anytime someone is posting about pedigrees or individual dogs I always hope you'll chime in. Most folks in the US-myself included-just know the dog's names, see that they get used a lot or a little, and maybe know some trial results or scores. We don't have the benefit of actually knowing some of these dogs. Seeing them work, or better yet seeing them in training.

Sometimes when you chime in we get some honest insight into a particular dog.

Thanks,
Mike
by duke1965 on 24 August 2022 - 09:08
Thanks , unfortunately cant allways say much LOL, i have been getting violent threats for being honest sometimes

by Rik on 24 August 2022 - 21:08
Mike, we come from 2 polar opposites in the GSD world.

I don't want to cause duke to get the Russian flu, but this dog he sent me is the best I have in 40 years.

and if anyone doubts who I am, I'll post my first AKC/CKC Champions with some very famous people in the Am. S/L community today. they changed the Am. GSD but they can't change I didn't agree with it. It's all on record.

I never do dogs for money, my first partners have lived all their lives and become wealthy creating this mess.

Rick Atchley

 
ETA: it's not the dog's fault. it's these shitz people who only breed GSD for money, never read and don't understand and don't care what VS created this breed for.
Rick Atchley (Rik)
by Pirschgang on 25 August 2022 - 13:08
Hey Rik,

Do you have a pedigree of the dog duke sent you?
Would be really cool to see!
by gsilas on 25 August 2022 - 15:08
This dog is the sire to one of mine. The puppy I imported recently also goes back to Cordon.

https://www.pedigreedatabase.com/german_shepherd_dog/dog.html?id=2519729-cerberus-aus-dem-tal?_v=20200204004956

by weberhaus on 26 August 2022 - 11:08
I have a Tom grandson and granddaughter at Weberhaus German shepherds
Banshee Thorax
To-se-tan's Caeser
---
---
Contact information
Disclaimer
Privacy Statement
Copyright Information
Terms of Service
Cookie policy
↑ Back to top