German Shepherd Dog > X Rays and your thoughts (11 replies)
X Rays and your thoughts
by
Bellowood
on 03 August 2012 - 03:25
I'm new here and I can't figure out how to attach a picture. Heck, I don't even know if the computer will tell me if someone responded! Ha! I just had my girl's XRays done and just curious to your opinions and the wait to hear back from OFA will be HARD!! LOL

Thank you
Kim
xbellowoodx@yahoo.com

by
Western Rider
on 03 August 2012 - 05:43
In the upper left corner you will see a section called Tutorials. That will give you step by step instructions.
Good luck

by
Bellowood
on 03 August 2012 - 23:12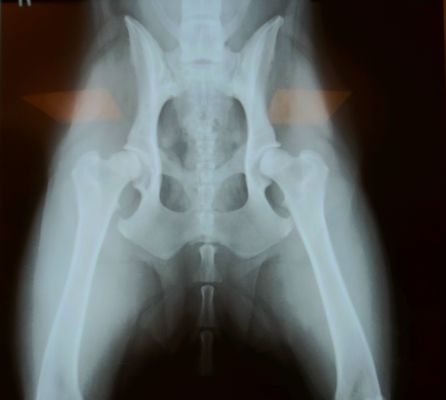 Thank you got it uploaded!!

by
Blitzen
on 03 August 2012 - 23:53
Sorry, I'm afraid she's not going to get an OFA number. My best guess is moderate HD. Sockets are shallow and there is a fair amount of remodeling going on which indicates an unstable hip. She's not going to be a breeding prospect, but she will still be a good companion. How old is she? What did your vet think? The xray could be alot better, but it's diagnostic. The remodeling is easy to see so in this case a better xray won't make a significant difference. Let us know what OFA says.
by
trixx
on 04 August 2012 - 00:35
best guess would mild HD - modrate HD. sorry they are not going to pass.
by
Bellowood
on 04 August 2012 - 00:46
Thank you, I hope more people look, too....would like to hear more opinions :)

by
Nans gsd
on 04 August 2012 - 02:44
Left side of our screen, very shallow socket with remodeling already in progress; our right side of the screen (probably left hip) somewhat better depth of socket with some flattening already in progress; does this bitch jump?

I would predict probably moderate HD. So sorry and I would NOT use this bitch for breeding. Best of luck Nan
by
Bellowood
on 04 August 2012 - 04:53
I was hoping for atleast "fair" but in any case I have 3 people saying Moderate HD.
Do you think it's harmful to her to be working in sport, she is just 2.
Thank you for your opinions and am hoping they will keep coming.
Kim

by
ToddG
on 04 August 2012 - 05:12
Bad positioning. Was this done under sedation? Even with the bad positioning, I'm thinking OFA fair, maybe borderline at the worst. Not seeing mild HD like the others are saying.

The right hip (left side of x-ray) is the one that's going to hurt, but with some better positioning, it may pass. The left hip looks fine, but not great.

Are you planning on breeding? I don't think this dog should show any signs of pain with these hips for a very long time if ever. JMHO.
by
Bellowood
on 04 August 2012 - 05:34
Yes, under Sedation but a first for both myself and the vet....I've heard that alot even from private messages that the positioning is "off", I'm just wondering if it's that "off" to make a difference? You have given me some hope....I'm not a "breeder" but I want nothing but the best for my Girl....and I appreciate your vote of some score! :)
She is the Best Girl.
Keep the opinions coming people, I'm not afraid to hear bad things, just looking for a consensus....and appreciate them all.
Thank you so much!
Kim

by
Rik
on 04 August 2012 - 12:38
best wishes to you and your dog bello. The shallow socket on left screen is pretty obvious and I doubt better positioning will help much in evaluation.

As far as training, etc., I would go ahead with whatever plans you had originally. Let the dog decide. It may never be an issue.

jmo,

Rik
You must be logged in to reply to posts