German Shepherd Dog > Some pics of our new pup! (10 replies)
Some pics of our new pup!
by
Juno11
on 03 June 2012 - 18:13
Hello,
Just wanted to share some pictures I took of our new pup who is 12 weeks old now. We still haven't decided on a call name yet. Juno11
1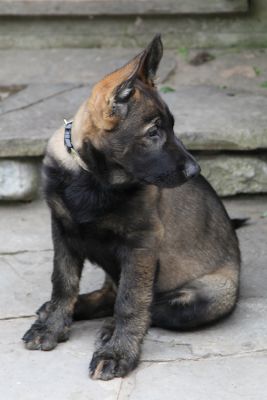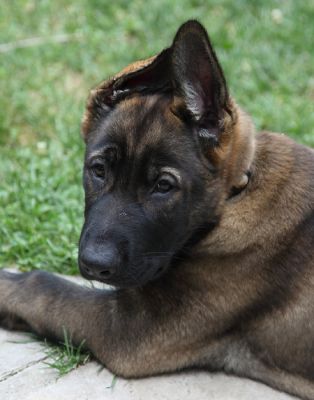 by
Hutchins
on 03 June 2012 - 18:35
OH what a handsome pup! Love that face! If you would please post a link to the pedigree I am sure there are others besides me that would LOVE to see what produced this gorgeous pup. He looks Czech bred. Am I right?
by
Vixen
on 03 June 2012 - 19:54
What a lovely chunky boy. Three great photos. What about Jacko? (English expression - 'Jack the Lad' - meaning something like a bit Street-Wise)!

Happy days with him.
Vixen
by
CMills
on 04 June 2012 - 01:33
He is a gorgeous big pup! He will be VERY dark mature!
by
fasteddielv
on 04 June 2012 - 19:19
Very handsome pup! You better pick a name soon, or the pup could end up with an idenity crisis! LOL>
by
Eldee
on 05 June 2012 - 00:05
So handsome. i like the name Pince William, or Willy boy.
by
kitkat3478
on 05 June 2012 - 03:07
What a beauty!
by
Juno11
on 13 June 2012 - 12:48
Hello,
Thanks for all the compliments! He is turning out to be a nice pup but a handfull too! He has good food and prey drive, and is very friendly with people. He isn't afraid of anything and loves to explore and get into mischief. We'll be going to puppy classes in the next couple weeks.

I think we're going with the name Marko because he tilts his head every time we say it. Also, my last GSD who I adored was named named Marko before we got him and changed his name to Jovey. Marko ze Zlataku was in both of their lines. Thanks for all the good name suggestions!
Juno11
by
Ruger1
on 14 June 2012 - 16:27
Good Looking little male!!,,Enjoy!!
by
macrowe1
on 15 June 2012 - 02:10
Nice looking dog! Can't wait to see what he looks like when he's older!
You must be logged in to reply to posts