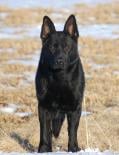 by Jenni78 on 21 April 2018 - 19:04
This is a horrible story, but it's weird, too...the "owners" had started as "fosters" and there was supposedly a rescue involved, the dog was emaciated to begin with (questions have been raised as to whether the dog really did have MegaE- not that it matters), and it was just a really twisted story, hard to follow from the beginning (this wasn't all included in the post copied above). The dog was supposedly rescued just a month or two before this, supposedly from a dumpster. It's just like the world's saddest story from beginning to end.

I completely agree about training your own dog if it's a pet- and if you read the posts prior, you see the owner is utterly clueless (but meant well) and they were the ones needing training- they just needed to learn to handle the dog. Unfortunately, people want the quick fix. They want to believe the problem lies with the dog. It's easier to send the dog off and expect a miracle upon return. Apparently, a rescue had recommended Brad Wolfert (the guilty party). So utterly heartbreaking.

It's frustrating that people don't do more homework before they let their dog leave their possession.
by hexe on 22 April 2018 - 05:04
"Dominant dog collar"? So that's what they're calling them now, eh? They've been around for years--were always just called a 'snap-on training collar' back when I was still training other people and their dogs. I liked them for dogs that had huge heads that were w-a-y larger than their necks, and they're also good for dogs that don't readily accept having something slipped over their heads...like any training tool, it's the way it's used that makes it abusive or just functional.

Re the reason for this thread, I have to agree with Mindhunt--it's rare to hear of a good B&T outcome, though I know there certainly are those as well. Unfortunately, it's the awful way these dogs meet their end in the bad cases that always comes to mind immediately, precisely because it always is so awful.

by GSCat on 22 April 2018 - 09:04
I am sorry for your loss.

Thank you for sharing. I know it was painful, but hopefully, it will save someone else from the same.



by Hundmutter on 22 April 2018 - 14:04
While I agree with Hexe that 'any tool in the box', used correctly, ought not to be discounted; and have always found that some of the tools in 'my' box may need to be used occasionally, because every other thing/method I tried first with any particular dog has failed to help me teach what I wanted, I do remain very wary of using any 'slip' leash for training purposes, particularly ones made of very thin nylon rope (as in the Leerberg version), or a really fine chain, precisely for the reason that you can too easily do physical damage to the dog's neck, &/or cause hypoxia, with them, accidentally.
As I have posted before, I do not particularly like prong collars ...but I think on balance I would rather use one of those when teaching heelwork (if I did need a mechanical solution), than this Leerberg 'garrotte' as advertised !

by ggturner on 23 April 2018 - 00:04
This thread is to bring awareness to possible dangers of board and train programs. Also the concern of just boarding your dog(s) when you travel and can't take them. Not to mention those who send their dogs to doggy daycare or even to spend the day with a groomer.

by Hundmutter on 23 April 2018 - 06:04
And were I to leave my dog with any of those (Trainer, Doggy Daycare, whatever) I would express a preference that such instruments of strangulation not be used on my dog ...
My mentor would not allow Show Handlers to switch in a fine chain of their preference, if taking a dog into a Class for her.

One of the big problems about using B&T (apart from it not teaching you & your dog to relate well to each other) is that you have no way of knowing (other than with a Trainer you already know very well & have seen working) WHICH methods, tools etc are going to be used by that Trainer. Too bad if you find out after the dogs' stay that the training has been completed using some method you really do not like or approve of !!
You must be logged in to reply to posts
---
---
---
---
Contact information
Disclaimer
Privacy Statement
Copyright Information
Terms of Service
Cookie policy
↑ Back to top