Your opinion on puppy
by
TheGodfather
on 07 July 2012 - 15:47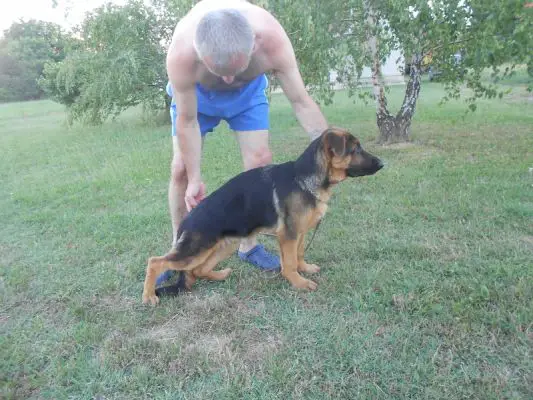 How good is this 4 mhonths old puppy for shows ?
Does he have problem with ears because to me they look big and heavy,and they are not stand up ?
I could upload more pothos if you want :)

Father: Cobra d`Ulmental
Mother:Simba Panoniansee
by
Nans gsd
on 07 July 2012 - 16:04
Personally at 4 months I would not worry. BUT I would probably feed him some chicken necks raw or backs raw or possibly even chicken wings raw.

Please note I said raw only. The extra bone and cartlidge would be really good for him, start him out slow and increase as his system gets used to the raw meat.

They look to me like they will stand on their own. Best of luck with him Nan
by
dmo171
on 07 July 2012 - 17:17
How do you know the pup is not eating raw already?
by
Ibrahim
on 07 July 2012 - 18:15
I would worry about the ears, they look thick and big and the way they're hanging does give the impression it will be difficult for them to erect, but no one can know for sure. I would also worry about that rise in middle of the back, the back might straighten up and it might always be like that. I would also worry about the pasterns, they are steep, but usually they get stronger as they grow up.
Body size and head size are very good, hocks look good too, nice thigh and pigment. Good luck

Ibrahim
by
EuroShepherd
on 07 July 2012 - 18:21

At 4 months old he is in the teething stage, ears are usually flopped at this age.
I'm not fond of his broken topline, I know it's partly due to his stack and hopefully with time and muscle build it will lessen.

My main question is, how is his bite? In this photo he looks like he has a rather long and snipey muzzle, which says possible overbite to me.

Otherwise he is a good looking pup. If his bite is good then he will probably due just fine in the German style show ring
by
Nans gsd
on 07 July 2012 - 19:50
If he is eating raw already then I would add more of what I listed above, along with chicken feet, necks, backs, & wings cottage cheese and yogart. Pasterns look a little weak which makes me think he is not eating raw. Even if he is on kibble, add these things to his diet and should help with ears and pasterns. BOL Nan
by
Sean
on 07 July 2012 - 20:06
Too early to worry about all those things. He is a 1/2 brother to the up coming star Tyson Fixfrutta, that in itself is a plus. He is not stacked properly so it does not give a true impression of him. Good luck to him.
by
TheGodfather
on 07 July 2012 - 20:10
I dont i m not buy this dog yet i'm just thinking about it,here is some more phothos: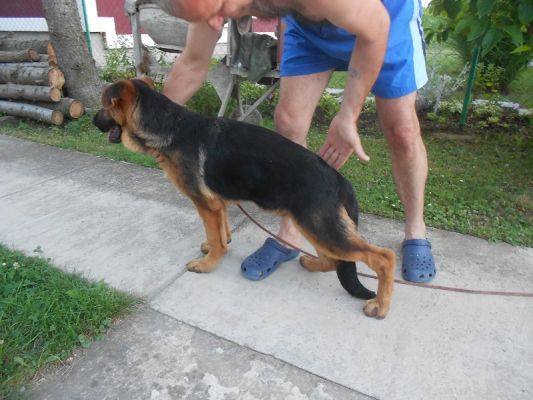 by
Ibrahim
on 07 July 2012 - 21:04
Look for a safer purchase
by
Red Sable
on 07 July 2012 - 21:22
I second what Ibrahim said. :)
by
NigerDeltaMann
on 07 July 2012 - 23:56
Fine dog, but those ears has some questions to answer: seemed heavy n flabby to fully erect. Are u sure his pedigree is right? Because i'm lately seeing too many puppies of this age group with such ears. From ur last picture, i strongly believe this pup'll over-come all apperent short-comings, but i equally have strong reservations about the ears. Goodluck
by
yellowrose of Texas
on 08 July 2012 - 06:35
For what it is worth, I would pass on this one
no thanks

YR
by
TheGodfather
on 08 July 2012 - 09:55
Ok,thank yours recomendation's.I have anoter one here is picture his is only 3,5month old,and i m buying it from germany and employer promises that it will be in TOP 30,here is pic: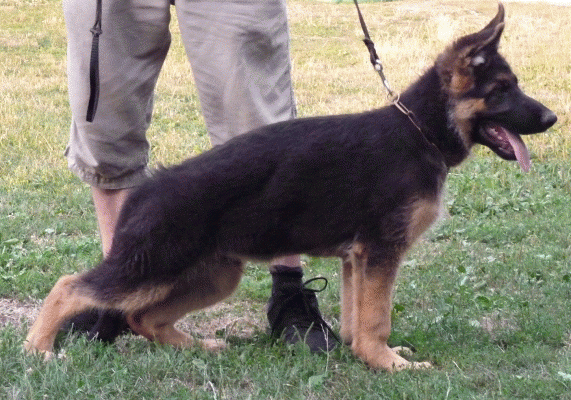 Heare is parents:
http://www.overledingerland.com/html/wurfe.html

by
susie
on 08 July 2012 - 10:07
TOP 30 ??? You can´t guarantee anything in a 3.5 months old puppy...If ANYBODY on earth would be able to know about the career of a puppy show life would be much easier...


Besides that-good looking puppy right now...
by
TheGodfather
on 08 July 2012 - 10:46
Thi is chosenn pupy and the judge who chose thi puppy will be on next sieger

by
Gustav
on 08 July 2012 - 11:11
Well, if that's the case he MIGHT be a top 30 dog.....Good Luck
by
Rass
on 08 July 2012 - 11:16
This second puppy has very loose pasterns for his age. Usually young dogs do not show such laxity of ligaments at the knee. The tendons tend to relax as the dog ages.

Anyone who guarantees a show placing in a puppy is probably not quite honest........


by
susie
on 08 July 2012 - 11:32
Are you interested in German Shepherds or are you interested in money?
This seems to be the wrong board for you...
There are easier ways to make money or get some applause. Why German Shepherds?
by
TheGodfather
on 08 July 2012 - 11:42
German Shepherd of course!
But I want to buy best that I can,this is why i told story about siger?
I will not even take him to the shows :)




by
susie
on 08 July 2012 - 11:46
Forgot to mention-the next possible Siegerschau for your puppy is in 2013 - who is going to judge NEXT YEAR???
You must be logged in to reply to posts