German Shepherd Dog > suuuure..blame the dog for your stupidity! (15 replies)
suuuure..blame the dog for your stupidity!
by
LadyFrost
on 28 May 2012 - 12:09
German Shepard (Greenville )
---
Date: 2012-05-27, 12:07AM EDT
Reply to: vfx2z-3040461079@comm.craigslist.org [Errors when replying to ads?]
---
Female purebred German Shepard. Akc registered. Very sweet. Just turned 6 months old. Her name is Sadie. Very aggressive towards strangers. If you think you can handle an aggressive German Shepard call me 864 551 6534.. We are trying to avoid her being put down at the humane society so she is free to a good home. We bought he for 450 dollars from a breeder when she was a puppy but she is just not friendly at all to strangers. Would make a good guard dog. Call text for more info.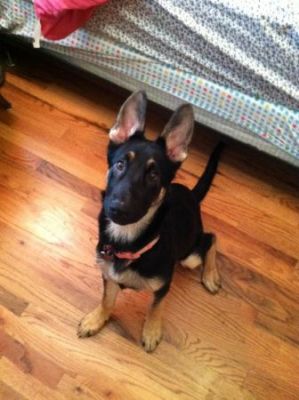 by
ggturner
on 28 May 2012 - 12:13
Gee--she's only 6 months old. Some people do not need to own dogs, especially gsds!
by
Sunsilver
on 28 May 2012 - 12:18
Where is this idiot located, LF?

She has SUCH a sweet face!

With an ad like that, some macho ass is likely to snap her up, and try to make a 'guard dog' out of her!

by
Conspicuous
on 28 May 2012 - 12:21
I love it when people screw up animals and then dump them on someone else! :/

I hope a competent person snaps her up and works with her...poor dog.
by
festnagler
on 28 May 2012 - 13:01
I am going to try and get this dog if she is still available. All this dog needs is a little work, i am sure.
by
Conspicuous
on 28 May 2012 - 13:02
Awesome festnagler! If nothing else, it would be great for a more experienced person to handle the dog and see if the problems are really that bad, and if it can be worked with.
by
festnagler
on 28 May 2012 - 13:16
I bet that all this dog needs is alot of socialization. I always have alot of friends and family that comes to my house and this would be an excellant time to proof her after ii have worked with her. Once i get her where she needs to be I will let my sister have her. My sister lives out in the country with alot of acreage to run
by
Conspicuous
on 28 May 2012 - 13:35
I'd bet the farm that's all she needs too. People are so dumb!!

At least she's young, I'm sure the odds are in her favour.
by
LadyFrost
on 28 May 2012 - 14:01
Greenville, SC.

I emailed the poster offering to either work with a dog or refer to a trainer. I think Melba would be a good one to send her to and if they made up their mind about getting rid of her, I will take her and re home her....last thing this gorgeous girl needs is a animal shelter.
by
festnagler
on 28 May 2012 - 14:17
Either way.....this fine little girl needs some work....and your right....she does not belong in a shelter. I am working with 6 5 month old pups right now and i would just put her through the regimand as i am with the other guys and girls. 4 of them will soon be going out west for k9 police work training i will be freed up a little more to work with her even more. Just dont want to see this little girl get in the wrong hands.
by
festnagler
on 28 May 2012 - 14:20
Already called this morning and there was a child on the VM and the mailbox was full.....so, just replied to the PM at craigslist. I am about 3 hours from Greenville.
by
trixx
on 28 May 2012 - 15:52
i always say its the owner not the dog
by
melba
on 28 May 2012 - 16:07
I wouldn't mind working with her :) I'm waiting on transport for a GSD going to ECGSD rescue, but after he finds his
way up to the rescue, I'll have room.

I highly doubt she is REALLY that aggressive towards people. More then likely, she went through an insecurity stage and
started barking at people. Her people didn't know what tom make of it, so started tensing up waiting for her barking. That
escalated her barking because now she feels that her people are telling her that there IS something wrong. I'm sure there
was a lot of petting, trying to calm her down as well. I don't know, haven't seen her... but this is typically what Joe public
sees and does.

.02

She looks like a cutie pie :)

Melissa
by
Red Sable
on 28 May 2012 - 20:41
I hope one of you gals get her before some other dolt does, she's a cutie that is for sure!

by
melba
on 28 May 2012 - 21:08
Until June 10th my hands are tied with the rescue that is here. He has confirmed transport to NH on that date... If someone
was interested in acquiring and holding her until then, I would be happy to do the evaluating and training on her if that would
help her get into a great permanent home :)

Melissa
by
LadyFrost
on 29 May 2012 - 12:55
well, no call back, no return to email...and looks like post has been removed....just hope she got lucky w/ a new owner.
You must be logged in to reply to posts