SWELTERING.......
by
Kalibeck
on 21 June 2012 - 20:45
OK.....our a/c broke

, & our kiddie pool cracked

, & when I tried to play with our 3 GSDs with the hose, they acted like I was trying to kill them

! SO....no photo ops here! Any one else have any pictures to share of HEAT RELIEF with your GSDs? Your assignment, should you choose to accept it, get wet & get cooled down with your GSDs, & get it posted here so we can see it!



!! Have fun! jackie harris
by
Sunsilver
on 21 June 2012 - 21:18
Well, I don't have photos of my GSDs, but I can show you a gorgeous female great Dane I'm boarding right now, relaxing underneath the AIR CONDITIONER I had installed in the kennel yesterday!

by
Red Sable
on 21 June 2012 - 21:20
Lets see her SS. My dad has had Danes for years, very majestic they are!
by
Kalibeck
on 21 June 2012 - 21:24
Cool! Go for it SS! jh
by
Abadonsdad
on 21 June 2012 - 22:18
cool the dogs down,Wet the ground not the dog,or hold them and wash the water over them just like bath time ,in 5 minutes they will thank you for it..

by
joanro
on 21 June 2012 - 22:37
During herding training this morning, had my two year old Czech female cooling in the kiddy pool while I held nice cold stream of well water on her belly and inside her hind legs...she wagged her tail, smiling the whole time and ever so grateful !!! In only a few minutes she was ready for another session with the sheep !!
by
laura271
on 22 June 2012 - 00:30
It is just sweltering here in SW Ontario- 95F (35C) in my backyard today.

Bosco will wag his tag hopefully until someone blasts him with a jet of water from the garden hose.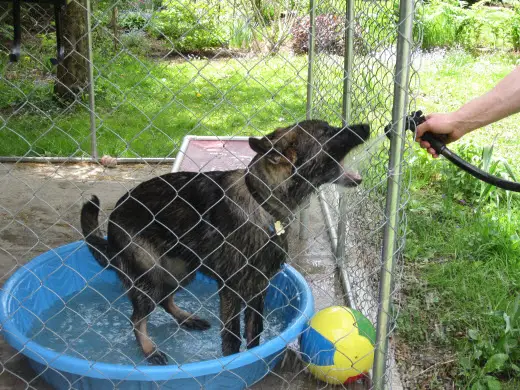 But don't even think of coming near Senta with the garden hose ....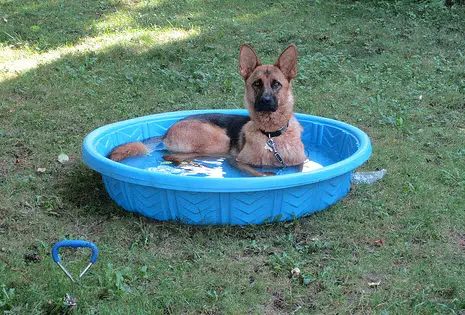 by
Kalibeck
on 22 June 2012 - 02:51
Love those pics! Well we drug the old kiddie pool out & sprayed the leaves & the spiders out of it, & filled it up with nice cold water & everyone took a turn soaking their feet in it. No pictures tho', but they sure had fun! jackie harris
by
fawndallas
on 22 June 2012 - 18:38
I do understand. We had to bring out the kiddie pool in April for ours. No pictures, but there has been lots of sprinkler playing (yes, I know mine are spoiled, they have their own sprinkler play ground) and pond swimming.
by
JusticeForAll
on 24 June 2012 - 21:19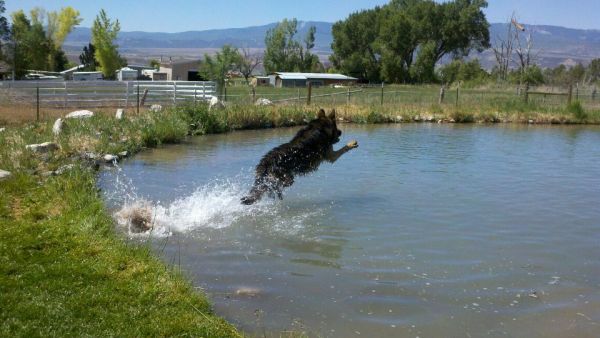 Having fun in his pond...keeping cool!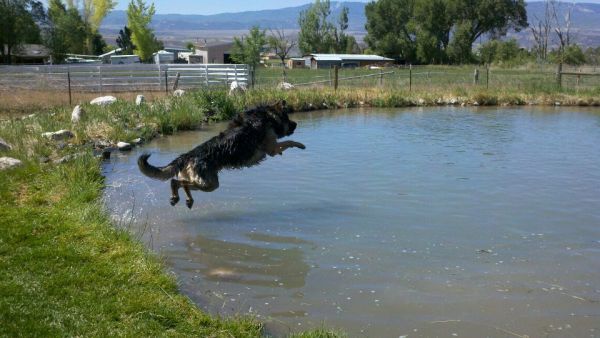 by
e c street
on 25 June 2012 - 00:51
Justiceforall, I like your first picture. It shows action with the water splash, it is focused on the dog in midair, the buildings lend to the area and the mountains in the background are beautiful. The depth of field is great for this picture. I like it. If I had it I think I would frame it and hang it on my wall. Good job. ecs
by
JusticeForAll
on 25 June 2012 - 01:37
Thank you ecs...if you look in the top right of the photo, you can see the stick he is focused on. This was a pure luck shot, taken with a camera phone...LOL
by
laura271
on 25 June 2012 - 17:31
For those of you in dry areas, I shot a short clip of Bosco & Senta at the gorgeous West Beach in Point Pelee National Park in Leamington, Ontario. Saturday was such a lovely day ...a beautiful sunny sky and Lake Erie was clear and calm.


..I'm sorry that I'm not the greatest videographer!


by
Kalibeck
on 25 June 2012 - 19:49
Laura your video is wonderful, & Justice your pictures are very artistic, the trees even echo the positioning of the dog, very nice! Thanks every one for the 'cool' pictures! My honey surprised me when I came home Thursday night with a new 4-way air conditioner/dehumidifier in our bedroom, with enough BTUs to cool the whole house! The dogs were grateful, too! Right now my bedroom is so chilled out I'm actually s-s-shivering, LOL!

jackie harris
You must be logged in to reply to posts