German Shepherd Dog > anyone ever had a dog that always hurt them selves... (20 replies)
anyone ever had a dog that always hurt them selves...
by
Siantha
on 21 June 2012 - 06:39
its almost to the point im afraid to play ball with him. all my other dogs do fine this guy for the tug jumps way off the ground and is def not a cat lands on his hip ect Even when the tug isnt very far up. totaly rolled him self out after the tennis ball today. this poor guy haha i just dont know how to teach him to slow down for the ball im kinda glad he decided he dosent want to be a schh dog because he is one i see breaking his neck because he never slows down.
by
Conspicuous
on 21 June 2012 - 12:16
I have a horse that always hurts himself? lol

I'm hoping my new pup will have a better sense of self-preservation.
by
alkster2002
on 21 June 2012 - 14:36
First off how old is your dog ?? My dog is somewhat the same way ............. You must limit the distance and height that the ball is thrown ................ keep the ball (on a rope) close to you as you let the dog bite the ball when you are moving it with your hand, like putting the dog in drive tantalizing him with the ball on a rope. Then if you throw the ball ................ ALWAYS skip it across the ground like a running rabbit. When it goes in the air and the dog has to jump........... it is potentially "injury in the works" .................................. Hope this helps ! Greg
by
Hedi
on 21 June 2012 - 15:20
For me I like a dog that goes all out. Just you need to modify the way you play and offer clear targets that are safe for the dog to strike. If you want someone to make him a IPO dog...he can have a working home here.

Of course I have to ask what the pedigree is on your dog if you do not mind sharing.
by
mollyandjack
on 21 June 2012 - 15:29
Mine is the same way. He doesn't factor in safety or pain when deciding to go for something. I think he just feels like the world should move out of his way. Most of the time, it doesn't, but that hasn't stopped him yet...
by
AmbiiGSD
on 21 June 2012 - 15:36
I've got one the same... he goes 'through things' rather than over under or around! He'll come down a hill on his face because he's lost his legs somewhere around half way down, hit the bottom and pick himself up and keep going like he's not even noticed.
by
GSDguy08
on 21 June 2012 - 15:46
haha mollyandjack that sounds like my pup Auggie.
by
mollyandjack
on 21 June 2012 - 16:01
I would tell you that Auggie will learn but Jack is five now...
by
AmbiiGSD
on 21 June 2012 - 16:11
Evo's 7 and he still hasn't learnt... walked into a concrete post the other night and gave it evils when it wouldn't move and he had to step round it!
by
Niesia
on 21 June 2012 - 17:52
Some will, some won't learn... Maybe the 'falls' don't hurt him enough to teach him to be careful.

My pup did the leap after the ball once and landed on the tree. However he never did it again. Now he always keeps one eye on a ball or Frisbee and one on what is happening ahead of him. He will put his breaks on, leap sideways or over to avoid direct contact with any solid object.

My friend's Vistula is running into solid objects head on all the time. He started as a puppy running full speed into the concrete wall and knocking himself out... It's funny to watch, but I personally think there is something missing between his ears.



by
RLHAR
on 21 June 2012 - 17:57
I have one that will go *through* anything in his way. Even trees.



I do my best to be careful in how I throw the ball and to make sure the pathway is clear of any other dogs, kids ... trees.
by
Siantha
on 21 June 2012 - 18:13
he is 17 months and even when the ball is on the ground he is running so hard after it he grabs it and just rolls lol.

http://www.pedigreedatabase.com/german_shepherd_dog/dog.html?id=726030


he is a good dog lol. and excuse my terrable stack lol my photographer didnt know what she was looking for and it started raining not long after it and just havent had time to take new ones XD
by
Sunsilver
on 21 June 2012 - 18:48
The gal in my sig managed to do quite a bit of damage to herself during her 14 1/2 year lifespan.

The first serious injuy happened when the stick she was running with caught in the muddy ground. She tried to jump overtop of it, and impaled herself on it. It went about 8" into her abdomen! Fortunately, it didn't pierce the muscle, but still, that was one heck of a vet bill!

Next, she was running down a hiill over by the local ball diamond one night, and cut her foot on a broken bottle some a**hole had thrown from the parking lot up above. The vet actually had to suture a bleeding artery. Thank god it wasn't someone's kid running barefoot in the grass!

Then there was the time we were at the cottage and she went running off into the woods after a chipmunk or squirrel. She scratched her eye on a twig and came back with blood running down her face. More vet bills, a cone, and eyedrops every FOUR hours for the first 2 days!

The next trip to the cottage, my husband wasn't supervising her closely enough while he was washing his car, and she took off into the woods again, probably chasing deer. She came back limping on three legs. The sprain healed up quickly, but she did develp arthritis in that pastern in her old age.

The worst thing that happened to her was again my husband's fault. We were renting a house, and the gates to the backyard didn't close properly. She snuck away while he was busy, and managed to get into something that was rotten or poisonous. She threw up on the rug at 2 in the morning, and by the time daylight came, was running a high fever, and was too weak to jump into the back of the station wagon for the trip to the vet.

She recovered quickly after some antibiotics and IV fluids, but the vet said her liver enzymes were way out of kilter, and she might have cancer of the liver, or one of several other deadly disorders. He ran all sorts of expensive tests, none of which were conclusive. Meanwhile, she had recovered and was back to her normal self. So, I put a stop to the testing, as my bank accouont was just about drained, and just waited to see what would happen next.

The next time she was due for her yearly shots, I asked him to check the enzymes again. They were BACK TO NORMAL! We finallly agree that whatever she'd eaten had damaged the liver, but, unlike most other organs of the body, the liver is able to heal itself, and given time, that's what it did. She lived for another 4 or 5 years.


by
Kalibeck
on 21 June 2012 - 21:03
Yikes Sunsilver! Beckett is like that, he goes balls to the wall after everything, never mind how he tears himself up! He'll come back with the very stick thrown for him from the deep woods, 72,000 sticks to choose from, he'll find the ONE! And he'll have torn nose leather, thorns in the foot, burrs everywhere, cruddy stuff swelling his ear up, & an eye glued shut from whatever he stuck his head in, but his other eye is happy & his tail is wagging 'cause he got HIS stick back! He's completely oblivious of anything but what he's focused on!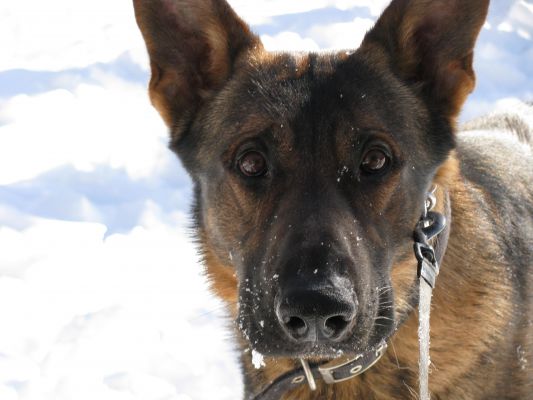 And then he shoves the drooley, slimy thing into my hand for another go-round! Gotta love the ENTHUSIASTIC types! LOL! jackie harris
by
Siantha
on 21 June 2012 - 21:24
it just drives me nutz as a puppy he broke his tail when i was trying to take something away from him he jumped about 4 feet up and wasent a cat and didnt land on his feet. he will go over any damn fence i put him in. hes better about it now than he use to be. but if mommy was on other side of the fence so was he. he had pano still was pretty crazy about his ball. he is just now developing tug drives ect. but he is a fairly big boy. 94 lbs in that photo and i always worry about him more than i do my mali lol. she does crazy stuff but its like damn dude slow down when it comes to the ball. he will run as fast as he can and try to pick it up whall running and he ends up doing a summersalt because his head stuck to the ground. he gets up and starts looking for the ball but was fairly dazed from it. he is a accident waiting to happen XD.
by
GSDguy08
on 21 June 2012 - 22:09
My pup Auggie seems to do this "bark and hold" without the bark when he's been in the puppy pen and I'm about to let him out. Drives me crazy how much he likes to jump too at this age, I try to keep it as minimal as possibly but oh my. And he loves to climb up on things that are high up, he definitely has no fear of heights, surfaces, or anything alike.
by
VomHKINC
on 21 June 2012 - 22:16
Goodness, yes! Our female decided she did not want me to leave with her pack member, and she went through the window and was waiting on the peak of the house.

My male? Yes, always hurting himself also. We had to call Allstate 5 times this year before my wife bought her truck...she used to take them to training in my car, and he broke the windshield 5 times. Goodness for glass coverage.

He must have done something again, as he has a lump on his shoulder, so we are off to the vet again. So yes, I totally understand! good luck!
by
aceofspades
on 21 June 2012 - 22:58
I had an old GS who was always hurt. Always.
by
GSDguy08
on 22 June 2012 - 10:31
Eh, are you kidding? I hope that's a joke. Meds are not the solution to things that have been mentioned.
by
Nellie
on 22 June 2012 - 12:04
Glad mine are not the only ones

Chevy is 9 and still expects everything to get outa his way or he just goes through it, Kodi has recently learned to slam the breaks on and is always doing hand stands these days
You must be logged in to reply to posts