New puppy!
by
ecurry
on 22 May 2012 - 16:11
Hey everyone! I am new to this message board and now the new owner of a beautiful German Shepherd puppy! I picked out a great pup from Daryl Ehret (seems like he causes quite a stir on here occasionally!!), but sure enough he has some amazing dogs! I have previously owned GSDs, but this is my first one in about 10 years!! Anyway, this is Sako and I just love her! The first picture is of her at 7 weeks! The next one is of her at just shy of 11 weeks! (after a long day of playing hard and going for walks!!).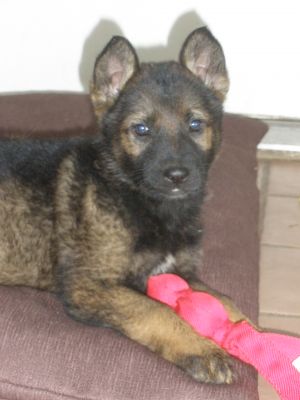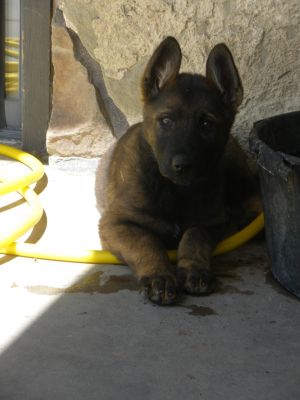 She has so much drive! She is great with the kids, cats, other dogs, and even the horses and cows!! She puts on her tough girl bark when she's in the truck with me checking cows- but when she's up close with them she just stays at my side and doesn't run from them!! (Potential herder???!!!) Anyway, we are hoping to train her to be our personal protection dog. Any advice on how to acheive that with the best end results would be much appreciated. I have tried contacting the Schutzhund group in Bozeman but have yet to hear back from them...about 4 weeks later. We are doing great with basic obedience- sit, stay, wait, down, come, speak, etc. and she just loves to play tug!! She also loves to chase the broom when I sweep and the shovel when I pick up poop!! She's crazy! She also attacks the metal detector! haha
Looking forward to hearing from you all!

by
Ladyluck1120
on 22 May 2012 - 17:37
Congrats!! So happy for you:) I'm looking forward to getting my new pup soon. Looking forward to hearing all your wonderful stories about her, as you post online :) Definately seems to be a nice, strong bond between GSD owners - it's pretty neat!! Enjoy your new family member :)
by
skortos
on 22 May 2012 - 21:20
Congrats from me too! I took my new puppy 3 months ago and i love him very much!! She is sooo cute(SAKO). I wish u luck with ur new pup! You must love her very much because she seems ADORABLE!! :)
by
ecurry
on 22 May 2012 - 21:49
I would love to see pictures of everyone's puppies!
by
skortos
on 23 May 2012 - 14:16
This my pup at 4 months!!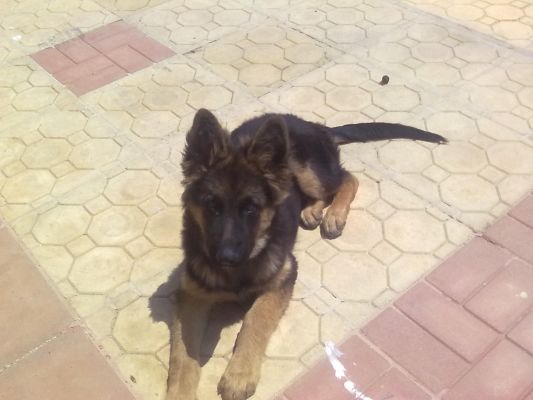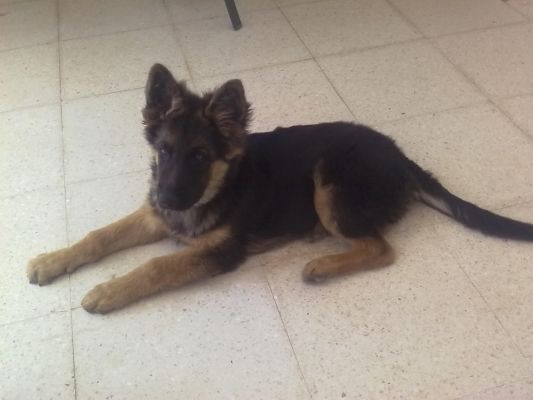 KENZO!! <3
You must be logged in to reply to posts