Please Critique My Boy
by
clc29
on 24 May 2012 - 19:55
Hello Everyone,

I would appreciate your critique of Cisco. The pictures were taken today and are my first attempt at stacking. After viewing the pictures realize that he needs to be more vertical in the front and his rear legs a little steeper, but I'm hoping the more experienced eyes will still be able to give me their opinions on his conformation.

Note: Pictures were taken before bath and blow out.

Age: 15 months
Height: 25 in. at the shoulder (give or take an 1/8th)
Weight: 79 lbs.

For those of you who are curious, here's a link to his pedigree:
http://www.pedigreedatabase.com/german_shepherd_dog/dog.html?id=709417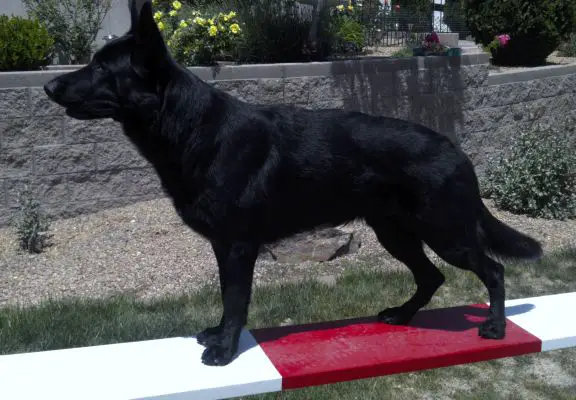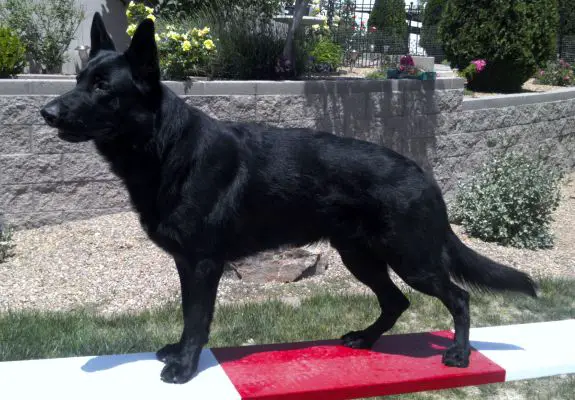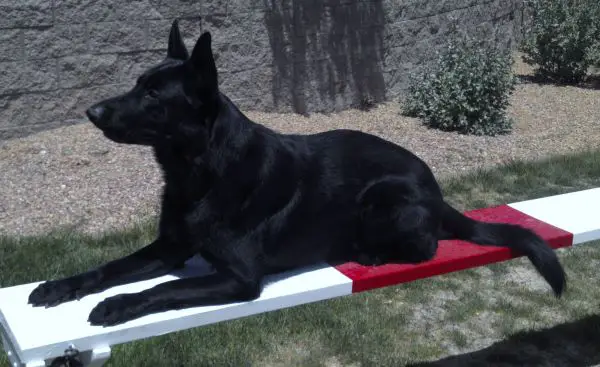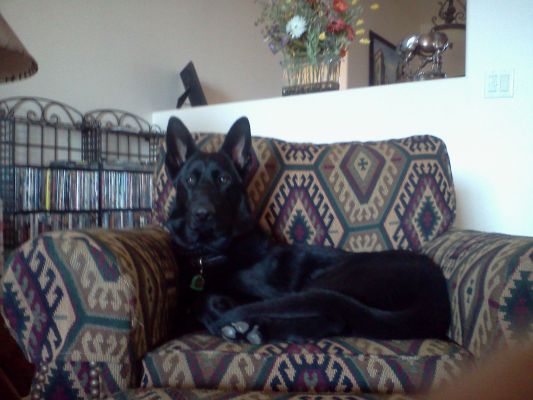 I
forgot to take a straight on head shot so the last picture, is one I took when I caught him in the living room chair...being very a naughty boy

.

Thanks for looking,

Cheri
by
hejnye
on 24 May 2012 - 20:01
I think he looks great in the chair. He's beautiful!
by
Brandi
on 24 May 2012 - 20:01
Cheri,

It is difficult to give an accurate critique because the camera view should be parallel to Cisco.
But...
He has very nice tight feet, appears to have dark eyes, nice pasterns, a bit long in the hocks, very nice muzzle, stop, and forehead with a good ear set. Also, for 15 months old, he is nicely filled out.

by
clc29
on 24 May 2012 - 20:21
Thanks Brandi,

I told my hubby to take parallel shots and this is what he took. I should have showed him some stacked photos so he would understand the type of view I was looking for...... Oh well hopefully when my stacks get better the photo angle will get better

.

Cheri
by
Ibrahim
on 24 May 2012 - 20:35
I agree with Brandi, also he's a solid black which makes it more difficult, there are details I'm positive on and others which I'm not very sure of, the latter I shall keep in between brackets.

Critiquing based on 1st & last picture

A solid black GSD male of medium size, a little stretched but good depth of chest. Good size of a strong head, strong long neck, correct proportions and good planes of head, (dark eyes), good stop, ears a bit wide. High withers with a dip right behind, a little long back and long loin, good croup lay but short and good tailset, (back could be stronger). Sufficient length of tail. Does not stand with his arms/feet straight under the shoulder, (short front upper arm, shoulder blade forward placed, hence a visible dip behind the withers), good strong pasterns and good tight feet but toes point to the out. Good hind angulations, could use a bit more stifle turn, strong hocks which could be better let down. Allover a good looking boy which looks healthy and in very good condition to do some real work.

Ibrahim
by
LOVE THY SHEPHERD
on 24 May 2012 - 21:00

I AGREE WITH BRANDI. HIS HOCKS ARE VERY LONG. OTHERWISE IS A NICE DOG.
THE STACKING NEEDS PRETTY MUCH WHAT U SAID.

NICE BOY
by
clc29
on 24 May 2012 - 21:06
Hi Ibrahim,

I was hoping you would give your critique.

I agree his color makes it very difficult to get a good photograph.
His ear set is actually not as wide as it appears in the chair photo and his eyes are nice and dark. This picture was taken by a professional at 4 months.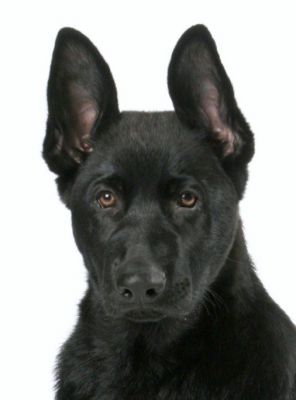 I've been told that he is a little short in the crop but that it's because he is built to work. I'm not very good at dog conformations yet so I took that to mean that's ok for a working dog. However, I would like to eventually get his Kkl and have to show him in order to qualify. I am curious as to how well he could potentially place. I think his biggest faults (my uneducated opinion) are that he does not stand with his toes square and never has and that he is a little long in the back.

Thanks again for your opinion.

Cheri
by
Ibrahim
on 24 May 2012 - 21:15
I wish you all the luck in achieving his KKL, I am not well informed about what it takes to do that but I think he deserves it no less than those who have it already, I can see that there is nothing in his construction that may hinder his ability to do real work, on the contrary, he looks in very good condition and in very good health too, all the best with your plans and keep us posted on his development, so far so good.

Ibrahim
by
PINERIDGE
on 25 May 2012 - 02:44
If you had shown me this dog - and three different pedigrees alongside -- I would have picked the one with Karthago dogs in it !!

He looks very much like my male of nearly 20 years ago he also went back to Grief and a lot of Karthago on his grandmother's side.


He does not hurt my eyes in any way -- I think he's very attractive -- he is his gene pool. and a good representation of his heritage. I bet he's way smarter than a 5th Grader !!


He will mature additionally - and look even better in another 18 months. It's neet to watch them change.


If I were to have a black - one like him would be very nice!

by
clc29
on 25 May 2012 - 04:00
PineRidge...thank you for your kind words....Yes, he is absolutely smarter than your average fifth grader

. He can be very sassy but, is still a real pleasure to work with (very forgiving and focused). I had the good fortune to talk with a lady that actually got to see Fado perform. She told me he was on the smaller side (but still very powerful) and was very in tune with his handler. She was so impressed with him that, to this day, she favors dogs with him in their bloodlines.

Thank You Again,
Cheri
You must be logged in to reply to posts