by Schaeferhund on 06 September 2003 - 20:09
It's perfect 23° partly sunny. They forcast some thunderstorms for tomorrow afternoon though, but they're not sure.

by VKH on 06 September 2003 - 20:09
Schaeferhund, did Dr. Reiser participate in the BSZS? and if so, in what capacity!?

by VKH on 06 September 2003 - 21:09
Bundessiegerzuchtschau vom 05.-08.09.2003 in Ulm (LG13) GHKl-Rüden: Erich Orschler (LG14) GHKl-Hündinnen: Leonhard Schweikert (LG12) JHKl-Rüden: Berndhard Norda (LG04) JHKl-Hündinnen: Wolfgang Babilon (LG06) JKl-Rüden: Klaus Gothe (LG17) JKl-Hündinnen: Richard Brauch (LG12) HGH-Klassen: Wilfried Scheld (LG08) Schutzdienst R: Horst Schaaf (LG13) Schutzdienst H: Ernst Rückert (LG14) Zuchtgruppen: Lothar Quoll (LG15)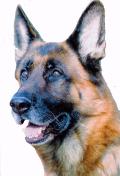 by July on 06 September 2003 - 22:09
Could someone PLEASE tell me what Whisky Bierstadter Hof did? was he even entered? thank you so much!
by Cobus1 on 06 September 2003 - 22:09
Thanks for the updates. I hope to go to the Siegershow next year. So until then, your news is so much appreciated. I was fortunate to purchase an Orbit male puppy recently and of course I am interested in how he and his progeny place and any comments and critique. However, I also like Kevin and Bax and seriously considered a Hill and Yasko puppy until I made my choice of a male puppy from Orbit instead. I will get a chance to go to Holland in May 04 and would like to go to a regional show in Germany. Does anyone know the schedule of shows in April and May 2004? Thanks, Cobus1
by JanisNovak on 06 September 2003 - 23:09
As said,the weather has been perfect here in Ulm. Wonderful place, beautiful field, beautiful dogs. For a dog junkie this morning's progeny groups were heaven! Whisky's bitework was less than astounding. I hoped to be MUCH more impressed. Oh well. His individual was as interesting to me as watching a speed bump. I personally was disappointed. He did not present a progeny group. Hill's work was good, solid and nice. His progeny group was good, but I noticed a LOT of wobbly ears in the fast round! Yasko... ahhh, Yasko. The first seven dogs in Yasko's group looked like clones of the father. MOST outstanding group on the field. I could not stay to hear that critique, we had to get busy with other things. Kevin's group was not, I think, the best of his progeny. It seemed "spotty" to me. Orbit's group was very well received as was Dux. Ando v Altenberger Land is a VERY nice dog, but he is out of coat, too. That would explain the difference in the web site photos and the dog in the flesh. His bitework was VERY good. I did not get to see his individual. The helpers are hard and they mean business. I've seen many dogs stepped on and the stick hits are harsh. Of course, you can't see EVERYTHING here. I wish there was some way to see EVERYONE'S bitework and individual but it's just not possible. Was disappointed that they didn't bring Ursus for his progeny group. It was a large, medium nice group. Many, many, many dogs are out of coat due to the incredibly hot European summer. I don't feel so badly about Tito. Tito is second ring. Maybe first ring is all that counts but ya know what? It's just bloody fantastic to be here! To make the top 90 in this group is so fantastic to me that it feels like an accomplishment in itself! Oh... gossip. There was a mistake in the listing that gave the Saturday ring placings and they put Whisky's number on there for ring three. Oh good heavens! Luckily it was corrected but the whispers going around... we are glad they corrected it before there were heart attacks!!!! It's been huge fun. So neat to see the papparazzi gather around your dog and click photo after photo. My co-owner's Bella v Mittelwest is first ring and we are VERY excited for Bella! And time for bed. It's 2:00 am and we have to be up at 6:00. JDN
by Black GSD on 07 September 2003 - 00:09
GO BELLA!!!
by Roger Ven Torres on 07 September 2003 - 00:09
Okay, wow Bella is definitely fantastic. American breeding and from my area in North central! Go Mittelwest. Yak Frankengold my favorite! Keep us posted Janis and Schaeferhund. Hopefully I can be there again next year. I am freting here unable to go this year! By the way is Henry Dunischenke shown to? I hope the working people take notice of the "Hard hits" given to this fantastic dogs. Any comment on how the Schutsdienst were conducted? Was it really no holds barred? Thanks Roger.
by KellyCzaja on 07 September 2003 - 01:09
Hooray for Bella and good job Tito! Anyone know of Jaguar made 1st ring?
by Fran on 07 September 2003 - 06:09
The best of luck with Bella. Waiting on any result. Schaeferhund, Wolf & JanisNovak you have the rest of the GSD world hanging waiting for your information (wonder how many different counties we all are from Fran
---
---
Contact information
Disclaimer
Privacy Statement
Copyright Information
Terms of Service
Cookie policy
↑ Back to top