A little ribby
by
GSDguy08
on 04 May 2012 - 18:38
So, Auggie is slightly ribby. He is negative of any parasites, stools all look normal, he's energetic and full of his demonic self. Ever since I got him though he's been slightly ribby. He's getting quite muscular though, very solid/stocky chest. He "is" on Taste of the Wild right now (I know what you'll say Jenni) which is what i put him on when I first got him. Right now I have him eating four cups a day, which to me seems like quite a bit for his size (30 lbs) at 17 weeks. Thing is though, if he's standing still or sitting, you typically "can't" see his ribs, but when he's walking along you can see the outlines of them. It's like, I want to keep him lean.....not to stress his hips since he's just a pup, but at the same time.....I don't want a dog too skinny. With that said, some of my dogs in the past did wonderful on TOTW, didn't require much food to keep weight correct on it........and some seemed to just take a lot of it and the weight was never good ......switched food and then their weight was normal on a lower....what would be normal, amount of food for their size. I'll attach pictures, I got one that shows it somewhat, but it's a bad angle. I'll attach other pictures as well from two days ago, which you "can't" see the ribs in. I know regardless, they should be somewhat lean, and people will always think a lean Shepherd is too skinny because America thinks they should be fat. Anyways, I'll let you guys look at the pics and see what you think. I do plan to switch him to a different food soon though.

This one kind of shows what I mean. You'll see this if he's sniffing along the ground, or when he turns his body (which he is starting to turn his body in this pic slightly) to go in a different direction while walking....and sometimes while walking itself. If he is stitting, stands still, or is just laying down, you don't see them..... Something I did notice though, a picture of his grandfather I found, Mambo z Pohranicni Straze......mambo was crazy ribby in the picture......and then the picture that is posted now of Mambo, and all of the pictures of him....he's very filled out, no ribs, no nothing. I have no clue how old Mambo was in the picture i'm referring to, he looked to be at least adult height. Some on here may know the pic I'm referring to.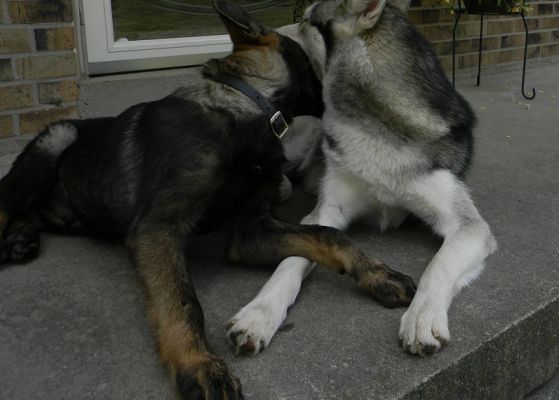 I'm attaching others where you "don't" see them.....say day, same hour actually.




You can sort of see them in this one. He was tired here and about to plop down.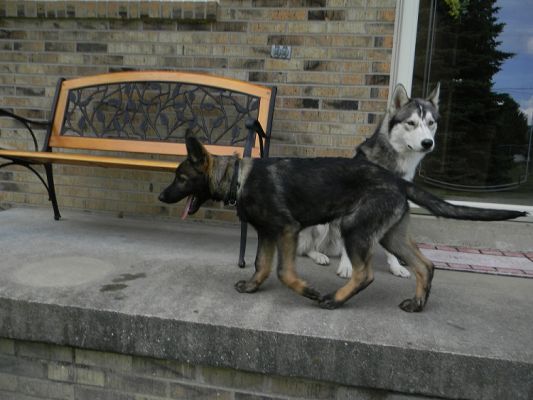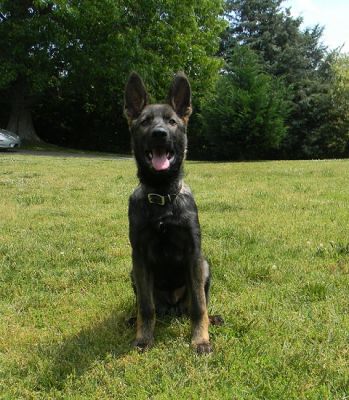 He was copying Little Dude here.....he tends to do that often.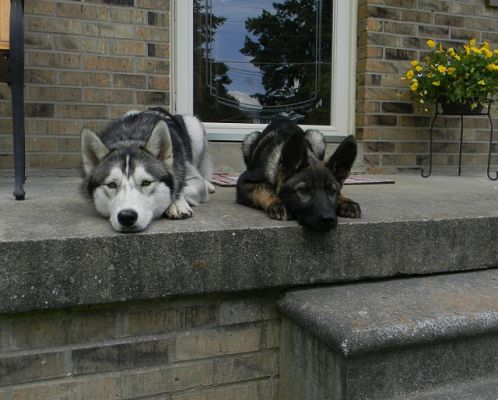 For some reason this one makes Auggie look tiny and LD's head look huge.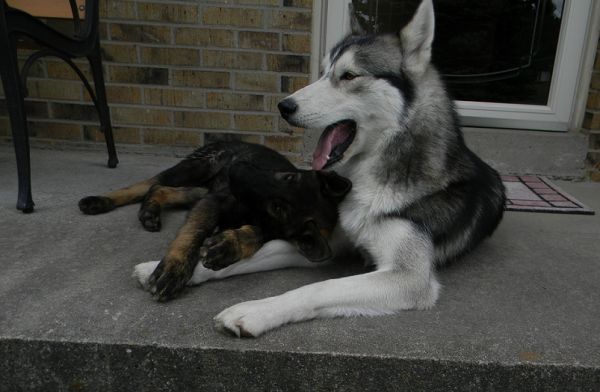 He was starting to sit down here I think, but you can't really see his ribs in this one.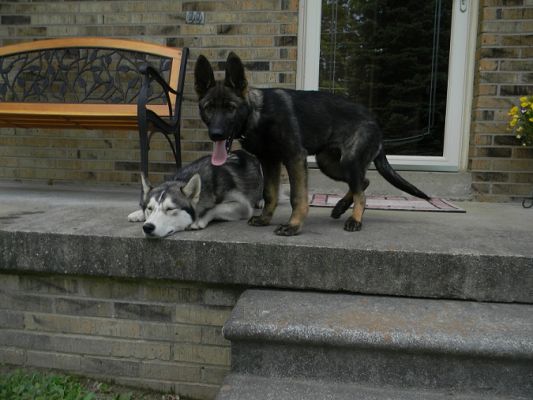 by
justde
on 04 May 2012 - 18:46
Looks fine to me. My male looked like a thoroughbred colt til he was about 2, but when he finally quit growing up he filled out very nicely. I'd say stick with the program :)
by
firefly
on 04 May 2012 - 18:47
He looks fine to me
by
GSD Admin
on 04 May 2012 - 19:10
I showed my girl and she gave two woofs of approval. I think she has a crush on him. lol.

He looks good stick with what you are doing he will fill out as he ages.
by
Red Sable
on 04 May 2012 - 19:27
Looks fine to me too! What a gorgeous boy you have, and a beautiful place!
by
Eldee
on 04 May 2012 - 19:43
He looks like a perfect little boy to me. If you are worried add half a can of taste of the wild to his dinner meal. Can't hurt.
by
GSDguy08
on 04 May 2012 - 20:19
Thanks everyone. I don't know, I'm just paranoid sometimes when it comes to my fur kids, even though I may be worrying over absolutely nothing lol. I've started taking Auggie out to this "park" every Thursday night now. It's not actually a park, it's just like this pavillion and then a grassy area with a sidewalk around it, and then this cool water fountain thing that shoots water up in the air......But every Thursday night someone has been playing music (someone different each time, and it's not too loud) so I've started taking Auggie and Little dude there the past three weeks. We met sooo many people last night and Auggie did really well. A fairly good amount of people actually sat down on the ground (the concrete part around the fountain) and we just talked and I did let them pet Auggie. He seemed to really like it. I "do" think he's going through a fear stage right now though, because the past couple of days he's acted nervous about the most silly things. He saw Little Dude coming up from the very back of the yard, Auggie's hair spiked (he did this towards my other dogs too), and after he went towards LD and scoped him out he was fine and started playing with him.....He also got nervous about some paint rollers on the floor at Lowes......but then again I remember one of my dogs in the past when he went through his fear stage barked at a fire hydrant that he had seen many times before....A few weeks later when we were there again......no problem, he knew what it was. Two different trains went by while we were at the park last night too, didn't phase him at all (obviously it shouldn't phase him) but good grief they're loud. He had nothing but good experiences though last night, and everyone who was there was very nice and was more than happy to do anything that might be needed to help Auggie if he had been nervous. Pretty cool how a relaxing atmosphere like that and a couple of dogs can make people so different
by
clc29
on 04 May 2012 - 22:10
Auggie's weight looks perfect.......I wouldn't change what you're doing.
Cisco is 14 mos old and looked exactly like that until a couple of months ago. Now he still looks a little ribby but he's finally starting to fill out some. I'd much rather see a dog on the thinner side. It's so much healthier for them.
by
CMills
on 05 May 2012 - 01:28
I think he looks like he's in excellent condition to me. He's beautiful! I'd not change a thing.
by
dmsharkey
on 05 May 2012 - 15:52
They do tend to look ribby at times. I think my 15 month old is part greyhound, she is so skinny. But she is starting to fill out a bit now. Dont over feed, you will know, the stools will tell you. They do more growing verticle in the first year, and then the rest of the body takes another year or so to catch up.
by
aceofspades
on 06 May 2012 - 04:59
I think he looks great too......the picture in my Avi, is an updated pic of Ace, who is two now, and still looks like a baby horse. he is all legs and is a bit more ribby than I would like, but he just doesn't keep weight on. He is over height and about 90lbs and ribby and leggy

hmmm, I see my old pic of Ace laying on the grass but it is all distorted, when I go to IE I see the new pic, so hopefully you do, he is lying on dead grass in the eew pic, in the old one he is on green grass. How do i fix that? I cleared my cache in firefox and it is still there.


by
Hundmutter
on 06 May 2012 - 05:19
Just like everyone else on here, he looks absolutely fine to me. Please don't let 'non-doggy' people around you freak you out about this, by the way. You would not believe the crap I have taken over the years because I have insisted on keeping dogs and puppies at a healthy weight, instead of letting them carry an extra 1/2 inch of fat just to please the eyes of 'pet' lovers. No matter how fully I explained, how much reference material I gave them, they would still rather not see a rib outline. Even at the expense of maybe increasing risks of diabetes, heart failure, etc in the dog somewhere down the line.
by
magdalenasins
on 06 May 2012 - 05:38
Looks perfect. I have had so many people tell me I am starving my dog when I am out I can't even give you a number lol. Whatever. Never had issues with health!
by
Abby Normal
on 06 May 2012 - 22:36
Looks perfect to me too. He is one gorgeous pup!
by
Donnerstorm
on 07 May 2012 - 00:58
He is beautiful!! Like everyone else I think he is at a perfect weight. I think ppl are so used to seeing overweight dogs, that when they see one that is a healthy weight, they assume you are starving them. I can't count the number of times I have heard that about one of mine. I don't think ppl do it intentionally, it's just not what they are used to seeing. They for the most part seem genuinely shocked when I say your dog is supposed to have a waist. As for thinking the 4 cups is a lot, that is about what most of mine were on at that age, remember he's growing that takes lots of energy. Esp with pups my rule for gauging the amt of food they are getting is when I feed everybody gets 20 min to eat then I pick the food up. If they are consistently done and trying to inhale the bowl before the 20 min is up then and they aren't one of the chunky monkies then I up their food a little. If there is always food left at the 20 min then I drop them back some. That and of course the normal gauging how they feel when you touch them, and how they look. Again though he really is a beautiful boy!!
by
GSDguy08
on 07 May 2012 - 03:16
Thanks everyone.

Donnerstorm, thankfully my Huskies kind of motivate each other as far as eating goes. All my guys eat their meal right as they get it, and in a matter of a few minutes everyone is done. They aren't eating their food crazy fast or anything, but they eat it in a good amount of time, not too fast, not too slow. I do feed Auggie in the same room as the other guys......just on the other side of the pen in the house so he won't get into their food or anything, and he just eats his. Eventually he'll be where I can feed him side by side like I do all my Huskies. I've always done this to help Sierra because she came from a place where she free fed....and didn't want to eat much at a time. I don't like free feeding, and it helped her to want to eat at a good pace

Oh man I'm getting more people though, that think my Huskies are too small LOL. I was expecting I'd get something like this with Auggie when he's fully grown....oh he's too small to be a Shepherd, or whatever they might say......But Someone told me Little Dude wasn't tall enough to be a Husky, or big enough because they had a female who was 120 lbs!!!! I flat out told the guy your female was waaaay out of the standards, by a long shot. He claimed she wasn't fat or anything....I have my doubts, especially now that I'm seeing what people think is "normal" or......too skinny..... Little Dude being at the tallest he can be according to the Husky standards is "too short".... Personally though, LD didn't like this guy (if Little Dude doesn't like you....that says something. I mean LD doesn't care to be pet by everyone, but that doesn't mean he doesn't dislike the people, he's usually just to himself more.....but if he shows he doesn't like someone....I trust that judgment quite a bit), and Auggie had already been suspicious of him, not afraid, just suspicious. It was the same night we were at Holland Park, I think it was the only one he was suspicious about. I think even with a breed like a Siberian Husky though, that people see Eight Below and think they're "huge" on the tv. Those Huskies about the same size as my guys, but some had thicker coats. And a couple were Malamutes which are bigger anyway. I've been told that my male Max was too small many, many times....but Max is 56 lbs....standards are 60 lbs at the most. I do remember seeing like, 80-95 lb Huskies come in to a place I use to work, they were the same height as my oldest male, Max.....but they weighed that much. Seriously, do people just not exercise their pets? Or do they just feed them everything known to man.....and not exercise them too?

Back to Auggie though.....I was worried about his drives there for a while too being too low, he had been more of a medium level..(I know, balanced isn't necessarely a bad thing, I just prefer a lot of drive)..it seems like over the past few days something just....clicked. For the ball, rags, tugs, etc he's showing much, much higher drives lately. Unfortunately, I think he may be starting to teeth, because he got blood on LD when they were goofing around today, he was play biting LD on the neck.....and then LD had red on his neck, most likely from Auggie's gums......so no tug for now. Just drive building....and let him have the tug. Auggie's so much fun though, and every time I get on his level and call him to me, he comes flying to me, then he leans up against me, wagging that tail like crazy, so happy. Can anyone tell me something though.... Okay, when Huskies play, they show a lot of top gums/front small teeth. All of my Huskies do this, other Huskies I've seen do this, and even wolves do this sometimes......Do Shepherds normally do that when playing around? Or is that something he learned from my guys? He's been doing that when playing with my pack now. I just know with Huskies that they do that a lot when playing with each other.
by
Hundmutter
on 07 May 2012 - 14:25
What do you mean ? Lifting the front of the lips in an 'almost'-snarl ? Or am I getting it wrong ? If that is what you are describing, I honestly think almost all dogs do this when playfighting, to some degree or other, I don't think its breed-specific. (So, yes, have seen it with GSDs).
Re the size of your Huskies, I seem to have heard quite a lot around showrings / in dog press, and so on, during the past year or two, about how Siberians are getting "far too small and weak-looking generally". I have myself seen one or two dogs I thought looked a bit skinnier than I would have expected. Could this all be part of the same thing ? But if you are happy that yours are within their Standard and could 'do a days work', surely you should take no notice ?
by
Conspicuous
on 07 May 2012 - 14:53
Could be on a growth spurt?

I'd rather see him a bit lean, than a bit heavy.


by
GSDguy08
on 07 May 2012 - 17:10
Conspicuous, he could be starting a growth spurt.


Hundmutter, sort of like a snarl, but no growling......just doing it as they play around with each other. All four of my Huskies do it when they play together.

As for what you've heard in the show ring....I'll let you look at my dogs for yourself and you tell me if they look "weak" and too small...... Why on earth should I listen to a guy who has a 120 lb Husky? The standards for a female go up to 50 lbs......his female is 120 lbs......The general public is going by what they see on television, and even at that, the Huskies on the movies aren't as big as they think. My Huskies weights are Max 56, Sierra 48, Buck 50, Little Dude 50.....though Little Dude is barely a year and hasn't filled out yet.

Buck, closest to the camera, Max in the distance.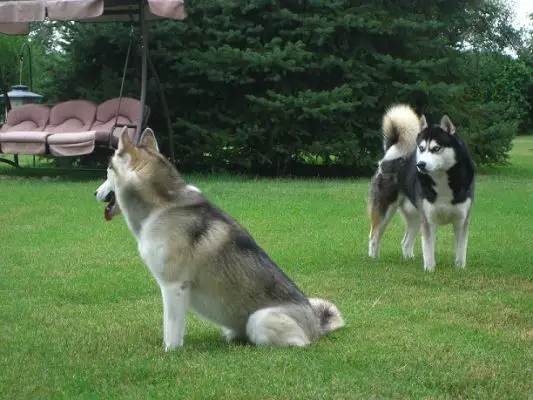 Sierra...No, that's not her "stacked pic"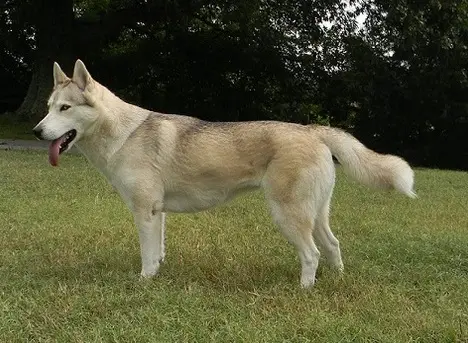 Max again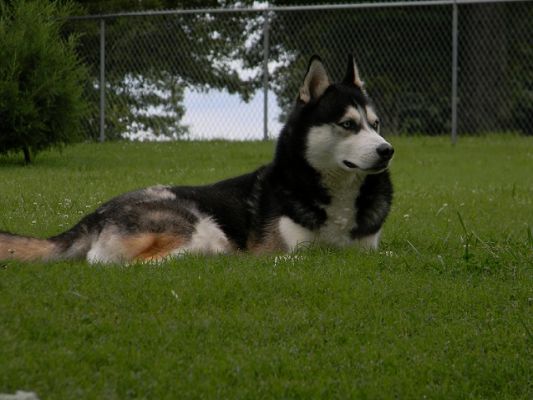 Little Dude. His color looks weird though in this one because of the sun.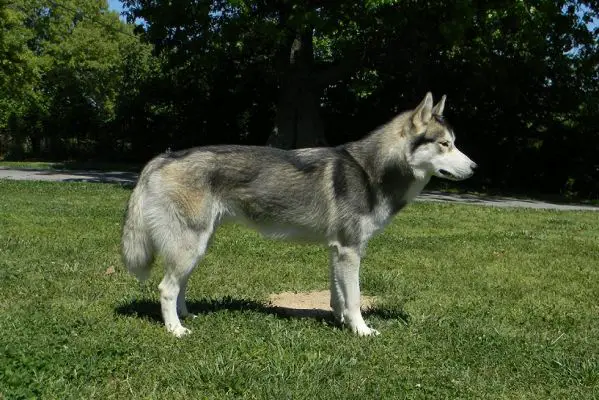 One more of Sierra.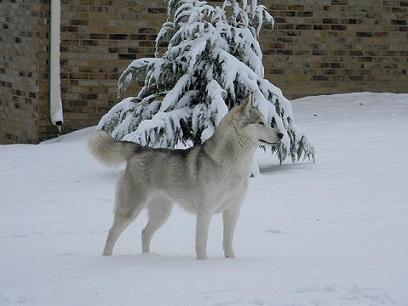 Taani, a pup from a litter of mine, she's in Iowa.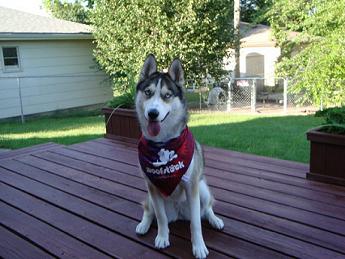 by
myret
on 07 May 2012 - 18:13
he looks just fine

many dogs of today are to heavy so he is just fine pups should be lean

You must be logged in to reply to posts