My new pups pedigree
by
Knighthawkranch
on 12 August 2012 - 02:02
After finally getting an upgrade on my internet, I am able to do stuff now and not wait 3 days for a page to load (or not load).

My sable GSD pup is doing awesome. She is 10 weeks old now and growing so fast. She is quite a pistol and has taken over the house, much to the Jack Russels disgust. LOL.

Here is her pedigree; Que Ette Vom Marienhof

This picture was taken about a week ago, she has already grown so much.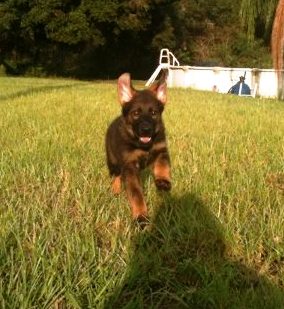 by
goodwink
on 12 August 2012 - 02:19
Nice.... :)

by
Knighthawkranch
on 12 August 2012 - 22:50
A couple new shots, now 10 weeks old.


by
yellowrose of Texas
on 12 August 2012 - 23:12
Lol on the page loading..

I still have DIAL UP....

I know you are proud to be able to show off the new pup..

Great looking and will look forward to seeing her turn darker and more of a PISTOL....

YR
You must be logged in to reply to posts