Hip Opinions Please
by
Starr11
on 09 August 2012 - 07:49
This is not my dog, but a friend's 5 year old female. No bad hips seen in the pedigree. These hips don't look good, but would like opinions on how bad they look. The vet said they would never pass OFA. The breeder claims she never produced any other dogs with bad hips and she still owns this dog's parents. Thanks for any input anyone can give.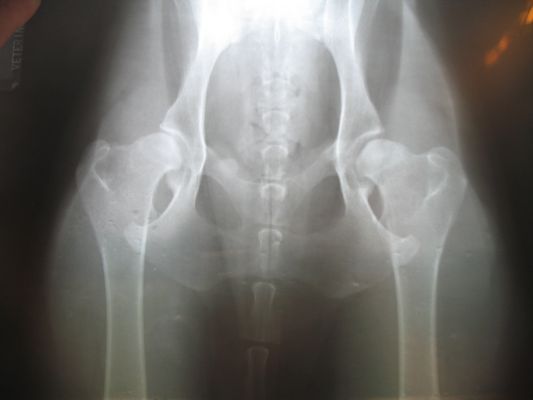 by
Wufpack
on 09 August 2012 - 08:04
I don't see anything that screams dysplasia. I don't see any remodeling or signs of arthritis. I would send them to OFA and see what they say, you may be very suprised.
Beth
RoodHaus Belgians

by
cage
on 09 August 2012 - 08:21
Wufpack,you´re kidding,aren´t you?
Subluxation,remodeling.Definitely dysplatic hips.I would say moderate.
by
Blitzen
on 09 August 2012 - 11:46
This dog is moderately to severely dysplastic for all the reasons Cage has already stated. Wufpack, I sincerely hope you have hip xrays evaluated by OFA or the SV before using a dog for breeding.
by
AmbiiGSD
on 09 August 2012 - 12:14
I second what Blitzen and cage have said.
by
Ramage
on 09 August 2012 - 12:19
No, they will never pass OFA. I'd say moderate dysplasia.
by
Nans gsd
on 09 August 2012 - 14:39
Well for 5 years old really they don't look too bad as far as remodeling goes; however the left side of our screen (probably the right hip) the socket is very shallow with not a good fit of the femur to the socket.

The right side of our screen you can see some remodeling socket has better coverage but you can still see it is not a good fit with femur and socket and some flattening on the femur head.

Moderate HD, for 5 years old.

Is this bitch showing any signs of discomfort?? Just curious? Thx Nan
by
bcrawford
on 09 August 2012 - 16:22
The vet is right. There are problems with the dogs hips. While each side has different issues compared to each other they are both equally bad.

Start her on a high quality Glucosamine therapy and do not breed. I do not know if breeding is the purpose I'm assuming there is or you would not be sending these results to OFA? Or maybe she has been bred I don't know but starting at 5+ years she is already middle age. Do not breed this dog.

About the breeder and her stance that a dysplastic dog has never been produced from them how does she know? Has she compiled a database of all litters and their OFA ratings after 2 years of age?

And even though both parents have great hip ratings that does not give a 100% defacto exclusion from hip issues to their offspring. While yes, it will help reduce the chances there can still be a pup or two out of the litter that can have a issue just based on genetics alone not to mention all of the other possible influances such as diet, environment or trauma.

Brandon
by
Starr11
on 10 August 2012 - 04:19
Thanks for all of your input. The vet told her the dog's left hip looks worse with subluxation. Not done for breeding, she just wanted to do it since I had a young female OFA'd recently. I posted my young female on here and everyone said they were good and she did get good from OFA. The dog with the bad hips is not showing any signs. She runs and jumps and you'd never know it by her behavior. This 5 year old with the not so good hips does have some dogs on her sire's side that are also on both parents of my young female, but they all had fair to good hips.
You must be logged in to reply to posts