by
fasteddielv
on 17 June 2012 - 03:33
OK, I have been holding out on you all, you want angulation? I'll give you angulation LOL!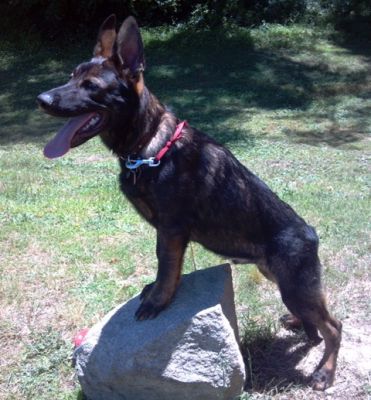 by
TheWildWolf
on 17 June 2012 - 03:57
Just keep looking and photos of well stacked working line dogs, try to imitate. Ask your breeder for advice on how to stack. Unfortunately as everyone mentioned we cannot critique without proper photos (if they try, they might find a fault with something exaggerated or shown at a poor angle that isn't really an issue).

Good luck learning! I have been learning to stack my boy, and it's been quite fun actually... learning how to position your dog to really show it off! :)
by
SitasMom
on 17 June 2012 - 04:21

6 weeks and 6 months then when mature are the best times to stack and critique a dog.....

the pedigree has some good dog in it.....



by
fasteddielv
on 17 June 2012 - 14:27
Hi WildWolf,

Thanks, yes I'll pay more attention to how dogs are stacked. I'll also practice stacking and taking photo's.
by
maywood
on 17 June 2012 - 16:13
Well, I will admit I made a drunk post earlier but the fact still remains, nearly all working line shepherds are awful in conformation. You may find some V-rated working lines but they are nearly always the worst of the V-rated dogs at any show event. And since all forms of dog training is based in obedience there is nothing wrong with saying that is about all they are really good for because at the end of the day it is the truth.
Not trying to insult anyone just trying to spell out the truth to the OP who was obviously mislead in thinking a working line shepherd has any chance at a conformation career for breeding purposes.
by
fasteddielv
on 17 June 2012 - 17:37
Maywood,

So this is a sober post? His father is SV rated, that's all I'd be seeking if that. Man you need to get out more! So in your eyes a WL dog with a SV rate is "awful"? What rating do you have on your dog? I don't know why I bother replying, your obviously just parroting others misguided opinions.
by
maywood
on 17 June 2012 - 17:52
First off, there is no such thing as an SV rating. Maybe YOU need to get out more. Secondly, for someone who is looking for answers your being quite the **** when you do receive them. Don't ask questions on this board if you can't handle the truth.
by
VIANDEN
on 17 June 2012 - 18:05
Maywood

this is my 5mon old workingline pup and there is nothing ugly about him. He can do more then just obed to. Mybe you need to stop drinking so your eyes can be clearer. So yes lets see your dog. My puppie's pedigree is here on the databases under Trace van Meerhout.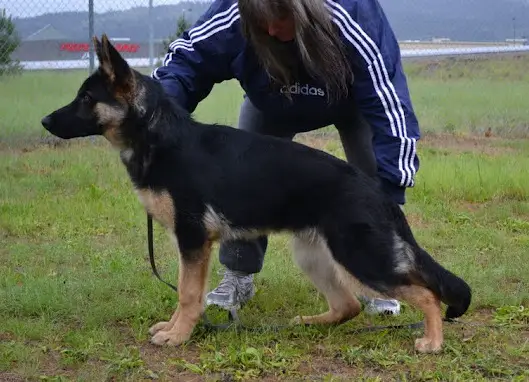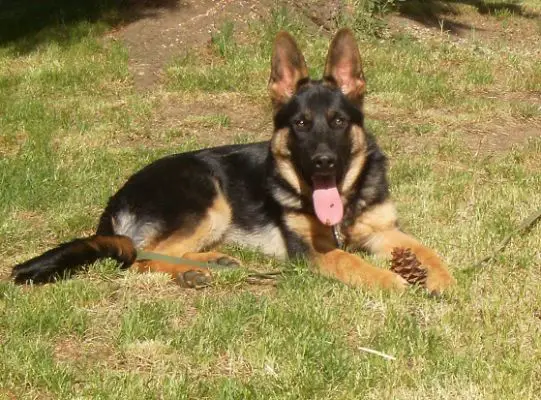 by
fasteddielv
on 17 June 2012 - 18:06
OK I stand corrected, SV registered. I got a bit confused on all those initials. You are hardly anyone I'd take orders from, good luck with that. I was only being short with those that had useless and negitive posts.



I should have said his father is KK1 rated.



I reject your reality and substitue my own!
by
GSDguy08
on 17 June 2012 - 18:22
Maywood.....lets see your dogs
by
maywood
on 17 June 2012 - 18:28
Oh brother! Look dude, I didn't say he was ugly so quit putting words in my mouth. In fact he is a very handsome fella, a very nice puppy that you should be proud of. All I am saying is that in a general sense working line shepherds are just awful at conformation. That is all I am saying.

I normally don't even comment on these types of threads but last night I was a little intoxicated and a little pissed off, so sorry if I came across less than cordial.



by
fasteddielv
on 17 June 2012 - 18:29
Viaden, your are correct, very handsome boy!!!
by
fasteddielv
on 17 June 2012 - 18:35
Maywood, you need to get the facts straight. I never said you said anything about my dog being anything. Can you follow that?

I can understand the PUI (posting under the influence) last night, but what about todays post, oh never mind I don't really care. Piece out!
by
maywood
on 17 June 2012 - 18:41
You insinuated that I thought your dog was ugly with the following statement "Maywood this is my 5mon old workingline pup and there is nothing ugly about him."



by
Psycht
on 17 June 2012 - 18:47
Maywood,

Viaden posted the above quote, not Fasteddie....
by
maywood
on 17 June 2012 - 18:48
Yeah, I see that now. Still a little hung over I guess.

by
EuroShepherd
on 17 June 2012 - 18:57

I strongly disagree with Maywood's posts, and I own showline dogs. I have seen as many beautiful, good conformation workline dogs as I have seen beautiful, good conformation showlines. I have also seen as many showline dogs with bad conformation as working lines with bad conformation. There is plenty of good and bad in both boats.
Far too many V rated showlines should have never gotten their ratings and are not nearly as competent all-day trotters as most V rated working lines are.
You have your truth, Maywood...most of the rest of us have a different truth.

That being said...
Fasteddie, your pup does not have a very good topline, it is not a straight back. His withers are low, he has a significant dip both in front of and behind the withers, his lower back in the lumbar region has a slight roach and he has a steep croup (which is camoflaged by his tail set.) A very good topline can be seen in a dog whether he is stacked or not, but a poor topline can be camoflaged by a good stack (or extreme stack, as many Eurosport K9 dogs are.) It's not an awful topline, it shouldn't interfere with his ability to do anything (like extreme roach or swaybacks can) but it won't be favored in any show ring. However, since he is in a gangly growth-spurt stage there is a possibility that his topline can improve on it's own. When he is mature you can physically condition him with lots of gaiting, building and strengthening the back muscles which will help fill in the dips and level out his topline.

Other than the topline he's a very nice looking boy, very nice head, good pigment, very nice tight paws, good pasturns, good depth of chest, good hocks. I think the angulation of the rear legs seems pretty good (other than than the steep croup.)
by
maywood
on 17 June 2012 - 19:11
EuroShepherd you just made a statement that was a whole lot of nothing. Of course there is good and bad in both sides. That is the case in all areas of activity. But quite simply, working line folks generally pay no attention to conformation in their breeding programs. And the dogs end up suffering because of it. I know everyone seems to think trotting around the ring is a simple walk in the park but that is not the case at all. Trotting around the ring for up to an hour is a test of the dog's endurance and most working line shepherds just simply can't handle it because they aren't built properly to do it.

I use my shepherds for daily workouts. It is there job to keep me healthy. This means they have to be able to jog with me for up to an hour at a time DAILY. Workingline shepherds are simply not built properly to perform this type of work. And they certainly can't handle it on a daily basis either. This is what I mean when I say they are generally awful at conformation.

by
macrowe1
on 17 June 2012 - 19:30
I'm sorry, but IMO WL shepherds tend to have better hips and elbows and drive than SL. So Maywood, how are they suffering? Because they don't look like they're taking a dump when they're standing? And I have never seen a SL that can put up with the endurance and drives of most WL shepherds. Wow, they can jog along side you. So can my SL and WL, at the same pace, for the same distance. We do this every day, then train for Schutzhund. So really you think that no WL shepherd can jog long distances because they're not made that way? That's the stupidest claim I've ever heard.
by
fasteddielv
on 17 June 2012 - 19:37
What? Knowone else though my angulation pic was funny, I did, dang tough crowd around here!
You must be logged in to reply to posts