Little Sonny is Here!
by
Mcap
on 28 June 2012 - 14:08
We picked our little Sonny from the airport Tuesday night. The trip frpm Boise (through Seattle) to Chgo was a long one but he did just fine. The weather really cooperated as we caught a mid 70s day. Today it's going to hit a 100 degrees plus. He cam in on Alaska Air and the have a specialized pet transport service with climate controlled cabins. They were awesome and even called us to give us a status on the flight and exact instructions where to pick up Sonny.
Sonny was great on the ride home and when Rocco saw him it was like "pure joy". He immediately came over and started licking him. The pup was crawling all over him and Rocco just sat there enjoying it. Rocco has barely eaten since Milo died and for the last 2 days, he has consumed over 6 lbs of raw. He even shared his big knuckle bone with Sonny. I know that will change, but for now, he's being a perfect gentleman. Since Milo died Rocco would just lay in the spot in the kitchen where he passed and was just sad. He has made a complete 180 and it looks like old Rocco is back! We couldn't ask for more out of a 7 mo old puppy. The breeder had Sonny on a mostly raw diet so there really is no transition for us. He has a great appetite and since he was home raised, his social skills for an 8 wk old puppy are awesome!
Here's some pics of Sonny...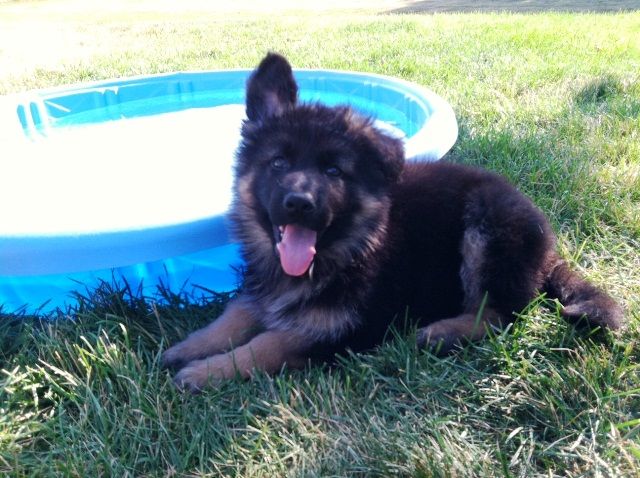 [IMG]http://i41.photobucket.com/albums/e264/FatBasser/photo1-2.jpg[/IMG]
[IMG]http://i41.photobucket.com/albums/e264/FatBasser/photo6.jpg[/IMG]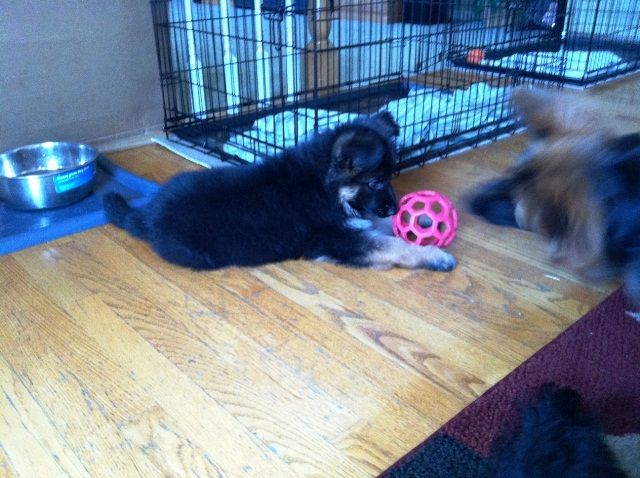 [IMG]http://i41.photobucket.com/albums/e264/FatBasser/photo70.jpg[/IMG]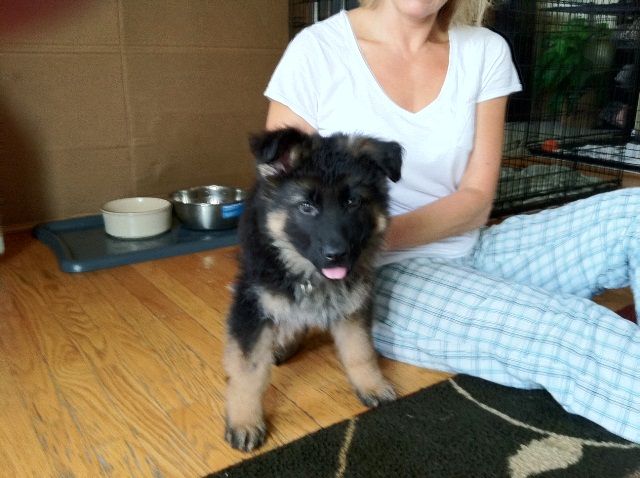 Images added by admin

Mike
by
Conspicuous
on 28 June 2012 - 14:22
OMG Sonny is precious!!! I'm glad he's helping heal your poor Rocco's heart. I hope you have better luck with this guy, he's a doll!

Definitely need more pics of this cutie! :)
by
Keith Grossman
on 28 June 2012 - 14:25
Good luck with your new pup!
by
Psycht
on 28 June 2012 - 14:32
Congratulations on your new addition :-)
by
Ruger1
on 28 June 2012 - 14:35
What Joy!!,,What a name! His name is perfect! Sonny has brought >Sunny <days again! So happy for you and Rocco!..Please keep updates going..

Deanna..:)
by
mrdarcy
on 28 June 2012 - 14:38
Oh my, this thread has brought a huge smile to my face. Lovely puppy, all the best with your boys.
by
beetree
on 28 June 2012 - 15:09
It is a nice story! I love hearing how Sonny rescued Rocco's spirit. Sonny is a cutie pie, too.

Thanks for sharing, Mcap.
by
Nellie
on 28 June 2012 - 15:56
It's lovely to see the joy your new pup has brought to you family, wishing you very many happy times together , a real sweetie .
by
Jurlay
on 28 June 2012 - 16:08
Oh God. I love the second picture. So sweet =)
by
Sunsilver
on 28 June 2012 - 16:35
2nd Pic: Is Rocco auditioning for an award as a contortionist? LOL! Rocco is just 7 months, right? Or IS that Rocco? It sure doesn't look like a GSD in that cage!

Edit: never mind, I finally sorted the picture out! At first I couldn't see where his head was, and it looked like his whole body was red. Now I see the head and the mask next to Sonny's cage. And he STILL looks really contorted... :)

I am SO happy to hear Sonny had brought sunshine back into Rocco's life! What GREAT news!

My male GSD went into mourning when my cat was run over by a car. So, I had to go out and get him a new friend: a female GSD pup! That worked like a charm, too!


by
kitkat3478
on 28 June 2012 - 17:00
Congrats on your new puppy, he looks very nice, and it's wonderful that he has brought joy to ALL of you. I hope you have many years of happiness and GREAT HEALTH, for your ENTIRE FAMILY.
by
Blitzen
on 28 June 2012 - 17:44
How exciting! Good luck with him.
by
fawndallas
on 28 June 2012 - 18:13
Great looking Pup. Better days to all.
by
Abby Normal
on 28 June 2012 - 19:17
Welcome Sonny!

He is charming, and I hope that he heals the hearts of all of you. I went to see a friends new 8 week old pup last night, and there is nothing that lifts the spirit and radiates pure joy like a shepherd pup!

Am looking forward to seeing him grow and seeing pics of him and Rocco together. Congratulations on a lovely boy - may he be everything you wish for and more.
by
Mcap
on 28 June 2012 - 19:30
Thanks everyone. Here's a recent pic of Rocco and one of Rocco and Milo. This is my favorie all time picture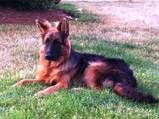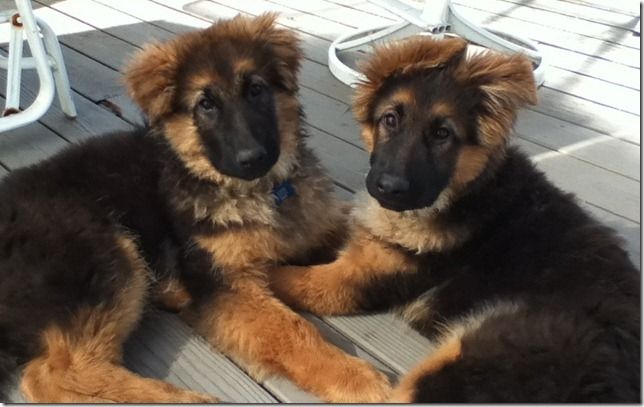 Mike

by
DebiSue
on 29 June 2012 - 02:00
Congrats on your new Sonny...the pic of Rocco & Milo brought a tear to my eye. It's beautiful.

by
dogshome9
on 29 June 2012 - 02:14

Congratulations on your little bit of sunshine "Sonny" he is just gorgeous.
by
Abby Normal
on 29 June 2012 - 07:27
The photo of Rocco and Milo is absolutely beautiful and very poignant. So glad Rocco now has Sonny in his life to bring back his sunshine.
You must be logged in to reply to posts