German Shepherd Dog > ummm do u agree with this statement. (63 replies)
ummm do u agree with this statement.
by
Siantha
on 22 June 2012 - 05:46
no this isnt to bash anyone. im wondering if im seeing something wrong. but i do not feel this dog deserves the statement she is getting. she looks like she can barely stand up imo. no i am not saying all showlines are bad dont think that i have seen some stunning ones.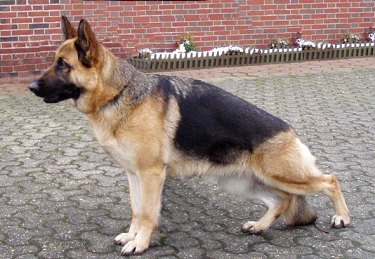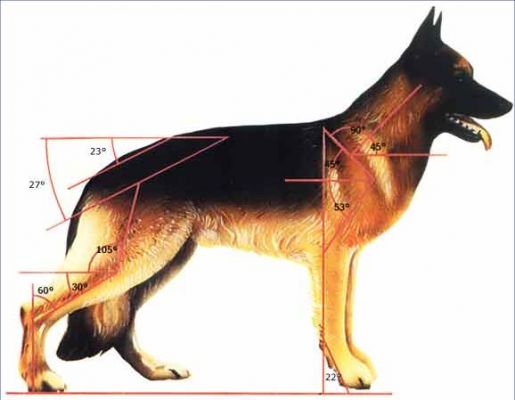 to me it just seems that this dog is literaly about to fall over in her back end. and she has the banana back roach going on

She has extremely sound structure and lots of bone and is "a" normal with excellent elbows - lots of substance. is the comments with the dog.

by
SitasMom
on 22 June 2012 - 06:01

her stak is horroble...... look at her expression.... she is offbalance and staying still to be obedient.

stop bitching about the stupid stacking ...... it shows ignorance on your part.



by
VitoManiac
on 22 June 2012 - 06:07
There is more than one way to show your ignorance...........

The stack does look awful.
by
NigerDeltaMann
on 22 June 2012 - 09:09
I think the bitch in question has no problem. I see good bone size, even of the rear limb, but she seemed awfully starked. Again, the shot's(picture) perspective is unprofessional and i think, it actually places the bitch in bad light.
by
GSDguy08
on 22 June 2012 - 10:30
Ironic though how SL people always say it's the stack and not the dog........sometimes it really is the dog
by
macrowe1
on 22 June 2012 - 11:15
Maybe it's just a bad stack. but I cannot stand that over angulated look. It's JMO, nothing against the dog. If her comments are true, great for her.
by
joanro
on 22 June 2012 - 14:09
Why is it that with over three hundred breeds of dogs world wide, the gsd is the ONLY breed made to stand in such a bazar manner? Not even the hyena, with it's NATURALLY low rear, stands like that. It's not just the show lines made to stand that way. Many, many of the work line dogs are pictured with the handler actually pushing their hand down on the butt to make the dog look like it's a drag ass. It is UGLY !!!
by
Rass
on 22 June 2012 - 14:33
First of all, as a photographer, this photo is taken from a bad angle. When taking a picture of anything.. you are taking a 3-D item and projecting it on a 2-D plane. In this case the photographer is ahead of the dog and to the side.. and so the rear end looks small (further from the film plane) and the front and head look oversize (closer to the film plane). The lens also adds distortion. A 35mm lens on 35mm format will make this look WORSE (for instance).

The stack IS bad. The dog is not even in front and the rear is off to one side. The angle of the camera to dog and the bad stack contribute to net being able to see any definition in the area of the stifle on the left leg.

From this image, I cannot say the dog is over angulated behind. From this angle she looks to have an extremely short femur and a long fibula by comparison. That may be the case.. or not.. a better stack or even the dog set up square (not stacked) would tell you a LOT more. What is REALLY best is to see dogs in person.


Nancy
by
Ruger1
on 22 June 2012 - 16:30
Actually I think she is quite nice aside from the awkward stack,,

GSDguy08 said, "Ironic though how SL people always say it's the stack and not the dog........sometimes it really is the dog

"..

Really??..I am growing weary of these kind of comments,I have seen the opposite actually,,The "SL people" from the database are IMO fair in their critiques where angulation is concerned...


by
GSDguy08
on 22 June 2012 - 16:39
Ruger1 I'm not sure I understand what you're saying.
by
Ruger1
on 22 June 2012 - 17:11
GSDguy,,I am saying that IMO, the SL people on the PDB do not support an extreme carriage in the rear,,IMO I think that when giving a critique the SL people on the PDB are fair in saying when a extreme is present..I am weary of comments that suggest that the SL people here on the PDB support an over angulated GSD,,Yes, maybe over angulated when compared to some common/traditional structured WL's, but not over angulated to the degree that we see in some extreme SL..
by
djc
on 22 June 2012 - 17:42
I have to say it IS the stack and the photo angle, not the bitch herself. She is well muscled, substantial and has large head and bone. Anyone familiar with gsd's should be able to tell she is just off balance because of the poor stack and is in a stay.
The other thing is, I don't know why some people seem to think that a gsd stack is so unnatural!! My dogs do it NATURALLY ALL THE TIME!! EVEN my wl's!!
To generalize and say that all sl people like extreme angle is absurd. They are a very small minority.
Debby
by
joanro
on 22 June 2012 - 17:51
Over- angulated is over-angulated, period. And sometimes pictures don't lie and it really is the dog. Dogs should stand up on their legs, not down like a rabbit. Ever see a rabbit walking, then something moves in the distance and they freeze mid-stride ? Their posture remarkably resembles the pose of the dog posted....they press up on front legs and hind legs are strung out behind, one hock on ground,the rump close to the ground. Dogs aren't supposed to look like rabbits in freeze mode before bolting for cover.
by
djc
on 22 June 2012 - 18:02
Over angulation can be seen as relative on the part of the viewer. There is a breed standard that includes angulation. If a person doesn't like angulation and the way many many gsd's stand naturally then maybe that person needs to choose another breed rather than continuously whine and complain!
Debby
by
joanro
on 22 June 2012 - 18:33
Thankfully there are many, many GSDs that don't stand like a rabbit fixin' to bolt down a hole...
by
e c street
on 23 June 2012 - 05:10
I believe this dog is over stretched as depicted by the hock not being perpendicular. A perpendicular hock would give a better idea of its angulation. But I agree with Nancy that from a professional point of view the angle from which this picture was taken does not lend itself for good critiquing. I also notice a break in the topline showing what I think to be "a roach". As the back comes to about the position of the end of the ribs the back takes a decided downward slope all the way to the end of the tail bone. If this break were to be straighten out it appears that the croup would be flat. Just my opinion. I do not think I would like to own this dog. ecs
by
Rik
on 23 June 2012 - 13:35
Looks like a pretty nice dog to me, but that's subjective isn't it. As said before, over stretched, but I would not say over angled. The rear is not over long and I doubt the hock could come close to being placed flat on the ground. The hocks also appear to be straight, which is becoming more and more rare.

I guess the part I do not agree with is those taking and using pictures of others dogs without permission, especially for poor comments. Did the OP get permission.

And really, what benefit is gained from "expert" commentary from folks who cannot show both good and bad examples from their own dogs.

jmo,

Rik




by
Gustav
on 23 June 2012 - 14:05
Actually, I think there is an imbalance between the forefront and the rear. I think the shoulder assembly is more like SL, and the rear is much more moderate and similar to working dogs. Look at the length of stifle....its not too long or exaggerated. I just don't think she is as balanced as she could be, notwithstanding the stack. I will say that I appreciate that she is standing on her pads(feet). There is nothing uglier to me than to see a dog upright with one leg on hocks as opposed to its pads.
Seems like a nice dog.....who knows/
by
Blitzen
on 23 June 2012 - 23:26
I hate to tell you guys this, but ANY and I do mean ANY GSD can be stretched and set up to look very much like this dog. Try it sometime in front of a mirror with your own dogs. If you can't see this dog is set up all wrong, and photographed from the wrong angle, then you need to study canine anatomy a little more.

Do you really think this dog would look the same if someone like Jimmie Moses or Heidi Theis set her up? Get real and stop judging and commenting on dogs by looking at poor pictures or post some photos of your own dogs for a critique.
by
Gustav
on 23 June 2012 - 23:52
I think pretty much everyone is saying that the stack is incorrect

, seems like a decent dog to me.
You must be logged in to reply to posts