German Shepherd Dog > should i tape his ears? (18 replies)
should i tape his ears?
by
molotov
on 29 July 2009 - 02:17
my pup is 4 months one week his left ear has been fully up for the past month and a half, but his right ear if still floppy. should i wait or should i tape it up? first 2 pics when he was about 7 weeks old

[IMG]
[/IMG]
[IMG]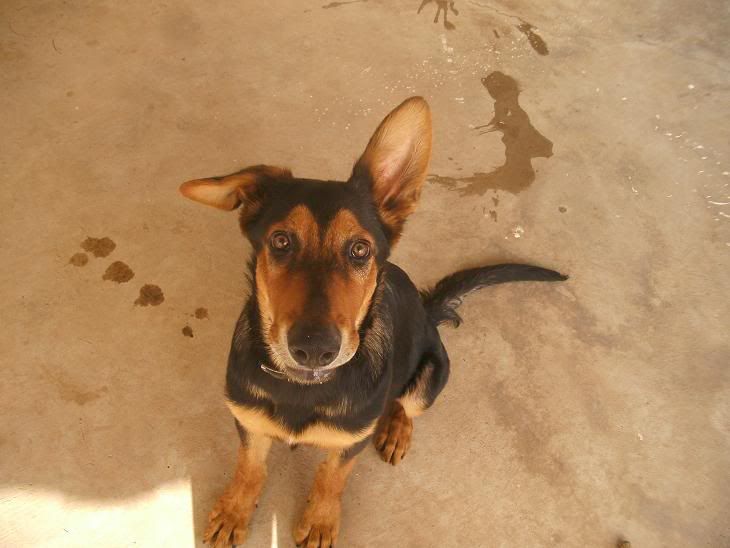 [/IMG]
[IMG]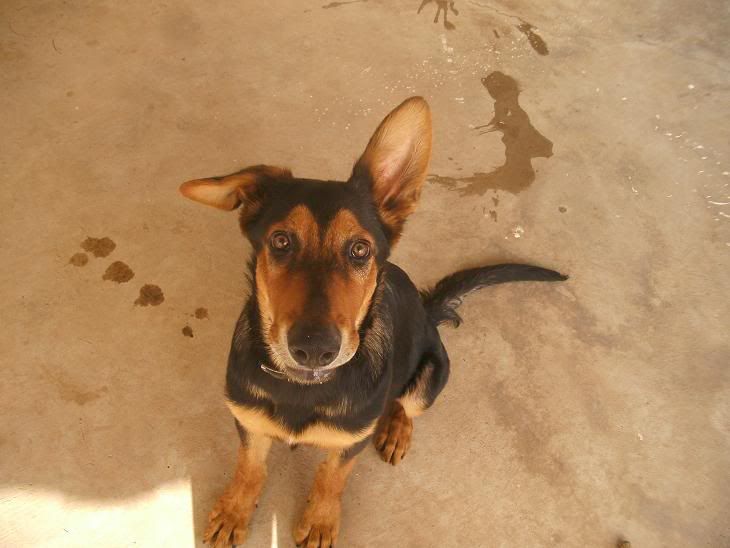 [/IMG]
[IMG]
[/IMG]
[IMG]
[/IMG]




by
GSD Justice
on 29 July 2009 - 03:40
Yell, I would tape it up with a stick and duck tape. Next time, buy a GSD and his ears will stand on their own. Your dog is not a pure breed dog by viewing the photos.
by
molotov
on 29 July 2009 - 04:01
what an ass just asking for an opinion not a pet inspection.

by
Uber Land
on 29 July 2009 - 04:05
I would give him till he was 6 months. if the ear isn't up by then, then I would tape it. 4 months is still young and its normal for ears to be in between stages.

and yes, the above comment was very rude.

by
july9000
on 29 July 2009 - 04:23
If he were in my place I wouldn't wait a second to tape it..I'll tell you why..

When the ears make an outside fold it is very hard to correct if you wait and sometimes will remain. If the ears fold in front or on the inside I wait..but never when it looks like that.

Sometimes it just takes a week or two and they are erect when you tape it..It looks like it need a little help :))
by
crhuerta
on 29 July 2009 - 05:06
I agree with july9000,
Don't wait....he does show a crease in that ear....
Your puppy looks like "genetically" his ears want to stand.......so do what you can to help.

Best of luck....pm me if you need more help in doing so.

Robin
by
DebiSue
on 29 July 2009 - 21:12
Normally I would say wait a couple of months but I agree this time with the majority. The crease in the ear is worrisome so I would tape it. Full blooded or not, he is adorable and any dog with even a smidgeon of GSD in it is going to be a super friend to the end. Enjoy him for all he's worth.
by
Uber Land
on 29 July 2009 - 21:17
I would have to change my stance and agree with the other people. tape his ear now. if his ear was standing at the base, and just the tip was flopped, then I would consider waiting.
by
CrysBuck25
on 29 July 2009 - 22:26
Molotov,

I don't know what to tell you on the ear...I'd take the advice and tape it if it were me and I was concerned about the ear standing up.

The point of my response to you is to ignore justice...This person seems to be hyper-critical of other people's dogs, especially for no good reason. I don't know whether your pup is purebred or not, but it doesn't matter either way. You love him, that's what matters, so ignore the nastiness of the poster above. He looks like a real sweet dog, so have fun, enjoy him, and best of luck with that ear.

And Justice...if you want to do that username justice, why don't you stop acting holier than thou and treating people the way you do?

Crys
by
molotov
on 30 July 2009 - 08:59
thanks all for the great advice. he is a good boy, my pup is not full breed GSD mom was full breed dad was GSD/Chech wolf dog. I went ahead and taped his ear, we will see if that solves the issue.

by
vomlandholz
on 30 July 2009 - 15:17
The point with making a comment of the dog not being purebred is in direct relation to it's ears. Dogs that are mixed with lab/gsd etc most likely will NEVER stand. you can try to tape, and I would do it now, but don't get your hopes up.

by
schutzhund_girl_90
on 31 July 2009 - 01:41
tape it...

I would also try feeding him cottage cheese or something high in calcium because so much of it is also being used on his teeth right now.
by
crhuerta
on 31 July 2009 - 04:31
Give him fresh bones to chew on.......it will help strengthen the area around the jaw and ears....besides being a good source of small amounts of calcium.
by
Jacob Angel
on 31 July 2009 - 05:58
Don't tape it. Use Kamar Adesive, and ear inserts from dogsport.com. I KNOW FOR SURE, this is the way to go, I just fixed a female with Kamar and the inserts and it was a breeze. I tried taping for weeks before I used the glue and inserts and it was a complete p.i.a. and it never worked. I agree with everyone above. Crease looks a little big for now. Tape it.

Best of luck, you can do a search on long coats ears taking too long to come up, and see what I did.

Jacob
by
july9000
on 31 July 2009 - 18:04
I use the same technic (as Kamar) but with moleskin and Tear Mender Glue..And they don't make any reaction with the glue..
I don't know about Kamar adhesive but it seems to be working good!! :))
by
geraldine bowden
on 31 July 2009 - 21:09
HI , I TOO HAD A GSD LIKE THAT AN TRYED ALL THE HINTS THE WERE GIVEN ;TRY LET HIM MATURE UNTIL HE HAS STOPPED THEETHING,AND IF NOTHING HAPPENS AT THIS STAGE I MOST LIGHTLY WOULD SAY THERES NOT MUCH MOOR U CAN DO BUT BONES AND MASSAGE TO HELP OR PROMT THE MUSSLE.HOPE THIS HELPS AND BEST OF LUCK WITH IT ' GER
by
molotov
on 02 August 2009 - 21:34
thanks, well after 3 days i went ahead and removed the tape this morning and his ear is standing up straight, here are some pics, and yes he has huge paws :)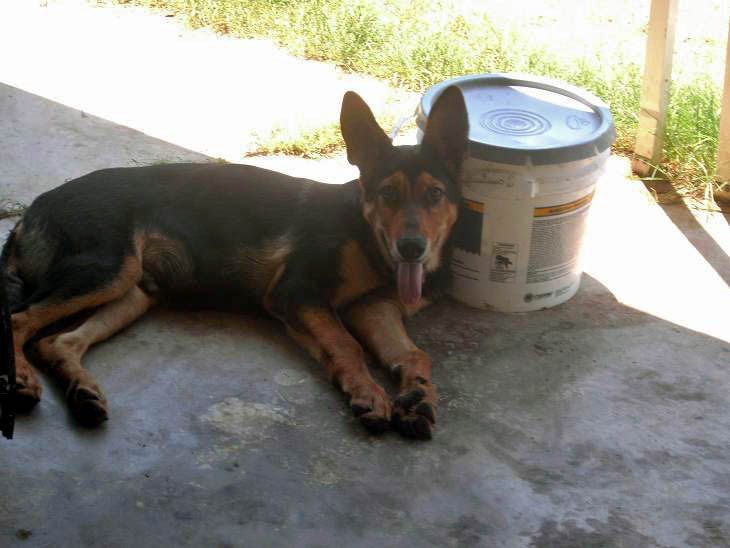 by
salinasam22
on 03 August 2009 - 00:47
After he is done teething and if the ear is still not up have you considered colostomy glue? It worked wonders for my 8 mo. old male. He just had big giant ears but a month of that glue and playing card shaped like his ear in there and viola! The card fell out a few times afer only a few days and the ear stood for about 48 hours then went down again. It is important to leave the card in until it falls out on its own. I highly doubt his ear would have stood at all without it.

by
DebiSue
on 03 August 2009 - 01:09
Huge doesn't even begin to describe those paws! He's going to be one BIG fellow when he grows into them and those ears, which by the way look nice after your tape job. Keep us posted on his weight as he ages. I'm just curious about how big he ends up being. What a sweetie.
You must be logged in to reply to posts