German Shepherd Dog > Color Prediction on Puppy pick (13 replies)
Color Prediction on Puppy pick
by
DDRDude
on 27 July 2012 - 19:50
Hello,

I'm about ready to purchase my first all DDR pup and 2nd gsd pup ever. The mom is solid black and the father is a sable from two sable parents. All the pups are sable and I know they all cary the black recessive. I've read that sable + a, pups get lighter as they get older and that all other sable combinations get darker as they get older. Is this true? I really want to a pup thats goign to be a very dark sable and hopefully with a black mask, as much as I want this superb pigment I know that drive, tempermeant, health, and build all come before. Though if I can have the best of both worlds, what should I look for in the littter that will have a greater likely hood of getting the coat I want. I want a pup that will be super dark in pigment and hopefully with a black mask on their face. What shold I look for in this litter to get what I desire, they are all a week old right now and look a little very light as it is.
by
SchaeferhundSchH
on 27 July 2012 - 20:39
This has not been my experience. I have a black sable Czech female who carries recessive black. She is extremely dark herself. Her puppies have all changed colors appropriate for sables. She was bred to a recessive black male and this is the litter that came. They were born very dark, remained dark up until 7 weeks. Got their lightest around 7-8 weeks and then have gotten nothing but darker since.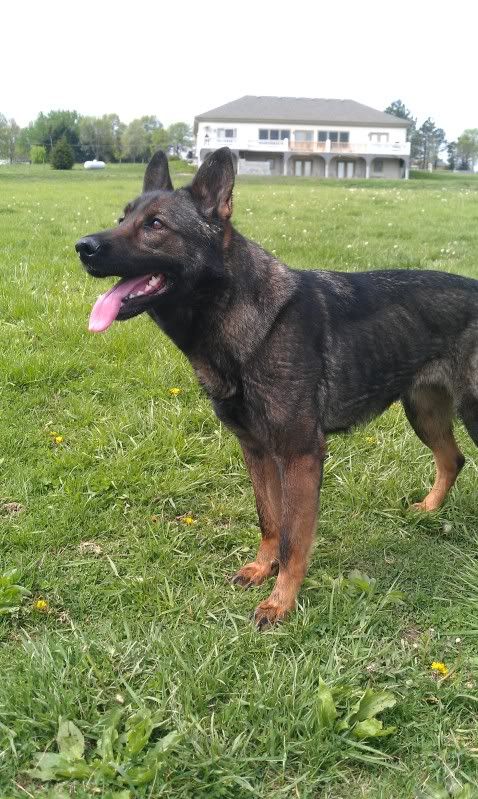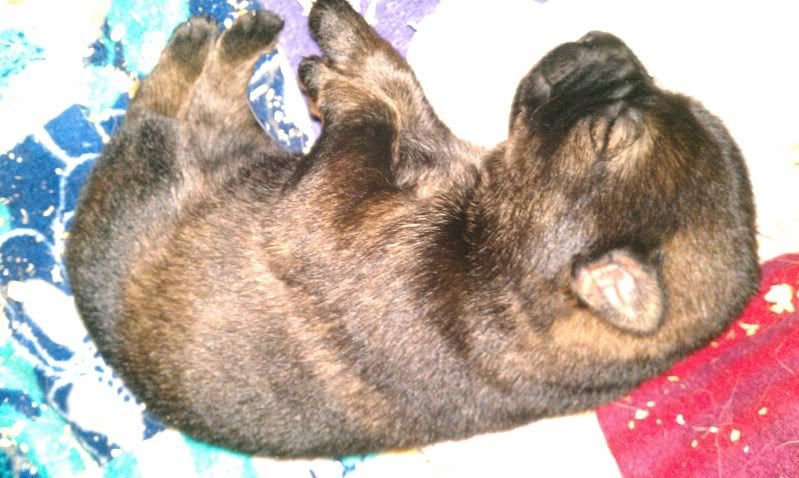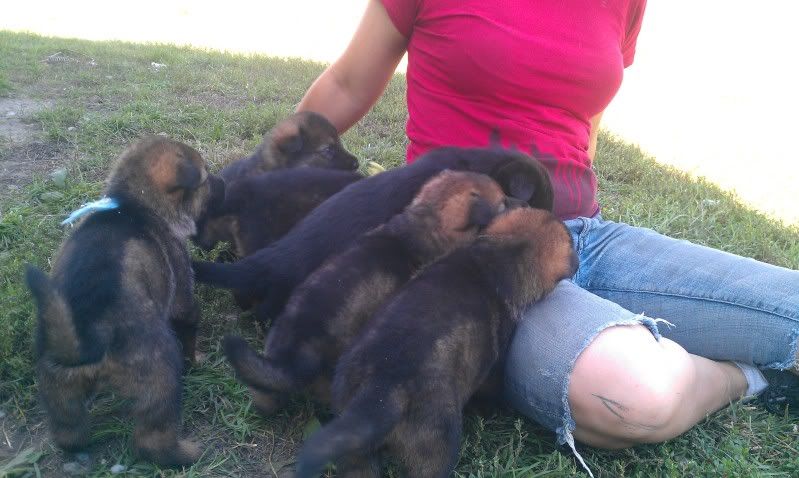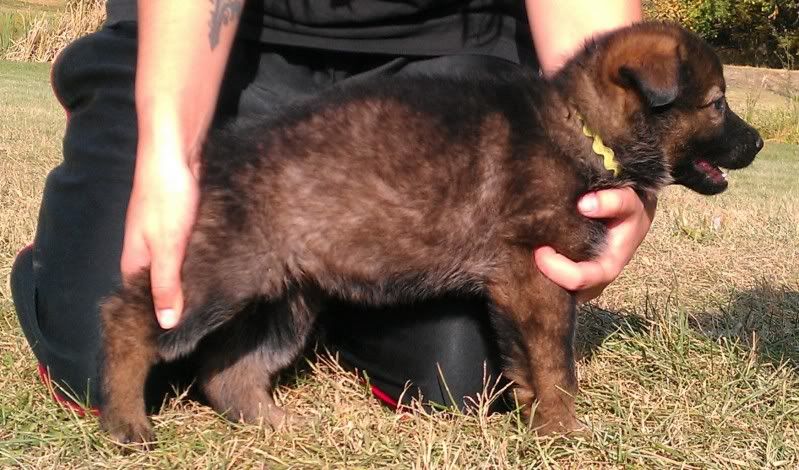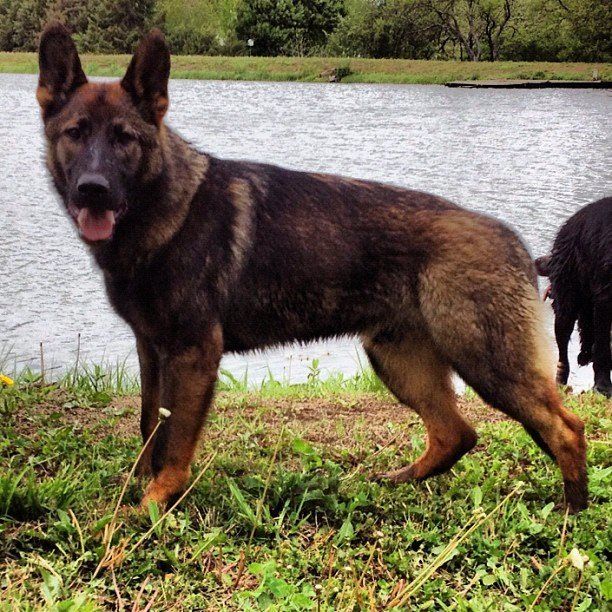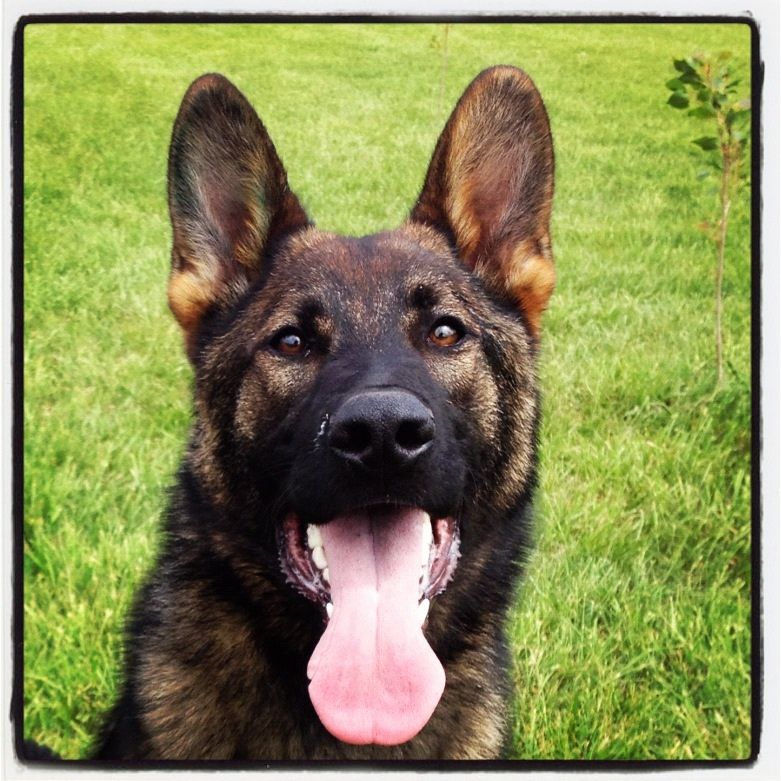 by
Hundmutter
on 27 July 2012 - 20:39
"No good dog is a bad colour".

by
Weezy
on 27 July 2012 - 21:32
But some want the good dog and the good color..Personal preference.

Good luck finding the perfect pup for you..
You might have to settle for a good dog and a lighter color.

Sables go through phases, they get lighter then darker, maybe lighter again. The ones I have had, if dark at birth, get lighter then go back darker as they mature. look like different dogs at least a couple times a year.

do you have a picture of the puppies right now? maybe we could just guess which one will be darkest, but then, you still need to consider drives you want in the pup. May not be in the Darkest one.
by
B.Andersen
on 27 July 2012 - 21:34
I have found as a general rule that sable end up close to being the color they are born then get lighter then darker as they mature. Diet in adult dogs can make a big difference. Every dog I have imported ends up shedding out darker over 6 months to year later.
by
live4schutzhund
on 29 July 2012 - 00:22
Dark in black sables for me are two different variables, pigment depth (the brown), and black coverage and intensity of the guard hairs. I have done allot of research on black sables, posted and commented on this board, but to keep a long story short, heres the nuts and bolts of it.

The only way to ensure very dark black sable progeny is to use one sable (with or without black recessive)from well pigmented black recessive sable parents, and one solid black (from two well pigmented black recessive sables, keeps things simple. Unless you have the photos and the time to trace every black to make sure none of the parents had poor pigment, good luck.). A gene for week pigment (silver, grey etc) can travel through black lines easily.

Length of hair is a factor as well. Seems the longer the hair, the more the black appears to dominate visually. Something to do with the bands of color on a single strand of hair. Very short haired dogs usually seem to have less black. The same dog with seasonal coat changes sometimes appear to have less black in the summer. So another method could be to breed one dog free of longhair, to a longhair, to get stock plush coats

. Did i just say that out loud? Genetically it would work.

One last thing to consider are unknown facial patterns that are still not yet understood genetically. I gather you want that raccoon look dominated by black. Make sure all the dogs have or come from dogs that had that facial pattern. Some will say that is merely recessive black over sable, but there are a variety of recessive black facial patterns.

Color of course should not be primary, or even secondary when breeding working dogs....However...lol with modern technology (access to photos all over the world), availablilty of so many stud dogs, why not try for your own version of perfection? The tools are available to do so. The people that will come forward and foam at the mouth regarding color and working dogs are the ones that have invested 20 years and allot of money in ugly dogs. <--- hehe



Unless every sable dog in the pedigree looks like this, you really have no guarantees. Hopefully I helped provide the most likely set of variables to produce it.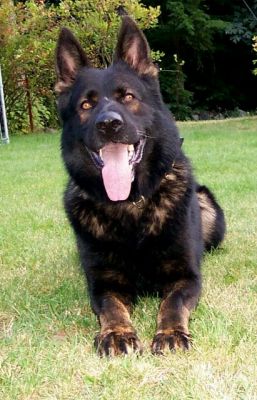 by
myret
on 29 July 2012 - 19:20
just stunning dogs just beutiful wooow



livefor

what an awessome beuty
by
live4schutzhund
on 31 July 2012 - 22:49
Wish I could take credit. He belongs too-
http://vombanachk9.homestead.com/AronvomPoppitz.html



Just a fan of this dog. If his eyes were a little darker would be my PERFECT dog.

Hope you can see what I mean when I refer to both types of pigmentation.
Heres another photo of him.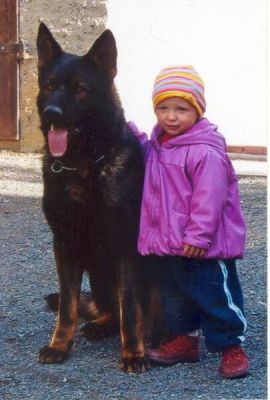 Another dog with great pigmentation. Again, not mine.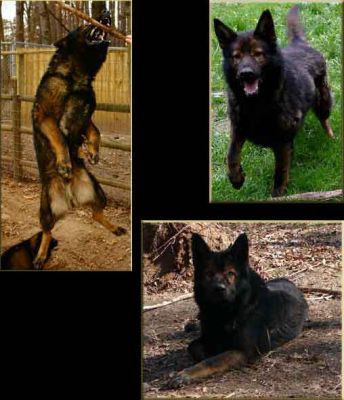 by
Pharaoh
on 31 July 2012 - 23:09
Wow! You just picked out two of my favorites.

Puck and Aaron.

My solid black Pharaoh is an Aaron son who I purchased from Julie at vom Banack.

My other favorite is Rookie http://www.pedigreedatabase.com/german_shepherd_dog/dog.html?id=481431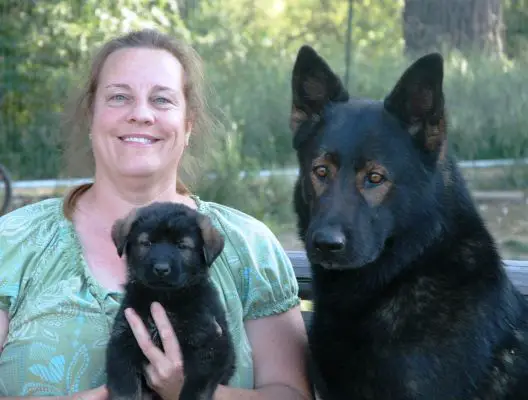 This is Kim of Just k9s and Rookie and Rookie's baby taken last May. The puppy is a full sibling to my Mariah. Kim does have a solid Black female.

Michele, Pharaoh and Mariah
by
live4schutzhund
on 31 July 2012 - 23:16
Facebook friend. Browsed those photos many times. Also somewhat validates my analysis on black recessive genetics. Beautiful dog.
by
Falkosmom
on 02 August 2012 - 06:29
"Diet in adult dogs can make a big difference."

How is that?

"Every dog I have imported ends up shedding out darker over 6 months to year later. "

Why do you think this is?


by
yellowrose of Texas
on 02 August 2012 - 23:00
Michele: My favorite boy also and his pup


DROOOL !!!!

My experience is my sables get light when teen agers , shed a lot of the under and come back in fall darker.

I will try to post pup then adult of Azech, two pups Gauda and Dressa/
first as pups then later as adults and you will notice that Dressa is mainly gray, and Gauda is red sable /patterned....both pups were light gray when pups

ALSO Cola as a pup and she was entirely a totally different color when adult

Zibossie when pup and adult...my Zidane pup who Mahon owns now.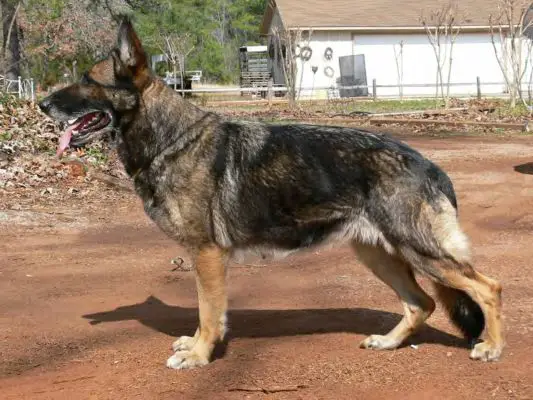 Dressa 8yrs old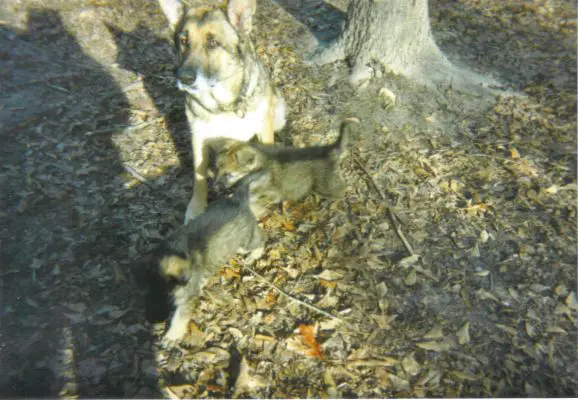 Dressa and Gauda as pups,, with mom who was sable also Azesch


Gauda, 4 yrs old Dressa 's littermate out of Azesch...born light grey in pic above.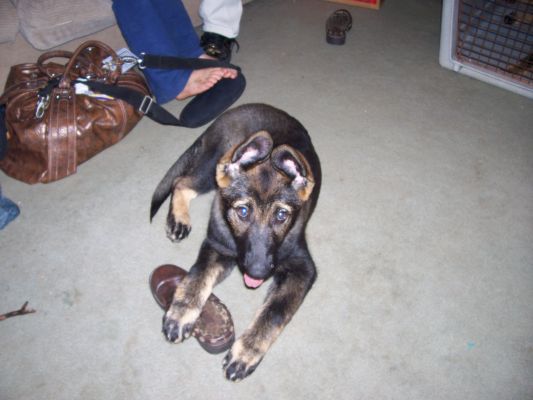 Zibossie 4 mos.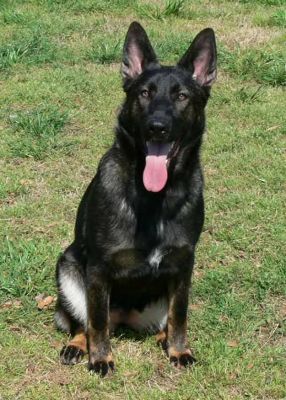 ZiBossie a Zidane daughter 2009 2yrs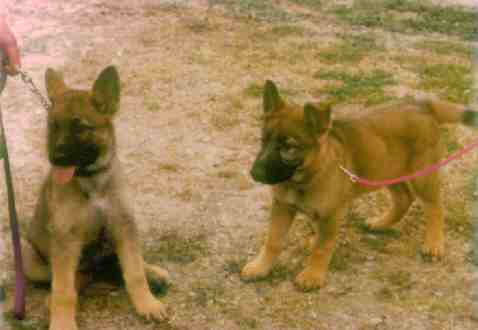 Cola is on the right looking at the pic.with Pink leash.......... her littler mate Ginger on left w purple leash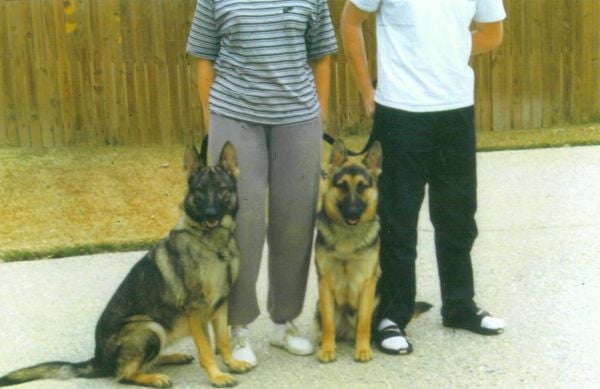 Cola is the sable and Dax is the black/red..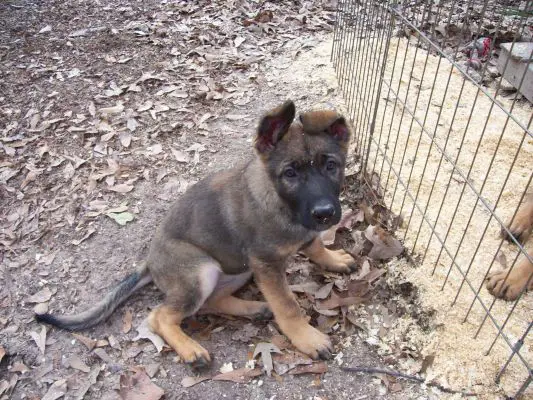 Bhandi, a Dressa daughter at 3 mos.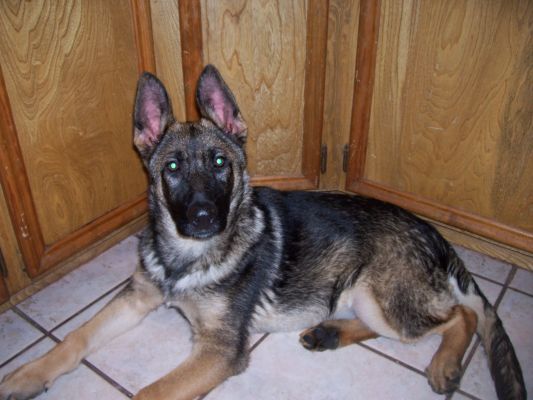 Bhandi at 15 mos old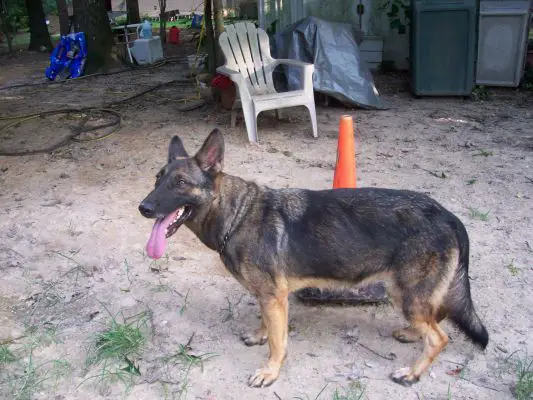 Bhandi 4yrs old
Depending whether it is summer or Fall my grey sables are light and then darker...

YR
by
THEskridge
on 04 August 2012 - 06:13
DDRdude

The Sire to my 14 week old pup is Sable and the Dam is all Black I've started a Growth Chart with pictures on this site...Every week he gets darker and darker..You can see pics from just born to 12 Weeks...He's 14 Weeks old now and even darker
Sero Atticus von Hayden
Good luck in your search :)
You must be logged in to reply to posts