German Shepherd Dog > Look out for walking, jogging or biking on asphalt (6 replies)
Look out for walking, jogging or biking on asphalt
by
windwalker18
on 04 July 2012 - 05:02
While you have shoes on your dog does not, and can be severely injured. A friend posted this pic, and I thought I'd share it here to show the damage that can happen.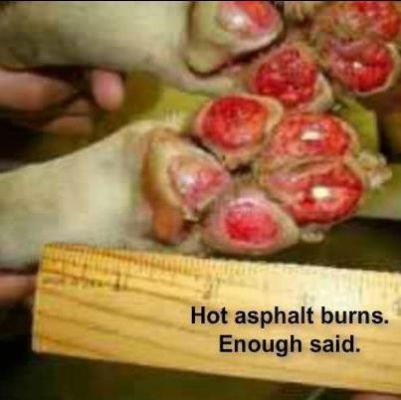 nuff said...
by
EuroShepherd
on 04 July 2012 - 06:21

omg that poor dog!
by
dogshome9
on 04 July 2012 - 08:43

OMG poor dog and a very sensless owner.

Didn't they watch their poor dog?

Poor dog must have been very Very lame long before the feet got that bad.


by
GSDguy08
on 04 July 2012 - 10:53
This is why I walk very early in the morning, that's terrible.
by
melba
on 04 July 2012 - 14:31
The photo was of a dog who had been on a roof for 10 hours, not one that was walking on asphalt.

Melissa
by
GK1
on 04 July 2012 - 14:38
Disturbing and a prime example of ignorance, or intentional animal abuse. Dogs' pads can be equated to a degree to our feet; they require conditioning over a period of time in order to be resilient to sustained friction, like running and hiking. A dog with a sedentary lifestyle will have soft pads, like a non-running person that will blister up quickly. The dogs feet can be conditioned to run on virtually any surface or terrain within reason. Hot asphalt (without paw boots) is not reasonable nor are waste strewn lots with broken glass and sharp debris. A well conditioned dog will have a thick rough pad and may only rarely require a nail trimming. For those of you who run or hike distances regularly, you are familiar with development of callus which prevents blistering. Certain breeds of dogs and humans can be trained over time to cover vast distances on foot, but are not born that way.
by
windwalker18
on 05 July 2012 - 04:31
I am not sure where the photo origionated, but the point's still the same. Like leaving dogs in enclosed cars people don't think of dogs having to walk on hot surfaces, whether it's a road, tennis court or a roof. Walking very early in the AM, or late evening can prevent the problem.
You must be logged in to reply to posts