Tucker at 4 weeks
by
Vom Mager
on 29 June 2012 - 20:09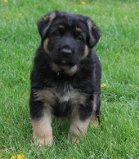 should have called him Friar Tuck. lol He is 23 lbs

Beth
by
inc
on 29 June 2012 - 22:52
23 lbs at 4 weeks ? ???????????? Wow
by
Sheesh
on 29 June 2012 - 23:28
Oh my! He's a keeper! What a beautiful boy! Wish you the best with him. :-) Theresa
by
fawndallas
on 30 June 2012 - 02:57
lol You know, you really should not feed a puppy lead bricks....------------ Cute puppy
by
Chaz Reinhold
on 30 June 2012 - 05:15
Over 25% of an ideal adult weight at 4 weeks....priceless
by
Niesia
on 30 June 2012 - 05:35
Adorable!

I can bet that he knows how to shove his siblings out of the way of food...


by
aceofspades
on 30 June 2012 - 06:04
23lb at FOUR weeks? That can't be right. Ace was 20lb at 8 weeks and he was a beast.
by
Vom Mager
on 30 June 2012 - 19:21
Serious. His brother is now 45lbs at 12 weeks, he is 43lbs and little sister is 37lbs. Dad throws huge pups in all his litters.

Beth



by
GSDPACK
on 30 June 2012 - 19:29
Are you sure a newfundlander did not hit the female on a way home? I would break my back trying to do something with that monster.

by
magdalenasins
on 01 July 2012 - 11:13
So you'll be doing agility with him?
by
macrowe1
on 02 July 2012 - 02:50
Good lord! My pup is just now 15lbs at 10 weeks. He's going to be a beast. And yes, his name will now be Friar Tuck.
by
macrowe1
on 02 July 2012 - 02:51
What is his pedigree?
by
EuroShepherd
on 02 July 2012 - 07:21

What a handsome chunky hunk!
Exactly how many days old was he when this photo was taken and when he was weighed in at 23 lbs?

Are you keeping him? I would be very interested in knowing how he matures, physically.
by
Vom Mager
on 02 July 2012 - 09:53
The photo was taken right at 4 weeks. Tucker is now 3 1/2 months. He and his siblings were born March 18. I posted a picture of a 6yr old male on PDB also. Zilla is the father (GrCh Willowlakes Chances R) and he is out of our GV Scher-lo's Rogue of Karizma . The dam is my bitch Ch Windfall's Emancipation of Mimi ( Fran-Jo and Joelle lines). Both parents ofa Excellent and Good.
I hope to repeat the breeding when she comes in within the next month.

Beth




by
kitkat3478
on 02 July 2012 - 11:53
Oh No, that beautiful pup from ASL,(just kidding), very nice looking pup .
You must be logged in to reply to posts