Eating anything
by
howlk9
on 29 June 2012 - 04:56
I was wondering if anyone else has had this issue:
I have a 18 month old GSD female-spayed. She had one major health issue that I asked about on the board (an inflammed salivary gland). She is now fully recovered.
However, she will now eat anything that she can get her teeth on. The picture below is all that i left of a very nice leather leash I was foolish enough not to put away. She has eaten entire shoes belonging to the girlfriend, including the heels and buckles. She ate a bag of tile spacers when we were remodeling the bathroom. She gets plenty of high-quality dog food, but always seems ravenous. She is also still very skinny. Any ideas as to what the problem is?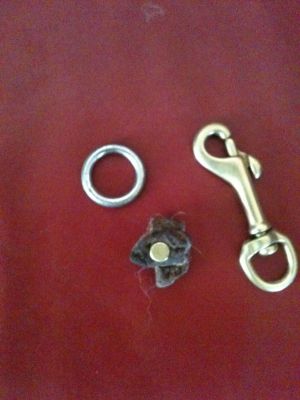 by
yellowrose of Texas
on 29 June 2012 - 05:20


It is called :WHAT IS BETWEEN THE EARS"

LIKE gustav explained and Slam dunc verified but added the word ...".and works"

YR
by
TingiesandTails
on 29 June 2012 - 05:21
I presume she is de-wormed?
Does she have diarrhea as well? I would get her tested for EPI.
If that is negative, get her thyroid hormones tested.
Good luck!
by
hunger4justice
on 29 June 2012 - 05:48
Are you sure your dog is not diabetic? Have you had basic blood work done? chewing things up is a lot different than EATING things and surgery for an obstruction will make the blood work look like nothing. I would get her tested ASAP for any kind og Pancreatic issue, including diabetes, as well as a stool for parasites.
by
Niesia
on 29 June 2012 - 05:58
Give her raw beef bones to chew on. That will taste good to her, good for her teeth, will keep her occupied for a long time and nourish her as well. There are plenty of edible chew 'toys' for dogs and it looks like she needs it.
by
kitkat3478
on 29 June 2012 - 12:24
Your dog could have a form of Pica, it is where there are necessary nutrients missing in the diet. I would definately have her checked for that. She is going to cause herself serious harm if and WHEN she eats something undigestable.
by
Eldee
on 29 June 2012 - 12:39
There is a test your vet does to rule in or rule out EPI. exocrine pancreatic insufficiency. This is when the pancreas does not secrete enough enzymes to digest food and although the dog is ravenous and eats and eats, it is still skinny and losing weight.

the web site you should visit is epi4dogs.com and compare notes with the symptoms described on that site. My girl was diagnosed with EPI as I noticed her losing weight, ravenous all the time and cow pie like runny diarahea all the time.

The test your vet runs is a TLI test and if your vet has never heard of it or this disease get a new vet that does.

If diagnosed as positive it is a matter of getting the enzymes and feeding grain free.

there is a group you can join that saved my dogs life and my sanity it is k9-EPIGLOBAL@yahoogroups.com. I would get this test done if your dog has the symptons that are listed on epi4dogs.com.


by
howlk9
on 30 June 2012 - 02:12
Thanks for all the suggestions. The next visit will come with a list of things to check.
You must be logged in to reply to posts