German Shepherd Dog > 2 year old sable female at risk-ID16041236 (Koda) (8 replies)
2 year old sable female at risk-ID16041236 (Koda)
by
3Shep2
on 28 June 2012 - 10:17
Central Missouri Humane Society in Columbia Missouri has a two year sable working line female-supposedly dog aggressive they will adopt out as an only "pet" due to liablity issues or let her be pulled by Rescue. During my visit I found her sweet and responsive, but restless and thin-the last three ribs were very visible. The only information I could get from the office was that she had been adopted but returned after the adopters were involved in an auto accident-that the shelter had attempted a meet and greet with another dog-it was stated that due to the number of intake that she could be euthanized due to her issues. Unfortunately, I have six shepherds of my own-thus preventing me from pulling her, although I stated I had the experience with high drive GS. I realize they deal with alot of ignorant folks but when they have an opportunity to actually do good for an animal . . . . . .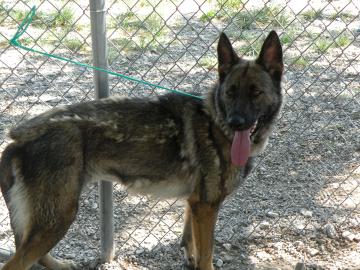 I have forwarded her infromation to some of the Working K9 and German Shepherd Rescues that I'm aware of-I do not know how long she will be allowed to live.
Shelter contact 573-443-7387-let's get her to safety

by
DebiSue
on 28 June 2012 - 13:00
I put this on facebook...hopefully someone in that area will recognize the breeding. :(
by
3Shep2
on 28 June 2012 - 21:17
Stopped in to check on the dog this afternoon-she was not in the kennels-went to the front desk and demanded to know what happen to her-the manager informed that she had been euthanize yesterday evening-what a waste.
by
DebiSue
on 29 June 2012 - 01:57
Son of a bitch. That is a crying shame.
by
Bhaugh
on 29 June 2012 - 03:45
Seen issues like this more times than I can count. The problem is that the "average" family cannot deal with a dog with issues such as this. Trying to find that special home is rare. Instead of being mad at the shelter, be mad at the breeder who didnt do a better job of screening and requiring the dog come back or microchipping and being called when the dog hit the shelter the first time.
by
OGBS
on 29 June 2012 - 05:08
The dog, likely, didn't have dog aggression issues.
Simply put, GSD's don't do well in shelters and pounds.
Most any good GSD in that situation, on leash with an un-known person attached to it, forced to be around another un-known dog (this test is usually performed in a small space) will fail the "dog aggression" test.
I took one in last week that failed the same test.
She has no dog aggression issues.
She was playing with my dogs the next day after being at my house.
My female competition dog can get very dog aggressive with other females.
They have had zero problems.

What a shame that the dog died.
I, too, don't blame the shelter and agree with the Bhaugh that this dog is another victim of careless breeding/selling practices.
Breed 'em, sell 'em and out of mind.
There are too many GSD's being bred.
Not everyone needs one.
Even fewer can handle most of them.

by
hunger4justice
on 29 June 2012 - 05:58
Why did I read this? <SIGH> She was a pretty girl too.
by
firefly
on 29 June 2012 - 14:17
As a breeder I can tell you that one of my pups was put to sleep senslessly. People do what they want. Had the female placed with them on probation, stopped in frequently as they live 5 mins from me to check on her. Next thing I knew they had put her down and there was nothing I could do. This was the most devestating and helpless feeling I have ever had. In another case I found a female that I believed was from me @ 5 yrs old on craigs list for free. Emailed the people offered to take her and never heard from them again. For some reason they didn't want The breeder to have the dog back. I don't know about this poor dog, but for some reason some people do not want the breeder involved. The breeder may never have known about this. Breeders are just people and make mistakes sometimes placing a dog. I know I am not the only one who has made them. the people who put the female to sleep moved on now to another GSD from schraderhaus K9.
by
3Shep2
on 29 June 2012 - 22:02
Worst yet when I got home yesterday I had an e-mail from a professional K-9 trainer that was very interested in her.

Supposedly the female was aggressive during two meet and greet, was in a dog fight??? and the shelter help had a very difficult time getting her past the runs and of course she was at the end so had to passed all the runs on the way outside-duh! And I rather doubt the help used anything more then a slip lead.

I did not succeed in making the kennel manager understand we were talking on two different level-she on "pet" and I on "working".

And I'm sorry but this Humane Society has a very difficult policy for prospective adoptors-very determinal to the animals that they are suppose to be helping. The KM was quite taken back when I informed her that I had yet to encounter someone with a positive experience with CMHS and when asked, I always suggested going to any of the surrounding shelters to adopt-I've adopted three out of a neighboring city over the last 13 years-at least they recoginize an animal with potential and make the contacts-plus the people are great to work with-they work to get the animals in a home!!

Yep, the idiots I've encountered both in the equine and canine worlds are what kept me from raising a litter-plus I would have had a very difficult time letting them go out into the unknown.

Well need to feed the pack-I'm still upset over the whole ordeal.




You must be logged in to reply to posts