German Shepherd Dog > Black spot on GSD tounge (14 replies)
Black spot on GSD tounge
by
Denis B
on 28 June 2012 - 02:28
I have noticed two black spots on my GSD's toungue. I was getting worried. I have had him for a year and really never noticed it. I read a forum from 2008 on here that makes me feel better.

They definitely just look like pigmentation, not raised or anything.


by
GSDguy08
on 28 June 2012 - 02:35
A black spot on a dogs tongue means that the table cloth eats fried linen, but sometimes a phone falls on a turkey. It's okay though because flowers will tell Christmas stories, and a pony will shoot rockets from it's rear. It's when Mickey Mouse falls off the Empire State building that the sky opens up and then everything really is okay.
by
KellyJ
on 28 June 2012 - 02:36

Its perfectly normal. My guy developed one also. Or at least I didnt notice it until he was older.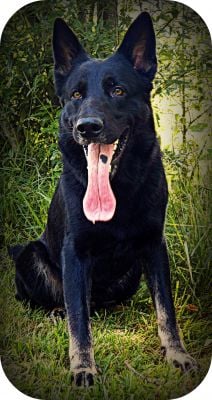 by
Denis B
on 28 June 2012 - 02:40
Thanks Kelly. I pretty much realized that and felt better about it.
As for the response prior to yours, well, I just joined so I should shut up.
Thank you KellyJ.
Den



by
GSDguy08
on 28 June 2012 - 02:44
Denis B it's all good lol. Just some sarcasm. Don't be alarmed by a black spot on their tongue, many, many have it.
by
Denis B
on 28 June 2012 - 02:52
I am the most sarcastic human alive, but what i read whas nonsense, but thanks anyway.
by
GSDguy08
on 28 June 2012 - 03:24
See, you got it. You haven't heard of Jack Vale have you?
by
Niesia
on 28 June 2012 - 04:56
My pup has three spots that I noticed just recently - I think it's adorable. I see them only when he is panting really hard or yawning. I was just talking to my husband today about taking the picture of him and his tongue spots as it would be a perfect special mark that will make him recognizable forever.

by
Lennard
on 28 June 2012 - 09:47
I was told by a "Knowledge" person, you know the type knows everything but knows nothing, that having spots on Tongue means its an Alsation and not a GSD
by
Rass
on 28 June 2012 - 11:37
I have been told that the black spot means a quality dog.

Both mine have black spots on their tongues BTW.

by
Conspicuous
on 28 June 2012 - 11:42
Lennard lol


by
Denis B
on 28 June 2012 - 18:30
I believe Jaxon just recently developed them. I never noticed it, and in the last month, they have become very noticeable.

by
jade
on 28 June 2012 - 21:19
to date ..probably the overall best gsd hund i have owned in 50 yrs was the first one i had that had a black spot on his tongue .. he was a va1 world seiger marko vom cellerand son. and was a wonderful hund in ob and protection...i have a 4 mo. old czech n ddr female now that has one.. my experience is they are pretty exceptional hunds
by
Zep
on 28 June 2012 - 22:37
My Last GSD, Duke (RIP), had several black spots on his tongue. He was an AKC registered purebred. When I asked my *vet about this, he said..."This dog is not purebred, dark spots mean some kind of Chow mix."

Glad he was wrong, because I believed him and thought I got took.

My current GSD, Shadow, does have an all pink tongue still at 8 months.

Zep--
*I also have a new vet :)
by
yellowrose of Texas
on 29 June 2012 - 01:02
The female in my avitar has her black spot in front..She is out of a Jada v SteffenHaus daughter and Pirol v Enclavehof son and Jane Steffenhaus said one day to one of my customers who was gonna sue me because I sold him a Pup with part CHOW....in it. His vet told him that it had chow in it because of black spot on tongue..Need less to say it ruined my Mothers day that year..

I got Jane on phone and even after she called this man and his wife , he did not believe us.

HE had to take it to two more vets...the first vet told him that garbage.

Jane said out of 3,500 gsd in Germany and America kennels she had at least 1,300 with black spots on their tongues and good breeding and evidence of dark pigmentation from Black/red producing quality dogs.

A whole lot of vets do not know much about the german shepherd..THEY see so many American back yard bred germans they pass on all their knowledge only by ignorance.

YR
You must be logged in to reply to posts