German Shepherd Dog > Recommendations for bite tugs (9 replies)
Recommendations for bite tugs
by
macrowe1
on 23 June 2012 - 21:14
Hey guys! I'm looking to get my girls some bite tugs to build up bite. What material do you guys recommend? What size? Are two handles better than one? My older girl is 20 months, and my little girl is 9 weeks.
by
Keith Grossman
on 23 June 2012 - 21:25
I buy the jute tugs...might as well get them used to the feeling of the stuff in their mouth early on! One handle is fine for short tugs, two on the longer tugs and three on a bite pillow.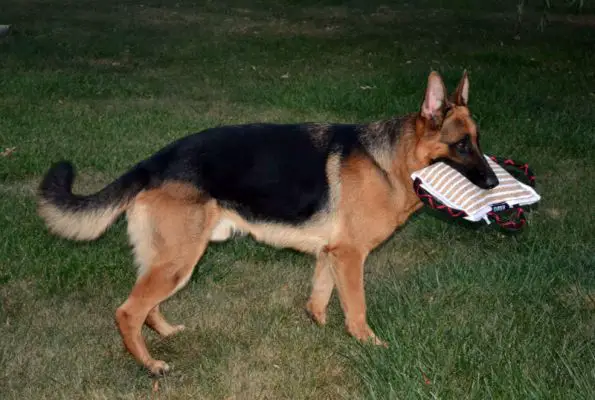 by
macrowe1
on 23 June 2012 - 22:16
Thanks!

by
Q Man
on 23 June 2012 - 22:23
Jute is a good material to start with...It gives the dogs a good grip...The 9 week old maybe you should try a very soft burlap sack (bag) or even an old towel...You have to be fairly gentle with the very young ones...And then they'll also begin to teeth...So their gums will be sore and might bleed some from too hard of playing...
Some people don't want to play with tugs or sacks while their dog's teeth are changing over to their adult ones...But if you're gentle with the way you play with them...there shouldn't be a problem...Just don't pull or try to take the sack away too hard...
But Jute is a good material...but you'll probably end up with a nice collection of tugs and toys after awhile...Different materials are good after awhile...Every surface or texture is different to them and teaching them some new...

~Bob~
by
macrowe1
on 23 June 2012 - 22:30
Thanks! I'll make note of that. She'll bite anything, but I was worried about her teeth, because she won't let go. So I'll try an old burlap with her until she's big enough.
by
Keith Grossman
on 24 June 2012 - 01:47
For the little ones I also use a buggy whip with a piece of suede on the end of it. Once she gets into the game of chasing it, you can back tie her and tease her with it and you'll probably having her barking in no time as well.
by
macrowe1
on 24 June 2012 - 02:36
Keith, she's already chasing and full-biting and holding anything you drag. She'll bark and carry on. She started that at 4 weeks
by
Keith Grossman
on 24 June 2012 - 04:54
Ah, good...reinforcing her barking with the 'geblaut' command now will make teaching the hold and bark much easier later.
by
duke1965
on 24 June 2012 - 06:04
dont you have an english command for geblaut, or do german commands work better on german sheps

by
magdalenasins
on 24 June 2012 - 12:54
I put them on every type of tug and rag as young as possible just so they don't get fabric focused later. I don't use the handles as puppies will generally target them as they move faster so either cut them off or tuck them into my hands. Right now I have rags in terry, cotton, leather, suede fur and jute and tugs in jute and leather and hose and bite pillows in all of the above. I love my toys. :D The pups don't really care which one they get.
You must be logged in to reply to posts