German Shepherd Dog > Expert Opinions on this SL linebreeding for working abilities (64 replies)
by
djc
on 15 June 2012 - 18:47
She is not weak nerved or soft. One can not tell that by one sieger show result. If someone was intelligent enough they would save that kind of judgment for personally working the dog or watching video. Even video does not always tell the full story. So, Ulgy, you think you know more than Flinks and Mike Diehl and everyone else that has worked her in person?? Hmm I think NOT. Here is a couple of short clips from when Flinks worked her, before she was titled and a youngster.
http://youtu.be/_Vs9CSXGvMU
http://youtu.be/r5lXcxmo5zY


Not perfect but definitely NOT weak, soft or nervy!
Here is an escape bite with Flinks.... she had never ever done an escape bite before and you can see she went straight for the tricep but literally ran into the the thick hard upper part of the sleeve. lol She didn't give up and then re-gripped. I say not bad for a young untitled dog's first escape.
http://youtu.be/URR1ZR9otiI
Debby


DebbyDebby



by
Ibrahim
on 15 June 2012 - 21:32
UglyK9,

I'm not knowledgable on working ability of dogs so excuse my ignorance & my astonishment, how can you judge a dog is not worth breeding without seeing it first hand and without working it yourself? How can you judge against what knowledgable trainers/handlers opinion of the dog's work? If she were my baby I would be feeling very bad at what you said, thanks.
At this moment I miss Slamdunc, he would have given valuable advice how to reinforce her training positively. Slamdunc if you're reading this thread "Hi".

Ibrahim
by
Felloffher
on 15 June 2012 - 22:34
djc,

Based on the video clips I wouldn't say your dog is nervy, but IMO she's not very strong. I do think Griff looked good.
by
ColdWaterCreek
on 15 June 2012 - 22:36
That's too bad about the INS. I am surprised she did not recognize the setup from her breed survey. Has she always focused on the judge? Perhaps more work with more distraction. It's always a shame that so many do not pass at the big shows in the bitework. I wish you luck in her future training.
by
djc
on 16 June 2012 - 03:45
Felloffher,
I guess I need to repeat that Vogue was just a year old and NOT TITLED in that video! I'm not saying she's a lion, but she is very good, even in that video for an untitled yearling. Yes Griff is absolutely stronger, but 2 things: 1) He's TITLED TO MULTIPLE SCHH 3'S IN THAT VIDEO!!! 2) ISN'T IT THE POINT TO BREED TO SOMETHING STRONGER!!??
CWC,
Unfortunately I am inexperienced in training for Sieger shows and my trainer did not think to train with a judge on the field. The breed survey was completely different in that she saw where the helper was and was focused on him. At the Sieger show the last bite she saw was right in front of the judge in the middle of the field so that's why the focus there to begin with. The other thing is in practicing for this we heeled past the helper many times so that she would contain herself off leash and that she didn't know when we were heeling by or when the helper would come out. In her mind we were heeling past the helper so she was not even looking for another helper. Oh yes, we will be working on lots of "surprise" situations and defense for sure! Thanks so much for the well wishes! :)
Thanks Ibrahim.
Debby
by
CMathis
on 16 June 2012 - 19:07
Debby,

I think your female did fine in the videos. Like you said she was a young dog. Some training on different fields with different helpers and distractions should help a bunch if you decide to try her at another Seiger Show.

I think more people should breed to dogs like Griff. To me dogs like Griff and VA Zambo are the whole package.

Best Regards,
Cheryl
by
Darka
on 16 June 2012 - 19:15
Why must people make excuses for their dogs? This is why the SL is in such trouble.
by
Ibrahim
on 16 June 2012 - 19:37
Darka,

On the other hand, these are the Sl people who pay attention to temperament and work ability and are doing their best at research and requesting the experienced opinion to match their dogs with best available mates, let's be positive and encourage them to do good breedings, let's not shut them off. How many sl bitches do you see nowadays who have SchH3/OFA normal? If we don't breed such a fine bitch then what else do we breed? the less worthy ones whose owners have bundles of $$$$$$$$ !!!!
by
kitkat3478
on 16 June 2012 - 21:23
djc- ignorance breeds contempt, and those few statements are contempable! I would like to see the videos of those few posters year old dogs working, or better yet, their performance at a Seiger show. I guess some dogs are just natural Sch3 dogs. I think "training" is the key word here, Something I know very little about, however I have a great deal of respect for those that do.
by
CMathis
on 16 June 2012 - 21:30
Ibrahim,

I agree with you. There are breeders out there that do the research and really try to breed a good dog. You don't see that many SL bitches with a Sch3 and the OFAs.

I would rather see a female like this bred to the appropriate stud dog for her. I would think encouraging someone who wants to do the right thing is what needs to happen.



I think the reason that the SL dogs are in trouble is simple the almighty $$$$. There are dogs that have titles that absolutely do not deserve them and then these same dogs get bred and produce more just like them. There are dogs that have nice conformation and work well that get discarded for breeding because of the show record. Breeders will flock to the popular stud dog rather than breed to the dog that is truly best for the individual female. If people keep it up there will be no working ability left.


Best Regards,
Cheryl


by
Ibrahim
on 16 June 2012 - 22:52
Wow, that Kuma boy is a serious worker even when he was just 15 weeks old, his structure looks good too, I'd love to see him standing in a stack, he has exceptional shining coat.
On topic, I don't think the OP is illusioned that her female dog is a candidate for BSP 1st position.

Ibrahim
by
djc
on 16 June 2012 - 23:20
thanks Ibrahim, KitKat and Cheryl!
Ignorance is absolutely the problem with the stupid comments. Like I said, if the EXPERT TRAINERS, people who train trainers, think she a good representative then who are they to argue! Especially with no hands on.
The thing to me is that NO DOG IS PERFECT and they ALL have their strengths and weaknesses. Believe me, I started in SchH at a strict wl club and saw MANY MANY working lines that would not work, so it's not how all the wl die hards want people to think... ie that all wl work and work better than sl. Being able to see what your dog's weaknesses are and do your best to improve upon them in breeding as well as training IS the key. No statement was made as an excuse. They come from years of experience in reading a dog and being able to see in a given situation what is going on in their mind. There is no one, who is honest, that can say their dog does not need some kind of training help and building up of weakness. Her's is lack of defense. I've seen it come out a couple of times so I know it's in there, but it is not her natural nature. She is EXTREMELY prey driven and is so biddable and willing to please that defense does not come naturally except in extreme situations. This is what we will be working on. She really is fine in other environments and situations. I can take her anywhere and she is stable, friendly and playful with everyone. I actually love that video of her first escape bite! If it had been a bite suit she would have had him! lol but the sleeve (as any experienced person knows) at the point where she tried to bite was probably 12 inches wide and hard as a rock and was not going to crush down. There was no way she could grip it. Nor could any other dog. The fact that she didn't let it discourage her, and re-gripped also speaks for it's self. So I don't see that as a problem, I see it as an excellent first try! :)
Cheryl you are exactly right. If more people would work to improve weaknesses in their dogs, again they all have them, it would be a whole different world! I've been doing research for many years now and MOST of the top dogs I do not use because they don't meet my criteria. You are right in that most people DO use the top dogs regardless of what their dog needs, because they can sell for more $$$.
Debby

by
djc
on 16 June 2012 - 23:39
lol Exactly right Ibrahim!
No BSP in her future and neither is it in MANY MANY wl's future.
Felloffher,
GREAT little man!! Love it! Hope he will be a top competitor for you! Who knows I may want to breed one of my working line girls to him someday! lol Thanks for sharing! Although a couple of things, just for keen observances sake- That was not a true "take down" as the helper had the sleeve out so far away from his body that it put him off balance. But nice just the same. Also he is not totally focused on the helper and looks back for you in the guard. I'm sure you have that fixed but the only reason I point that out is that NO dog is perfect they all need training and improvement. Again, no offense meant, he is a fantastic boy and has a very bright future! Hope to see you and him in the Nationals as well as international competition!
I am not comparing my sl bitch to a top working line of any gender. But she IS an excellent representative of a sl bitch in every way.
Debby
by
Felloffher
on 17 June 2012 - 00:49
djc,

Sorry to derail your thread, I'll post this and then I'm done. I sold Kuma just over a year ago, he's doing detection/patrol work for a security company.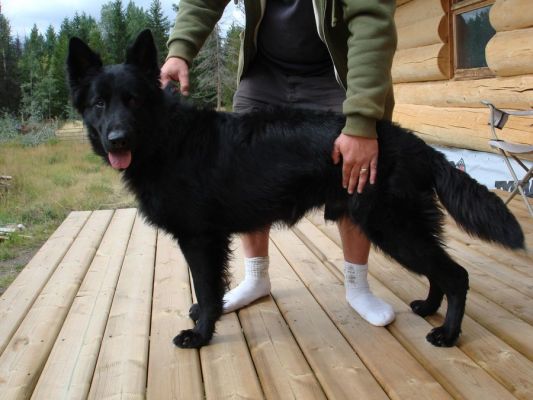 by
djc
on 17 June 2012 - 01:01
You're fine Felloffher! lol Everyone on this board likes to see a good dog work! Decent conformation too!! Great job!! Hope to hear he makes some record breaking finds!
Debby

by
Ibrahim
on 17 June 2012 - 06:49
Beautiful GSD, the hand is covering the croup partly, but still I can say it's a nice croup, what a gorgeous head, just beautiful.
Ibrahim
by
Red Sable
on 17 June 2012 - 12:44
My kind of dog Felloffher, congrats!
by
Gustav
on 17 June 2012 - 13:01
In defense of Felloffher, he sees much of what I see. We both have a lot of experience in reading working dogs. We see a lot in a short clip. Now I don't think he is condemning the female or saying that she isn't breedworthy. But I do think he probably looks at breeding this female as I would. In this I would definitely like to improve on some critical things, (like say her defense as her owner states), well I certainly would make sure that I didn't breed her to dogs that were backmassed in any way on the same dogs in her pedigree. What a lot of people forget or won't acknowledge; is that if you backmass on even a dog like Bernd v Lierberd long enough you are going to get mental health issues as well as physical/structure issues. That's just science. Not saying this female has mental health issues at all, BUT the difference to me in show breeding mentality and complete breeding mentality, is when I see something that definitely needs strengthening, then I am NOT looking to improve it with the dogs that genetically are the same as the one I want to improve on....even if they have fabulous temperament. So for me this female should be bred to a male of alternate line with the structure you like, or at the very minimum, I would breed her to a SL that is very very strong out of Mutz vd Peltzerferm lineage. This way I improve genotype with phenotype laying the foundation for more vigor and a longer lasting breeding program. Just my thoughts.
Please don't take this post negatively, just trying to be helpful and offer an honest opinion.
by
djc
on 17 June 2012 - 15:37
Thanks Gutav! I appreciate your thoughts! I can see the logic in them as well. This is the type of interaction I was hoping for!
BUT I know where the character flaws are coming from and it's not any of the dogs that we would be lining on. It comes from her Grand dam Ischa's mother line. Even though there are some good work producing dogs in her, there are also many that are not. I also know from what others, including the owner has said about the grand dam. So this gives me confidence to line breed on the known good dogs in Vogue's pedigree. Although I do say, as Vogue has no line breeding herself, it kind of scares me to breed to a total out cross again as the type, especially geno type may be diluted. Yes, if I choose a matching pheno type that will have a high probability of consistency in the litter, but geno type is more important if you are looking to improve bite work. Right? It is also much harder to judge geno type with out putting hands on a dog and watching him in person. The Grand Dam is the only one in Vogue's pedigree I didn't have hands on, but trusted it because of Ghandi. But Ghandi can not overcome all that is in that pedigree.
I love thinking this through and would love to hear your further thoughts on this Gustav.
Debby
You must be logged in to reply to posts