German Shepherd Dog > What is the average weight for a WGSL female? (18 replies)
What is the average weight for a WGSL female?
by
Anthony8858
on 11 June 2012 - 10:53
I would like to know what the average weight is for a West German Show Line female?

Preferrably at about 1 year old.


I see GSD's at all sizes fron 50 pounds to 120 pounds, but don't get the chance to see too many WGSL's

Thanks
by
Rasenhof
on 11 June 2012 - 11:16
My first GSD (born 1959) was 23 inches, medium bone and weighed 65 pounds. Is the average WGSL female 22 inches or 24 inches ? Fine boned (probably not) or big boned ? Is she fat or skinny or hard conditioned (flesh weighs more than fat) ? I do herding and conformation with American Bred GSD. Conformation dogs have ribs and should be in firm condition with lots of road work. My Ch, HSAs bitch was about 24 inches and about 74 pounds. I really don't care how tall or how much they weigh, its how they look, lean and fit. Ie, they have ribs.
by
Anthony8858
on 11 June 2012 - 12:16
The reason I raised the subject, is because of comments I've been getting about my dog's size.
She's a WGSL with a good pedigree, but so much smaller than any GSD I've seen (other than some working lines)

She's approaching 1 year, and weighs 58lbs @23 inches.
I've only seen 2 other WGSL in my area, and both have much more substance. Thicker body frame, larger head, bigger paws. eight in the 70-75lb range.

My dog looks like a 6 month puppy next to them.


Don't get me wrong... My dog is beautiful, and very agile, and I'm happy with her size.
I'm just curious about this weight thing.
by
laura271
on 11 June 2012 - 13:19
I don't know if this helps but -

Senta isn't a pure WGSL- she is two years old, has a small frame, and has almost zero body fat. She weighs 61 pounds soaking wet. However, she is a very poor eater and is pretty rigourously exercised to maintain some sort of appetite. In contrast, we have a 7 month old male w/l GSD who is 73 pounds of muscle (he has a sturdy frame).

This picture (from last month) clearly shows the difference between the two dogs.
by
Keith Grossman
on 11 June 2012 - 13:21
Your dog's size is fine. She'll probably fill out some and put on a little more weight over the next year or so but will probably be what the German judges would refer to as a medium sized bitch. Most people don't know what they're looking at and are accustomed to seeing oversized dogs.
by
trixx
on 11 June 2012 - 16:31
your girl is the right size, nice in the middle, i have a female that is correct size and when she was a year old was 60 pounds she top out at 68 pounds, which is a right size female not too big or too small. 55 pounds to 70 pounds is what they should weight when fully grown.
by
swingfield
on 11 June 2012 - 17:16
I am soooooo glad to see this post.. I am going through the same thing with a female show line I just imported.(Holtkapmer Hof). I knew ahead of time she was small.... but 40lbs at 7 months old... she is so feminine and petite .. my k-9 in training (East/West working line) is 80 lbs and she looks like a mini shepherd next to him! I was going to ask about her.. she is now on a higher fat food after ulcer scare.. and hard to take pics by myself!.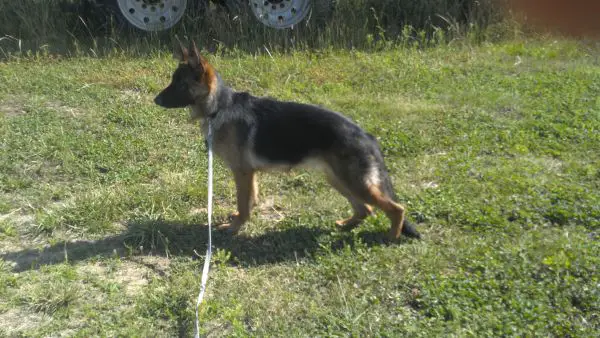 by
Anthony8858
on 11 June 2012 - 18:42
I'm glad I brought this up. I honestly thought the board would bash me.

Everything I read tells me that she's right where she belongs.
Every dog I see is much larger.

Where are these medium sized dogs?

Are people bent on getting the biggest dog possible?
by
swingfield
on 11 June 2012 - 20:16
everyone here thinks my dog is a midget !! starved, stunted, or I got the runt of the litter !! I have had adult show line females imported.. so I must say I was a little unsure of her size when she arrived !! but according to alot of people here.. I am good!! so whew..! do you have a picture?? sherry
by
Anthony8858
on 12 June 2012 - 03:21
Here are 2 pictures of her at 10 months of age. Only gained 1 pound since, so she looks the same :)


by
La Junta GSD
on 12 June 2012 - 05:42
She looks like the perfect size
by
aceofspades
on 12 June 2012 - 05:59
My girl is a SL/WL she is compact, solid and thin and 65lbs. My other female whom I have no pedigree on is 10-15lbs heavier and about an inch taller at the withers, but definitely thicker around the rib cage.
by
CMills
on 13 June 2012 - 02:49
Anthony, your bitch is beautiful, what a beautiful expression!
by
GSD2727
on 13 June 2012 - 03:03
My old German working x show female was around 55lbs as an adult in good working weight. She was slight in frame and could have had more substance, but she was listed as a medium size female on her koerung. Her daughter is around 50lbs.... and her granddaughter is around 55lbs as well (she 3/4 working 1/4 show lines and Kkl1).

While I would prefer my girls to have a bit more substance and bit larger bone, I do not mind their size at all. I do not need a female to be 75-80lbs. Some think my dogs are small, but they are well within the middle of the standard.

but not full WGSL like the OP was asking...
by
swingfield
on 13 June 2012 - 03:12
Anthony.. she is gorgeous.. I love her expression.. she is very pretty!
by
yellowrose of Texas
on 13 June 2012 - 03:43
at that age 55-60 lbs
fully age is aroung 68 -72 lbs..this is what I was told by two breeders who WENT to Germany and titled themselves and joined a GERMAN CLUB...

THE proper weight is almost a laughing joke in USA>

Only those who work and are very much serious about knowing and doing the proper weight even if your dog has large bone..it cannot weight over the weight to jump and work and fly into it job with accurancy and for what the shepherd was intended.

A sl dog may have been bred to weigh more by the breeder, you got it from, AS GENETICS plays a huge part in the bone density and the stucture , before you feed it, but that is why we speak so firmly about how you breed, what you breed to and the WHY you breed and for what end purpose.

Yr


Your pictures are astounding...gorgeous head view and size is good...but a lot of people will say to you

in person when they come upon you and your dog....why is your dog so Skinny?

i HAVE HAD MANY say that to me...I get tired of explaining...and my vet tells my customers..you better get that weight off before Jan sees him or her...Many of them I board and they see the vet to get a rabies etc and that is the first thing MY vet tells them..


by
Chaz Reinhold
on 13 June 2012 - 04:02
So there is a different standard for WGSL?
by
Blitzen
on 13 June 2012 - 13:18
Dogs can be the same height at the withers and still not weight the same. Oval bone is more dense and weighs considerably more than round bone; a GSD with the correct oval bone can easily weigh 5, 10 lbs more than one of the same height with round bone. The size of the bone is also a factor. A fine boned female will weigh much less than a female with heavy bone.
by
PINERIDGE
on 16 June 2012 - 00:37
Anthony - she is beautiful - and looks exactly the right weight for her frame.
Soooo many people forget (especially is the US) that the GSD is a MEDIUM sized dog.
Bitches that are 26 inches and 90 pounds are OVERSIZED !!

and I recall one piece of data from "the early years" before we started breeding -- A GSD puppy is approximately 2/3 of it's final adult size at 7 months. and I know that many keep growing after 1 year. I had a fairly large bitch who put on an additional 1/2 inch aroun 18 months old - and her final siize was the full 25 inches and usually around 80 pounds. That's the way highest upper limit and she never produced female puppies as large as she was. (Thank God) !!
You must be logged in to reply to posts