German Shepherd Dog > Theo/Tessie pups 7 weeks old (12 replies)
Theo/Tessie pups 7 weeks old
by
mirasmom
on 07 June 2012 - 10:40
Theo/Tessie pups are going to their new homes this weekend,
had full hanging out with this awesome group of pups, left to right
4 girls & 1 boy, 2 long coat girls, the one on the left and the one second in
from the right.
My daughter kept snapping pics while I set the little buggers up!
The second one in from the left, pink collar girl is staying!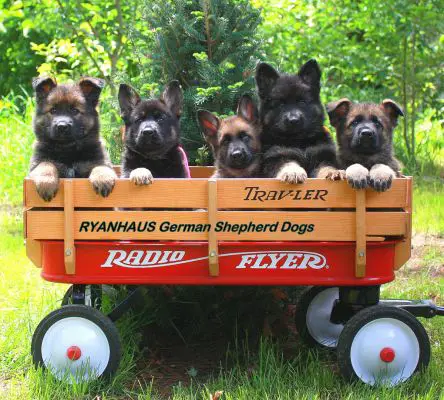 by
watsongsd
on 07 June 2012 - 12:24
You always have really nice litters mirasmom. You have some beautiful dogs (I hate to say breeding stock but they produce well too). I like the look of these guys. Congrats on your success.
by
Nellie
on 07 June 2012 - 13:03
What an awsome looking litter, congratulation and best wishes to all the new families
by
Mel62368
on 07 June 2012 - 13:40
Beautiful! Wonderful picture, well worth all the effort. LOL

Melissa
by
fawndallas
on 07 June 2012 - 16:02
Awww. Mine are going home this week too. Each one brings a tear to my eye when the car drives away.

Each one of yours look like little bears. I so love puppy pictures.



by
Nans gsd
on 07 June 2012 - 17:11
OMG> what a darling picture. Keep 'em com'in. Thx for sharing your beautiful puppies with us Nan

So is the boy on the far right?
by
mirasmom
on 07 June 2012 - 22:58
Thank you everyone!
Yes Nans the boy is on the far left, he just went home with his new owners
they named him Sammy!

Here's another picture, the boy is resting his head....
The boy weighed in at 12.10 pounds!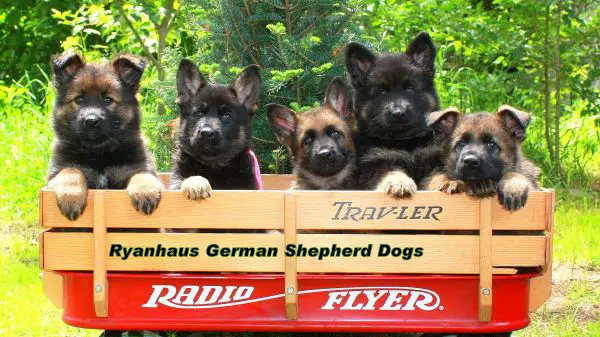 by
CMills
on 08 June 2012 - 00:37
Wow, those are BIG pups! They are beautiful, love esp the bi-colors!
by
starrchar
on 08 June 2012 - 01:28
Oh my, they are SOOO adorable. I especially love the 2 female coaties- can't decide which one I like better! What is their pedigree? I'm sure they are all spoken for!
by
mirasmom
on 08 June 2012 - 10:19
Sorry Nans, I don't know my left from my right and of course the post is now too old to update,
the boy is on the far right....Why did I say left...

Anyhey, Thank you all for the compliments.
The pups are siblings to "Greta" http://www.pedigreedatabase.com/german_shepherd_dog/dog.html?id=754203

Greta just got her hips ofa'd she got a Good and Normal elbows and also the pups are normal
clear for DM.

They are also my boy "Oeht's" siblings, he gets ofa'd in September.

They are linebred on Mira who is 11 1/2 years old and has been very healthy all her life!

Oeht is also training in bitework at this time and doing very well, I just have
to keep up with it.

The pups sire just earned his AD at the age of 6 1/2 years!
by
starrchar
on 08 June 2012 - 18:48
Will you be repeating thus breeding in the future?
by
Conspicuous
on 08 June 2012 - 18:55
Oh, they are so adorable! I love the wagon idea for the photo! <3
by
Dawn G. Bonome
on 10 June 2012 - 03:10
Do you ship to other parts of the United States? Do potential owners have to come from your part of the Country?

Nice pups!!

You must be logged in to reply to posts