German Shepherd Dog > Bacterial Skin Infection (13 replies)
Bacterial Skin Infection
by
macrowe1
on 07 June 2012 - 02:40
My poor dog has a bacterial skin infection. She's gotten one before sometime last fall, and my vet prescribed some antibiotics, antibiotic spray, and special medicated shampoo. She currently only has a few spots on her, which I shaved down so I could clean easier. Anyone dealt with this before? Any home remedies that are useful for treating the spots and preventing the spread?
by
SitasMom
on 07 June 2012 - 03:40

Have your vet do a culture to see what bacteria it is...

Is your dog blowing coat?

What are you feeding?





by
macrowe1
on 07 June 2012 - 11:12
She's definately blowing her coat. She's on Solid Gold Wolf King right now with some yogurt added to it. Poor thing has little spots all over her. I guess I'll take her to work with me tomorrow and get a skin scrape :(
by
Nellie
on 07 June 2012 - 12:05
I use Neem oil shampoo, excellent Natural antibacterial and anti fungel properties, i used it on one of my dogs when they got a secondary bacterial infection after Mange, now it is always in the dog room, as with most things get it checked out by a vet, my vet is pretty good so will always let me know of alternatives ( i always ask ) rather than what is on his shelf,
Hope she gets better soon
by
Rass
on 07 June 2012 - 12:05
When she had this problem before, was she blowing coat then? Is she spayed? How old is she?

Some dogs get very itchy and allergic when they blow coat. Some female dogs have a lot more allergic like behavior when they are intact.

Some dogs do, indeed, have an over growth of skin bacteria and this is because the dog's immune system is not working as it is supposed to. All dogs have natural bacteria on their skin and at some point the dog's immune system makes peace with the resident, naturally existing bacteria. Some dogs have a faulty immune system and cannot make peace with the bacteria.

Other dogs have a faulty immune system and exhibit allergies. Usually they are allergic to many things and all those things together put the dog over the edge and the dog exhibits symptoms. Often, changing the food will lower one threshold enough that the dog is under threshold for all the allergens and will stop itching. This leads people to think "oh is was the food." It WAS the food but that was only part of the equation.

I have an itchy dog and she has improved with spaying. I bathe her 2X a month with Zymox (R) shampoo and then I rinse her with Zymox (R) medicated rinse. This has helped as well. I also have been feeding Avoderm Trout and Pea (not really seeing any result over TOTW Pacific Salmon other than a larger emptying of my wallet and I am not dealing with Diamond Foods). I add 2 TBSP's of Safflower oil (Omega 6 and vitamin E source) to her food, a quarter c. of low fat plain yogurt and some canned mackeral (not a lot) and a single fish oil capsule. The "5 minute veterinary consult" suggests Omega 6 (dogs make their own Omega 3) as it has shown some ability to block immune response to allegens.

I feed her 1X a day. Honestly? I am not sure any of this is helping.. but her new coat looks like a million bucks and she sure does LOVE her dog food! She still itches.. just not as badly.. until the next coat blowing episode.
by
Rass
on 07 June 2012 - 12:07
BTW Tea Tree Oil is poisonous to dogs.. be very careful using some of this stuff.
by
SitasMom
on 07 June 2012 - 13:16

I'm a big fan of finding out what it is before deciding how to treat, using homeopathic or modern medicine. Both can work, but guessing and treating for something its not the way to go.

A scraping is not a necessarily a culture. A culture takes a couple of days to grow and will indicate exactly what it is and also the best treatment options.

If she is not spay, sometimes a hormone imbalance prior or during her heat cycle cause hot spots that can get infected. (If she is not spay, it might be a good reason to spay as this isn't something that should be passed to the next generation).

Does she live inside your home? How much time does she outside?
Has she been treated for fleas within the past 2 weeks?

Make sure to wash all of her bedding also wash floors, furniture, crates, kennel runs with the appropriate disinfectant according to the label. Once again, knowing what it is, helps to determine the appropriate disinfectant.

Keep us posted.




by
macrowe1
on 07 June 2012 - 18:28
Thanks guys! Yes, she's blowing her coat and is an intact female. It's not yeasty, it's just small random spots that look like little postules and are scabbed over or super irritated and itchy. I cut the hair back on the spots so I could clean them and have been using Gentamicin spray. Maybe twice a week I put some fish oil supplament on her food for her coat, and she's never had any problems except the one time before (which I thought was maybe due to swimming too much and getting bacteria trapped in her coat) and now. Except now she hasn't been swimming or wet, but she's super itchy and her skin looks irritated. I'm going to take her tomorrow and make sure it's not anything bad, I'd just rather not use steroids and antibiotics unless absolutely necessary. The antibiotics always upset her stomach :( Thanks for the advice! I'm going to have to check out that shampoo!
by
uvw
on 07 June 2012 - 18:35
if you're using salmon oil, switch to another type of fish oil...sardine, anchovy, etc. sometimes salmon oil causes itching and small patches of thinning or missing fur, etc.
by
macrowe1
on 07 June 2012 - 19:14
Thanks uvw, I'll make sure it's not salmon. Sitasmom: she's inside, outside only when we are working or to pee. On flea/tick prevention and I haven't seen any fleas or flea dirt. I treat her around the first of the month, so about a week ago.
by
Blitzen
on 08 June 2012 - 00:53
Macrowe, primary bacterial infections like the one you are describing are not generally seen in healthy dogs. There may be something else going on with your dog. I would consider making an appointment with a dermatologist if this continues to recur or doesn't clear 100% in a reasonable amount of time.
by
SitasMom
on 08 June 2012 - 01:01



does she have a throid problem?

could it be ingrown hairs?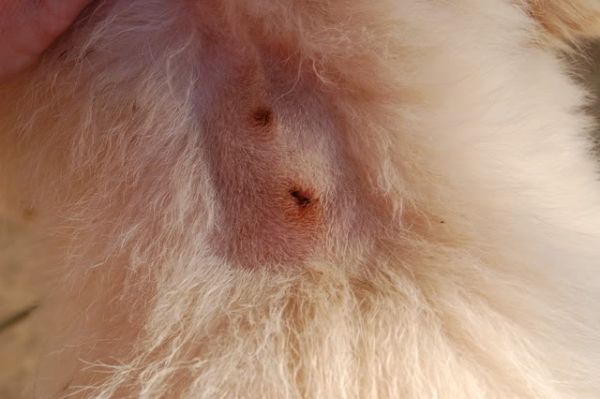 You must be logged in to reply to posts