German Shepherd Dog > Newest Stacks (Almost 22wks Old) (13 replies)
Newest Stacks (Almost 22wks Old)
by
DDRCzechFan
on 02 June 2012 - 23:04
Yup, here he is again, finally starting to get into that "long and lanky" phaze they go through. Regardless, Nick and I tried out the new camera today at the park and I needed some new stacks to send to the UKC to dual register Beau, so here's the fruits of our labor.

Yeah, the contrast is off in a LOT of the photos, but hell, at least the dog looks good (even if the grass looks bleached). Not sure why they turned out like this, but they still look pretty good I think.

I was curious, being as that he is now almost 6 months old (in just another two weeks he will be) is the possibility of him growing into those hocks actually a plausable one? I personally think his hocks look a bit longer than I'd like them to be, but as mentioned he is also going through the lanky stage where body parts don't exactly look "normal" anyway.

Our stacks are getting better too, I think. PROGRESS, one stack at a time!


Yep, Nick cut his ears off *sigh*




Now his right back foot is cut off *sigh*




Now the child's sassin' me!




Finally! Nick's co-operating, Beau's co-operating, HAPPY MOMMY!




Gettin' better and better!




Something caught Beau's eye




"Hey mom, did you know there's a chipmunk over there?!"



New location, new focus




Pardon his "excitement"...men and their w****rs




Looking at the camera this time




One more in the woods




All smiles!



by
Siantha
on 02 June 2012 - 23:09
he looks relly good its great to see them grow up
by
GSDguy08
on 02 June 2012 - 23:55
Ugly dog........
by
DDRCzechFan
on 03 June 2012 - 00:32
Thanks Sianthia, he's getting BIG...I'm almost worried about over-standard, but hey, we'll see. Might just be a growth spurt and he'll eventually slow down.

GSDGuy, If I didn't know you, I'd take that as an insult, LOL.
by
Sunsilver
on 03 June 2012 - 01:00
DDR, on my screen, your dog has its head chopped off in 7 of the photos. If you do the following, you can fix it:

Hit 'edit'. then right-click on the photo. A box will popup that will allow you to resize the photo. Select, say, 450 pixels for the width, and the height will resize automatically to keep the picture in proportion.

Here's one of your photos that I copied to my computer, and resized. In the original, the dog's head was missing!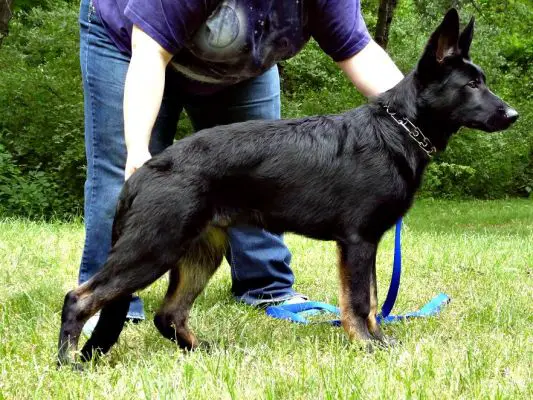 by
GSDguy08
on 03 June 2012 - 01:14
bahaha. I'm sure others on this forum thought I was being really rude.......Obviously I don't think that. Auggie still says he's the cooler brother though.
by
fasteddielv
on 03 June 2012 - 01:19
SunSilver, photos look good on my PC. Maybe it's something about your PC or browser.
by
swingfield
on 03 June 2012 - 02:02
I will take him off your hands :) handsome boy !! I looooooove his bi markings !!! shots look good here too! Sherry
by
Ramage
on 03 June 2012 - 03:12
No, it's doing the same on mine. The dog is missing his head in most of the pics??

Otherwise, nice looking boy :-)
by
Sunsilver
on 03 June 2012 - 04:16
Yeah, he's gorgeous!

by
Ibrahim
on 03 June 2012 - 06:41
A very beautiful boy, he's on the right path, maybe a little stretched and front not very straight, but it's too early to know, his front angulation is developing nicely, in regards to conformation he's no less than a well conformed show GSD if not better, is his breeder known for producing Wls of outstanding structure or is it only this pup?

Ibrahim
by
DDRCzechFan
on 03 June 2012 - 12:57
Thanks so much everyone, he's getting so big. I'm almost in shock, I really can't believe I brought him home almost 3 months ago!

Beau's feet occasionally do the East/West thing, but that's something that started with his most recent growth spurt, so I'm hoping and assuming he'll grow out of it.

Ibrahim, thank you especially for the critique! No, his breeder really isn't know for producing dogs like Beau (that I know of) but Beau's sire is also a fairly recent stud to her kennel, so hopefully we'll see more like Beau coming soon!

I'm still curious about Beau's hocks...to me, they seem a little long, but like other things, I do hope that Beau grows into them.

Well, I'll be sending some of these off to the UKC to dual register Beau so I can start showing him. One of these days I'll be making a video of me working Beau in bitework, he's an absolute NUT! I am just beyond impressed with Beau in every venue. I don't know the first thing about tracking, but when it comes to obedience and bitework, Beau and I will have a great time working together!
by
Nellie
on 03 June 2012 - 13:14
My how he has grown, totaly in love with Beau, but think he would be better off here in the UK with my blacks, Auggie could come along too if you would like

. I tend to just walk my dogs into a natural stack starting as pups telling them to stand,. Pics are looking alot better

by
kitkat3478
on 03 June 2012 - 14:44
Beautiful dog you got there DDR... and ain't that w@%&*#R always there just when you think you got the best sitting pic!( my screen is showing complete pics)
You must be logged in to reply to posts