**SENIOR ALERT**
by
mentayflor
on 02 June 2012 - 21:27
This stunning GSD senior (ID# 16315154)is counting on us to help him find his way home or find him a new place to spend his golden years. He is beautiful and does not deserve to spend his last days in a shelter. He needs to find his owners, a rescue or a new forever home by Saturday. Can you help? Please go by, call, or email trey for this handsome boy today! 903-297-2170 ext 204, or email trey@hsntx.org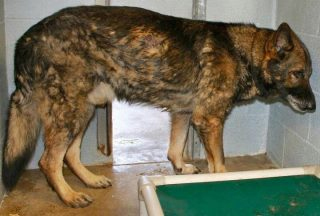 by
Abby Normal
on 03 June 2012 - 18:22
Looks like this old lad is fixed up with a new home now and is on his way!

Wonderful outcome. May he have a wonderful life with the kind people who have adopted a golden oldie in his hour of need.
by
Doppelganger
on 04 June 2012 - 12:07
Pleased to hear this.

by
mentayflor
on 04 June 2012 - 22:32
what a great news Abby!
You must be logged in to reply to posts