German Shepherd Dog > six month old and eleven week old (9 replies)
six month old and eleven week old
by
dmo171
on 01 June 2012 - 16:10
We're doing great together ( the pups) despite the keyboard commandos who said two puppies wouldn't work. It is a lot of work, but so much fun.
by
Conspicuous
on 01 June 2012 - 17:02
Glad things are going well so far!

Not sure it's really fair to say "keyboard commandos" you did ask for advice, and you got it. Most people (including myself) were legitimately concerned with a few of the issues that CAN (but not always) arise with two pups. Its why good breeders won't sell you two pups from the same litter, because there are problems that can arise, especially when they get into their "teenage" years.

Anyway, that aside, please post pics!!! Would love to see your lovely new additions to the family! :)
by
Nellie
on 01 June 2012 - 17:10
Glad to hear they are doing fine together, i too wouldn't run 2 dogs together and am hoping you are still saying the same in a few months time !!!,
Would love to see pics and please keep us updated on their progress.
by
Bhaugh
on 01 June 2012 - 18:25
Id give it till the dogs are over a year and of the same sex. Check back then
by
dmo171
on 01 June 2012 - 20:16
Thanks for all the kind words. I can't figure out how to post pics from my phone. Please feel free to help. I can't access the edit icons for some reason????
by
aceofspades
on 02 June 2012 - 03:55
There is no dashboard when you post from the phone. You need to be on a computer to post pics. As for the keyboard commando comment. You came here for advice and got just that.....from people who have done it. The young one is still that......young. My two younger dogs (6 weeks apart) were great until about 6 months then they became a handful. They get along just fine (male and female) but keeping the bond between them from getting too strong is constant work even now that they are two years old. They can not be left outside together (even supervised) unless one is tied up despite us having a huge yard and the dogs having free run of 25 acres. If they are together they disappear deep into the property and will not come back for hours. One of the two always has to be in the house, kenneled or crated. We did not really see issues until 6 and 7 months old. It has been a struggle to keep their focus on me as opposed to each other. When alone each dog is amazing but together they are just a lot of hard work and trouble. With three kids it also happens regularly that someone lets a dog out while the other is out and then I find myself out in the dark with a flashlight looking for dogs. All of my other dogs can be out together and my young ones do fine on their own with the other dogs when put out it is only a problem when they end up out together without myself or my husband to keep a close eye on them.
by
dmo171
on 02 June 2012 - 07:02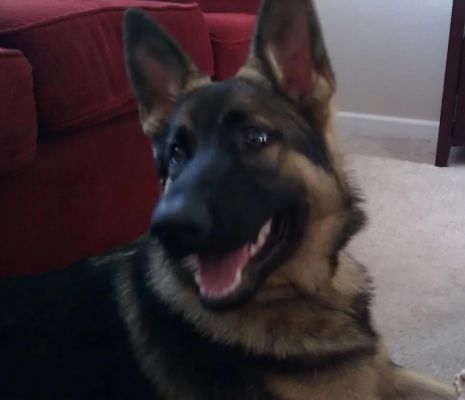 Here are our babies. Carlina and Rambo..I appreciate all the advice and feedback like I said over and over. please no more bashing about use of language on my part, I don't wish to offend and didn't know GSD owners were so sensitive at times. But I'm learning about this forum pretty quick.The little guy " Rambo" thinks he's tough and our older girl just kind of laughs at him.

We've been keeping Carlina from biting back and playing too hard with the little guy, are we keeping her from laying down the law in the pack???? Please be nice ya'll.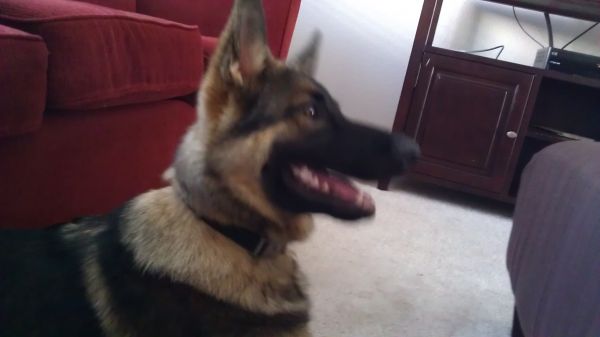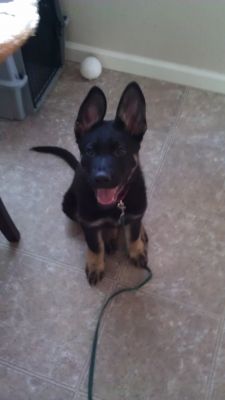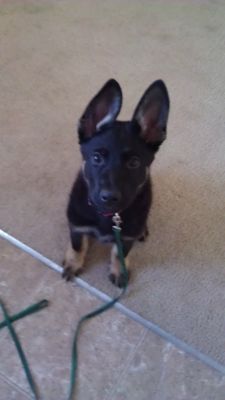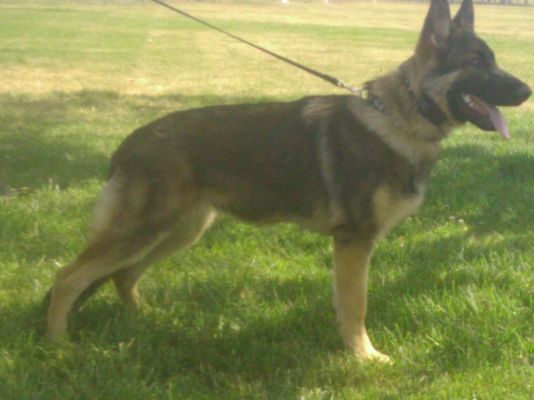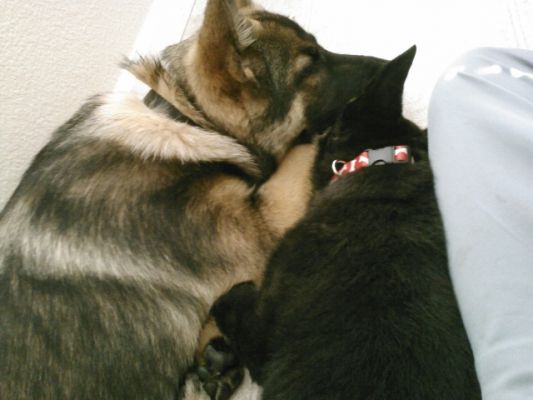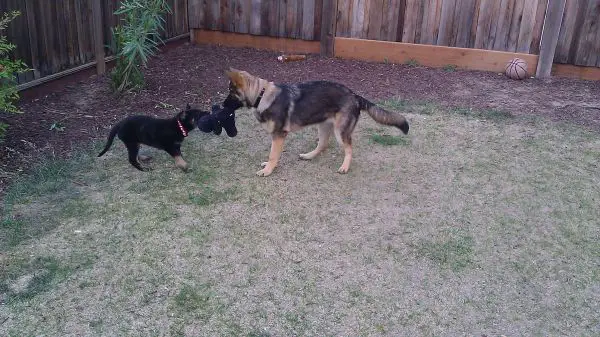 by
Stumpywop
on 02 June 2012 - 11:16
Some nice photos there. I love the last one of the 2 of them playing together. I've also done it - I had Zane at 6/7 weeks old back in Feb 2008 and then I took on Ellie at 5 weeks old in June 2008 (BYBs were going to drown her).

Now I have Zane (4 11/2 years old), Yiannis (3 1/2 years old) and Jenzi (2 1/2 years old). Although Jenzi is the youngest she's definitely the "boss" of the 2 older boys.

I found it incredibly hrd work having more than 2 dogs of a similar age and there were times when I wondered what on earth I'd done. But I got stuck into the training etc and it all worked out really well. That's doesn't mean to sya that in the future it would work as well with different dogs, or it could be even better.

Would I do it all again? Absolutely I would! I love to see youg dogs playing, growing and learning together.

I also agree with other posters though - I hope it all works out fantastically well for you and your pups as it has for mine. But would love to see you come back at a later date when they're both going through kevin stage number 4 and still loving it.

Good luck and please post lots of pictures.
by
Conspicuous
on 02 June 2012 - 14:31
Lovely dogs!! :)
by
starrchar
on 02 June 2012 - 15:47
Very nice looking puppies! I hope things continue to go well.
You must be logged in to reply to posts