by
joanro
on 05 June 2012 - 14:19
Let me say this,Blitzen, if you don't like a w/l GSD that is the quintessential representative of the GSD BREED STANDARD, then maybe it's the Germanshpherd Dog that you object to.
by
Ibrahim
on 05 June 2012 - 14:52
Gustav,

a. You do not appreciate the correct form/structure of the GSD and you can live with a good working dog even if it's structure is not correct. When the GSD is = Structure + Inner quality and if one is missing it's not a GSD anymore.

I wish to rephrase as follows

and if one is missing then it's not a true to the standard GSD.

Thanks

Ibrahim
by
Blitzen
on 05 June 2012 - 15:15
Actually I was in the process of editing my post when you sent your response. Look at the time. I didn't change it after you posted your response. Why would I?

Let ME say this, Joanro, I don't object to the breed at all, I would just like to see breeders of all lines put forth an honest effort to be more respectful of other's opinions in a way that is not so derrogatory. I never said I didn't like WL's. I don't have any real preference for one line over the other, have owned all 3 in one dog or another. I train with owners/breeders of all 3 major lines, like them, remain neutral so I can see the positive things in all their dogs. I would never dream of publically belittling any breeder's honest efforts at breeding good dogs. I might not want to own dogs of a specific line or a dog bred by a certain breeder, but I'm sure not going to think I have the right to come to a breed board and cut them off at the knees by making nasty remarks about the dogs they have chosen to breed. If I wanted to convey the thought that I don't think a GSD should be only bred for the showring, I'm going to say it that way, not call them hockwalkers with roached backs that chase after bells and whistles.



by
Blitzen
on 05 June 2012 - 15:36
GSDGuy, how many SV shows have you attended and how many SL's have you actually seen in the flesh? Ditto for WL's? Is your WL puppy your first GSD?

It's counterproductive to assume that every SL in the country is roached backed with too much angulation. It's no different that if SL people would respond to this thread by saying - all WL's are ugly, too straight on both ends to be agile, too drivey to make good pets and can only get their titles at midnight trials under judges who they smooze. Does that feel right to you?


by
joanro
on 05 June 2012 - 15:51
Blitzen, I didn't say "roached backs", you just did. Further, describing what dogs in the show ring do is not derogatory or cutting Cutting breeders off at knees. It is just an honest description. Perhaps you believe that a true description of the activity in the show ring is derogatory and cutting off at knees of their breeders, I don't . However, you don't have the authority to tell me what I have a right to post or not. As far as "nasty remarks" goes, that is your perception, not my intent. Not that it will change anything, but when you watch show dogs being double handled, how would you describe what the dogs are doing? It doesn't look like anything described or desired for the breed by v. S. to me.
by
GSDguy08
on 05 June 2012 - 16:05
Blitzen I've seen a number of showlines in person, and I don't even need to say what I think about the scructures of everyone of them except for maybe one or two, or the working ability for that matter. I have seen numerous working line dogs in person, I've seen them work as well, and no this is not my first WL puppy. Every WL dog I've met had very sound temperaments, they showed a lot of intensity in their work too, a lot of courage, good drives, they were social, their structures were very nice as well.

Personally, I have never said that EVERY SL is like that. But the majority I have seen.....are... They belonged to some who were working them at SchH clubs, and the others were in another state, that belonged to trainers there. They bragged about the bloodlines and how great they are, and the "shows" their dogs sires and grand sires have won.....Their dogs had many, many behavior issues (remember, these dogs belonged to trainers), one was a fear biter, none of them really had any confidence, and their drives.....were pretty low....My Sibes have higher drives than they did.

I don't get it though Blitzen......"Why" would someone say a WL dog......who more resembles what the breed as a whole "use" to look like.......are ugly? That just doesn't make sense..... A WL person to say something that is shaped like a frog is ugly.....something that looks in no way like the original dogs.......well.... Sure SL owners can say they are too drivey to make good pets if they want to.....It doesn't bother me as I know the real truth from what I've seen, the trainers and breeders I've talked to and been around...and their WL dogs, many were titled, others were on their way to titles....dogs lived with their families often times, but great "on the field", sound and stable in every way, nice structures as mentioned before, etc etc. Don't get me wrong, I'm seeing more and more poorly structured working lines too......Some from the Czech and some from Slovakia it seems that have structures that aren't looking too good. Again, I will never say "every" SL is bad.....nor will I say every WL is perfect......Each has their faults.....I just tend to see more in the SLs that I've seen. And to your question, no I have not gone to the SV shows.


by
joanro
on 05 June 2012 - 16:24
A person does not have to go to any SV shows to see what is blatantly abhorrent about the character and structure of many s/l (American or German) individuals. It would stand to reason that any one preferring a s/l would not like a W/l because there is a chasm of difference between the two. To end any debate over which is correct, they should be made into three completely separate breeds. Then every one will be happy with what they are breeding and and no comparisons valid.
by
Blitzen
on 05 June 2012 - 16:25
GSDGuy, it never makes sense at all to generalize about dogs. Do you get my point now? Do you think that SL people like to read that most of their dogs are roached backed with froggy rears and onlu good for the show ring when most actually are not. Ugly is in the eye of the beholder; I know just as many who think WL's are ugly as those who think SL's are ugly. The advantage to keeing an open mind and listening to what all respected breeders have to say is that one learns a lot more.

Here the link to photos from the Statesville Show in March.http://dreamchaser.smugmug.com/DogShows/SE-RegGSD-show-3-2012/Working-dog-males/22052658_xLKqjm#!i=1761929762&k=H8B375f


You will see a few with questionalbe toplines in the movement photos. I'd have to look it up to be sure, but I think they are mainly German imports. Please don't use this link to discuss specific dogs.

by
Blitzen
on 05 June 2012 - 16:36
If a person doesn't go to SV shows or AKC shows how is it possible to be so sure that "many" of the showlines bred in the US today are "blatantly abhorant" in character and structure?
by
FLRanger
on 05 June 2012 - 16:56
I am a new GSD owner (to give everyone a frame of reference) and I got about 1/2 way through this thread before becoming confused and further unsure what "hock walking" even is. I will continue reading and researching, but for what it is worth, new folks come to this site to "learn" and upon a glance the infighting and bickering detracts from that. As a suggestion, perhaps the use of "facts" and reduction of emotion would go along way for individuals to weigh the merits of whats "right or wrong."
by
joanro
on 05 June 2012 - 17:00
Hey Blitzen,if you are referring to my post, "A person doesn't have to go to SV shows........" then I would appreciate it if you stop twisting and adding content to what I post. I didn't even mention AKC, and I didn't say, "show lines bred in the US today" . SV shows are not the only venue one has the opportunity to observe s/ls. SchH clubs, herding classes(although the numbers of gsd of any type are limited at typical herding clubs), obedience classes, etc. And a person can see structure on video or stills of SV shows held any where in the world, you don't have to attend in person. Lots of ways to see things nowadays with out having to so much as walk across the street. Just say'n....
by
Ruger1
on 05 June 2012 - 17:12
FLRanger,,Just keep reading,,then read some more..You will learn. This is reletivley mild compared to some hotly debated topics,,lol,,These are knowledgable folks whose bickering is even chalk full of great information!..Welcome..:)

JMO..I would agree that there are froggy/roachy SL's as well as coyote type WL's..These are not what breeders are striving for are they?..We have seen threads about SL's like "Show Lines That Can Work"...that have the working ability we value in the GSD..There is also a thread called, "Show Me Your Working Line"..that have the beauty we enjoy.Don't these threads have examples of the balance breeders are striving for?...

I will look for the threads and post them here...They were good threads..

Beautiful WL dogs
http://www.pedigreedatabase.com/german_shepherd_dog/forum.read?mnr=601334


Show Line with Good Protection Phase Thread..
http://www.pedigreedatabase.com/german_shepherd_dog/bulletins.read?mnr=481467








by
fasteddielv
on 05 June 2012 - 17:14
I agree FLRanger, it's rediculous!

Hasn't the SL vs WL been talked to death, insideout, end to end, side to side, I think you get the point.
by
Blitzen
on 05 June 2012 - 17:20
You mentioned the ASL's and the showring, Joanro; I figured you had seen a lot of SV shows since you seem to know so much about those dogs. Have you seen any in person within the last 5 or so years? I'm not sure it's prudent to pass judgement based on the photos some post to this board and elsewhere. Videos are good I guess, but I'd rather see a dog in the flesh before shoving them under the bus. When I was curious about WL's I went to some trials and classes and found out that all the bad things I'd heard about them weren't necessarily true.

This is what you said. I just figured you had seen a lot of SL dogs at shows. Sorry for the misunderstanding.



Perhaps you believe that a true description of the activity in the show ring is derogatory and cutting off at knees of their breeders, I don't.




Not sure why anyone would read this if they weren't interested in the topic


by
fasteddielv
on 05 June 2012 - 17:32
Because we wanted to learn about the definition of a "Hawk Walker", pretty simple ah?
by
Blitzen
on 05 June 2012 - 17:43
Hockwalking is exactly what it says - it's a dog with so much angulation that he can't straighten his hock so that he can stand with it at a right angle to the ground. Their hocks are shaped like sickles and when they walk they can't land squarely on their rear pads. Instead they walk on the backs of their hocks. There are degrees of hockwalking, some dogs are worse than others. It cannot be seen when a dog gaits in grass, the dog must be gaited on a solid surface and viewed from the side.


by
Blitzen
on 05 June 2012 - 18:03
This is an interesting photo of a for sale WL female posted here.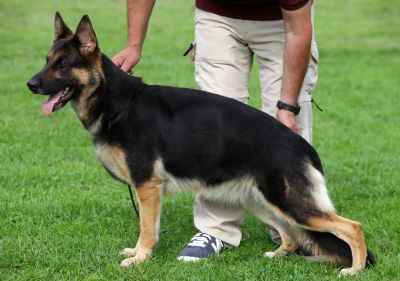 by
joanro
on 05 June 2012 - 18:22
Blitzen, I'm very sorry you are so confused about my post concerning not going or going to SV shows. You might look back a tad and you can see that I was commenting to gsdguy saying he had not been to SV shows and yet he has seen GSL dogs. In other words, to put it in simpler terms for you, GSL dogs don't only exist in SV shows. As to your direct question to me, have I been to any SV shows? Take a deep seat Blitzen, 'cause I'm about to blow your mind! YES!! I even had my GSL dog entered in TWO of them. How's that grab ya? By the short ones I bet! You are special, I'm sure, but not more special than us commoners who have actually been there done that crap. I don't usually talk out my butt, usually I speak from experience. Have good day:)
by
FLRanger
on 05 June 2012 - 18:23
Blitzen thanks for sharing. So, if I understand the very first picture posted by GSDguy08 would be "hock" while the picture you just posted is more "normal"? If I oversimplified the issue I apologize, but this post has made me curious how my pup is structured....
by
Ibrahim
on 05 June 2012 - 18:28
Blitzen,

I heartily agree, she's a little east west in the front but otherwise she is lovely to look at, nice topline, good proportions and no exagerations in angulations. Strong hocks and pasterns.
If she's got good temperament then she's true to the standard and fit to do what she will be trained for.

Ibrahim
You must be logged in to reply to posts