by
joanro
on 12 June 2012 - 18:43
Ibrahim, you can't take mathematics and diagrams and convert that to the functionality of a living animal without error. The SL is what it is because of decades of choices. The WL is what it is because of decades of choices. Trying to undo what the SL has that is undesirable is not going to happen in the overall population BECAUSE of CHOICES. If you want a SOUND SL, go to a breeder that still has them. They do exist. It would be more reasonable to get what is available than to attempt to change the largest part of the SL population. This I am saying with respect to you, not trying to be aggressive or disrespectful.:)
by
Ibrahim
on 12 June 2012 - 18:50
Thanks Joanro, your point of view is well taken and well understood, I assure you of that, I'm trying to address a single point and see what all think of it honestly and not give me a diplomatic no answer (not directed to you Joanro), as when I write in a hurry I loose proper selection of words.

Ibrahim
by
Ruger1
on 12 June 2012 - 19:24
I think you are all doing a great job expressing your opinions and ideas. I am enjoying the content of this thread emensly..Thank you..

Ibrahim you are lacking nothing in your selection of words..:)

Deanna..:)
by
susie
on 12 June 2012 - 20:06
Just read this thread - started with "hock walking" - ended up with working versus show line....

Ibrahim, I love your attempt to create a German Shepherd looking like the standard says, but...

you can´t look at the forecheast ONLY, you need to watch the neck, the withers, the back, the hindquarters, the muscles, the temperament...

I handled 100s of different German Shepherds during the last 30+ years, it´s not that easy. As a handler you FEEL at once the mistakes of the dog, mostly you can´t explain it, but it´s there...
Although I know the fast trot isn´t good for judging, I love fast gaiting dogs, the faster, the better...BUT a dog needs to be well balanced, not overangulated, for this speed, otherwise it will roll or hobble.

I don´t like the old controverse working/show - ALL of us would love to own a VA-rated healthy winner of the Nationals ( Bundessiegerprüfung for me ). Everybody who says that´s not true is lying.

But there are people who look for working ability first, and then there are people who look for standard first.

The problem are the people who look for working ability/standard ONLY.

Right now working lines can´t be compared to show lines, the structure is too different ( not ALL, but a lot of them ), even the muscles feel different. The showline dogs do have longer muscles, the working lines do have thicker and shorter ones.

Show lines, bred well, are built for floating gaits, working lines are built for speed and power.

Nerve issues I found on BOTH sides ( didn´t depend on the line, that´s for sure ).

The show line breeders should look for well balanced show lines that are able to work, the working line breeders should look for well balanced working lines with V ratings and KKL1, instead of blaming each other.

Could be easy, but people aren´t able to be honest about their own dogs, they don´t want to see the faults in there own breeding....
by
vomeisenhaus
on 12 June 2012 - 20:09
Ibrahim.... take a wgsl with VA type structure along with a kkl2 wl to an agility field and and work them rigorously and see which one quits/lays down first. Do this 3 times with 3 different pairs of dogs. End of story :)
by
Ibrahim
on 12 June 2012 - 20:17
Susie,

Very interesting and educating indeed, you say: The showline dogs do have longer muscles, the working lines do have thicker and shorter ones.

That is something new to me, is it related to variations in the lengths of bones? or is it due to different genetic background?

Can you please tell what happens when we cross show with work in regards to muscles?
This last question I can understand if you have no ready answer for it.

Thanks

Ibrahim


by
Ibrahim
on 12 June 2012 - 20:24
vomeisenhaus,

I heard different reports from members on this thread on personal experience on endurance of wl and sl. My personal observation is this; one of my 2 wl dogs has tremendous interest in tending sheep, he does not tire at all, or at least that's what looks like. The other one had little interest in tending sheep and he's not very friendly with them. The sl, so far, thinks it is stupid to get him to stay with the sheep and leaves back to home, on the other hand he does not tire of walking and hiking for long distances. Anyway I can hear you.

Ibrahim
by
mollyandjack
on 12 June 2012 - 20:31
Ibrahim, I think what Susie is referring to is fast twitch vs slow twitch muscles. There should be some articles online that you can find but I am on an iPhone so it is hard for me to create links. I would actually say that there is probably a lot of variation in the fast vs slow twitch composition of wl dogs.
by
Ibrahim
on 12 June 2012 - 20:34
I will google that, that is an interesting aspect, thank you Molly
by
Ibrahim
on 24 June 2012 - 19:38
I am not trying to re-open this thread, I only want to say this; a well known German breeder who read this thread sent me a personal e mail with this advice as a way to improve temperament while breeding showlines, start with the best female you can lay your hands on, select a male known for producing good temperament and which compensates your females structure, when litter is on ground, and this is most important thing to do, put aside the puppies with serious structural faults if any, then from remaining choose the puppy with best temperament, keep doing this in future litters and in few generations you will notice that you will start having stronger temperament and drives in your litters, don't get too happy and keep choosing your flag carriers in same criteria. Just for the info

Ibrahim
by
vonissk
on 25 June 2012 - 13:03
Good Morning to my two favorite posters, Gustav and Blitzen, you guys have both taught me a lot and I love reading your posts.
I have not been posting because I just get tired of all the bashing and pissing matches. I firmly believe in a golden middle dog and I know they are around if ya just look. Gustav I really liked what you had to say regarding people mixing the lines. Personally I feel it's the only thing to save the breed from splitting farther and farther apart. I just wanted to post a pic of this boy abd show you how nice he is and a true Golden Middle dog. He is 3 yrs old, OFA H/E, a UKC group placing CH, a proven producer and he has been professionally trained to track. With a little work he could easily get a TD. Pedigree? He is 3/4 ASL and 1/4 GWL/DDR. There were 5 pups in his litter. One went for a pet, one went to SAR, one is doing drug work, and the last is a UKC CH, OFA H/E, and she is going for an audition Friday for movie/commercial work. Did I breed this dog? No my mentor did but I had to do with it. He has a perfect temp., super drive, but yet settles very nicely in the house. He has never been tested for ScH but I have no doubt he would do that perfectly. Oh and by the way he is a sweetheart to boot and a great watch dog with very protective instincts. In my years in the breed I have always wanted to produce Golden Middle dogs--I knew it was possible just wasn't exactly sure about how to go about it. I like our dogs very much and I think it is only going to get better.
Also I wanted to make a comment before I post his pic. I bought myself a GSD book for Christmas: "Working Dogs: an attempt to produce a strain of GSDs which combines working ability and beauty of conformation" by Elliot Humphrey and Lucien Warner. Ellioy was a trainer for Dorthy Eustes of Fortunate Fields. It was originally published in 1934. In the book there are several pictures and one of them is of a bitch named Diso v. Hoheluft doing a beautiful flying trot. Taken in the late 20's I would say. With that I would like to say that I was pleased and surprised to see a dog before the big split doing what they say only SL can do.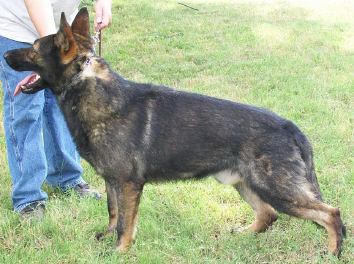 by
Gustav
on 25 June 2012 - 16:43
Nice post from true German Shepherd person. Thx
by
Blitzen
on 25 June 2012 - 17:21
Thanks for the nice compliment my friend, Vonissk. I love the sub-title of that book - an attempt to produce a strain of GSD's which combines working abiltiy and beauty of conformation. I am going to buy me a copy. We are on the same page with the same goals as usual with mentors who think alike. I think we 4 are the odd women out in the GSD world, but what the heck?

My breeding didn't take, but we will try again next season and maybe one day I too can post a photo of a ASL x German dog that looks as good as yours. I'm half way there I think

, it's the second half that's evading me right now.



by
vonissk
on 25 June 2012 - 19:01
You're welcome Gustav. What I have always liked about you is your integrity and your outlook toward the future. And God knows we need more people to look toward the future and not just right now. We also need more people looking for the harmony and not just producing extremes.
Hey Blitzen. Good to talk to you too. You know me and you are always on the same page..............I like what you said about us 4 women!!!!! A long time ago I made a comment on here about people could say I was crazy and ruining the breed for what I believed in but while they are looking for their next dog, I am always going to have a good dog as long as I am able to care for one or two.........So with our thoughts us 4 are always going to have a good dog.
Ahhhh you make me blush saying how good he looks. Look at your girl--she is very very nice. I like that not only is she a CH but also is getting those titles on the other end..........Sorry your breeding didn't take but ya never know--when you do get her bred your super duper pup might be in there.
By the way it is my girl I am taking to the audition Friday--I am very excited. I talked to the head honcho over there this morning and he says don't worry too much about a routine, the main thing is getting her on film to put into their database. So you guys at the Blitzen house cross your paws and fingers for me. I thought I would just have her do a little Obedience in Chickasaw, of course..........I think she will do real well cause as many places as she has gone and does go she's used to lights, people and speaker announcements. After this I think the next thing we will do is go for our CD............we're not quite ready but we are getting better everyday.
I will shoot you an email in the next day or so. Give Miss Barb a hug and sloppy kiss for me..............
by
vonissk
on 25 June 2012 - 19:16
By the way Blitzen, the subtitle of that book was exactly what caught my eye also. I was going Yes Yes my thoughts exactly. I have never read the whole book just bits and pieces here and there so I am definately getting my $15 worth out of it. LOL JMO--I like the older books because I feel there is so much to be learned from them. Way way before the split when the breed was in its infancy--those are the things I want to know--how it was developing and what they were breeding for then. There are many good kennels today DEPENDING on what you are looking for. Unfortunately 99% of what I see being bred and sold are NOT what I am looking for. I hope that doesn't offend anyone because that definately is not my intent. My point is I love the breed so much that I want to see it be returned to whyat made the breed so great in the first place. Temperament, health, versitility, biddability and looks........sorry I got carried away. Hm where's my Staples EZ button when I need it? LOL. Have a good day...............
by
Felloffher
on 25 June 2012 - 19:18
The golden middle is a sable dog with ASL comfirmation?

He has never been tested for ScH but I have no doubt he would do that perfectly.



Really?
by
Blitzen
on 25 June 2012 - 20:27
What's your vision of the ideal GSD, Felloffher, and what are you doing to try to achieve your breeding goals?
by
vonissk
on 26 June 2012 - 00:19
Mr Fell how long have you been in the breed and how experienced are you with ScH? Yes I do believe he would do just fine--I guess in your opinion he would not because he is 3/4 ASL. And what in his conformation screams ASL? We have had many people ask about his pedigree and they were very surprised that he is not pure working lines. I have had people tell me on this board that ASLs do not come in that color of sable. Excuse me? I don't know where that myth came from but that's what it is--a crock.
To me the golden middle is the dog that works all week, regardless of whether his job is K9, SAR, babysitter, true farm dog and then goes to the shows on the weekend AND WINS because he has the temperament, conformation and bred to the standard. In other words, working dogs that can show and show dogs that can work. Versitle which is what they should be.
By the way anyone that would care to test our "mutts" I am located in southern OK and I have plenty of places we could go make it happen. I'm not afraid because I know the breed and I know what I have. I've been put down, my mentor has been put down, and I just backed off and went on. I have goals and dreams and I have already realized some of them. The time that I haven't been on here, I have been doing things. And I will never give up what I think is right just because some don't agree. As I have said before and will say it again, you guys who think that the only way to breed is to stick with the same old lines and breed for certain extremes are doing nothing IMO but splitting the breed farther and farther apart. And if you highly disagree with me, that's fine cause I'm hanging in there with what I see in my yard. Go get some books and do some research, find some REAL SOLID GSD people and pick their brains...........might be surprised the things you can learn by approaching it with an open mind and the willingness to listen. Not saying it will change anyone's mind BUT it will at least allow you to make an educated like or dislike.....................
by
vonissk
on 26 June 2012 - 00:23
By the way this is his littermate, my little bitch. Another sorry example of what I consider to be the golden middle. Also back to the myths, here's another one--if the ASLs don't come in the boy's shade of sabling then I am for sure a black sable could never come from those lines...............whatever...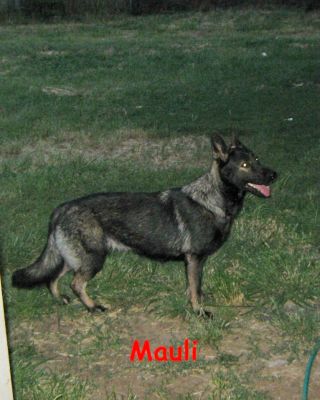 by
Blitzen
on 26 June 2012 - 00:46
Well said, Vonissk. BTW good luck with that audition. My girl's father just finished filming a full length movie scheduled to be released soon. Another of those pesky ASL x GL AKC CH's, this one has agility titles, a CDX, KKL1 and a Sch 3

. He's black and red, darn it.
You must be logged in to reply to posts