by
Ibrahim
on 12 June 2012 - 13:59
Gustav,

I addressed my post to you and Aby as you're the (opponents), lol. I did not mean to direct all my words and criticism to you and Aby in person though, no Sir.
When I say your posts are educating, when I say I learned several things from you I am not flattering you, I state a fact. I wouldn't be happy myself to cause you sadness, just feel as my big brother and if and when you tell me to (shut up) I will.
I would hate myself if Aby took it the way you did too, I cherish her and have true respect for her, no matter what we may differ, her recent posts reflect deep knowledge I never knew before, I mean I know she's knowledgable but the latest posts just .....wow......if I could get all that out of her, and assuming all I said is nonsense, I did good by causing all that knowledge to spell out of her. Thanks blitzen for clearing up my message, you are a darling.

I will post the drawings shortly

Ibrahim
by
joanro
on 12 June 2012 - 14:48
Ibrahim, it would be a good thing if you could come to the US and with Gustav as your guide, actually see first hand the gsd in the contrasting venues. At the risk of being presumptuous, you probably think I am one those you mentioned disliking the show line and thinking the WL is perfect. But the fact of the matter is, I own both. granted, only one GSL and several WL. The GSL is a very nice dog that I raised from a puppy, showed him in two National Sieger shows where he placed in the middle of the pack. Not too bad for the only shows he ever went to. In between those two Sieger shows, I trained him and put a schH 1 on him. He was sold to me as " pet quality". The reason I'm telling the back ground on this dog, is so that you can understand my point of reference when I compare the two lines. This is only one GSL that I own currently, true, but since his breeder ( a VERY well known, influential breeder in Illinois) sold him as " pet quality", she did not have the expectations for him that I attained with him. During the same time I raised and trained him, I also raised and trained five of my WL dogs. This was the first time I ever was involved in training or titling schH dogs. I titled concurrently two of my WL dogs, a Very strong male and an over the top drives female. The WL male I put schH 1 title on first by the time he reached his second birthday. By the time I had the SL male ready for his sch I, I already put Sch 1on my female,then schII on her the same day I put schH 1 on him.. From my perspective, the SL male is a VERY nice dog. Comparing the training and titling, the approach in training I needed to succeed with him was much different than for any of the WL dogs. He is a good dog for letting me know when some one arrives here( we have eighty five acres in the hill country with lots of woods.) I don't worry about him "taking care of intruders," but at the same time, I know that he is not capable of taking care of real intruders who would be a real threat. He is eight years old now, as are some of my original WL dogs. His health is not good as he has rectal fistulas and my WL dogs are in excellent health. When I asked my vet what caused his problem, his simple answer was " he's a show dog, it's the conformation " , with such a low tail set and therefore ventilation is limited... That was my vet's explanation, not mine... So, please, I'm not looking for fight about this subject. in conclusion, Ibrahim, I will say that the two lines are so different that they are essentially two DIFFERENT breeds. When comparing the SL with the WL, they are sooo different structurally and in temperament, that they only resemble each other in prick ears. I raised a GSL puppy seventeen years ago. This current SL dog carries some of the same blood lines WAAY back in his pedigree that were up close in my dog born seventeen years ago. Evidently those blood lines are sooo far back in this dog as to not have any influence, because that older dog was essentially the same in character and structure as my current WLs. He was the dog that cemented my love for the gsd. I could go on about his qualities, virtues, and exemplary character but most on here would think they were exaggerations:) suffice it to say he was a dog many would consider a dog of a life time. However, I am fortunate that I have several WL dogs that any one of them would fit the mold of my old " Colonel". I wish you the best in your search for the truth, Ibrahim.
by
Markobytes
on 12 June 2012 - 15:02
Ibrahim has picked up on some of the bitterness that does exist in this community. After having owned GSDs for over 25 years, I wanted to get involved in Schutzhund. I will try to give the short version here. Not knowing there was a difference in the lines I purchased a WGSL from a breeder with a strong background in working dogs. The breeder picked a pup for me that was a good candidate for schutzhund. The breeder taught me tracking and obedience but sent me to seminars so I could expand my knowledge. I was sent to a well known schutzhund competitor to give my pup a good foundation for bite work. While attending these seminars a lot of dedicated schutzhund people would inquire about my dogs pedigree and would make the comment " you have a good dog". The first time I came out to a schutzhund club I was told "your dog is not a German Shepherd, he is a show dog". I have had lots of similar comments made to me, generally from people who have not titled a dog and before they see my dog work. Since then I have seen many people interested in schutzhund bring their show line GSDs out after the dog is a year old and with no foundation work at all. They are told they have the wrong dog and leave never to come back to schutzhund. I know trainers do not want to waste their time teaching someone that is not serious, but could the person be encouraged to be involved in the tracking or obedience? Once they are around and get to learn the next dog might be a working line. I have seen also at seminars people who have brought pet show lines and are serious about the obedience be laughed at and have their dog's conformation critiqued by working line owners. I have never, and have never seen show people critique a working line except to compliment it sincerely. There is a reason that the schutzhund community is small, It could be much larger with a little tolerance. Again I don't think people realize what they are doing, frustration with the show organizations causes them to to lash out in redirected aggression. I have not, however seen this attitude displayed by the continental Europeans.
by
Ibrahim
on 12 June 2012 - 15:04
Joanro,

To tell the truth, this is one rare post from you I read with interest and pleasure from the 1st word till the last one, and I have nothing against you at all but your posts in general are agressive against the show line GSD, you may draw attention from those who share your stand to varying extent but believe me you don't draw the same from the opposite side, if you be softer at least in the words and expressions you use against this (poor) show GSD maybe you could get your message through better, hope I don't cause sadness to you Joanro, lol.
One good thing about Gustav, he listens, it is good for all of us to learn this virtue from him, I have no hard feelings Joanro and please listen to what I shall post in few minutes and let your mind and heart say what they think.

Ibrahim
by
Markobytes
on 12 June 2012 - 15:06
Nice post joanro, I too would like to see Ibrahim get some practical help, he is a pioneer and a valuable asset to this community.
by
Ibrahim
on 12 June 2012 - 15:12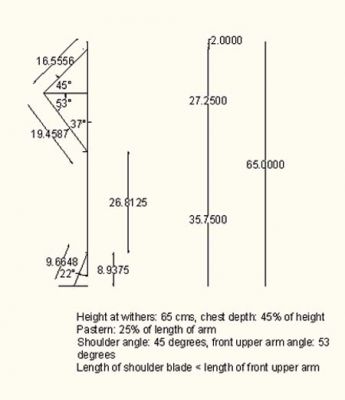 This is an ideal GSD as per the standard, height at withers 65 cms, chest depth at 45% of total height, deducting 2 cms from top withers to mid point of top shoulder blade then we have from that point to elbow joint where the front upper arm rests in the cavity 27.25 cms.
Shoulder angle 45 degrees, shoulder blade length 16.55 cms, front upper arm angle is 53 degrees, front upper arm length is 19.59 cms.
Pastern is 25% of arm length and set at ideal 22 degrees. Length of pastern is 9.66 cms and length from pastern joint to elbow is 27.81 cms.
by
Ibrahim
on 12 June 2012 - 15:15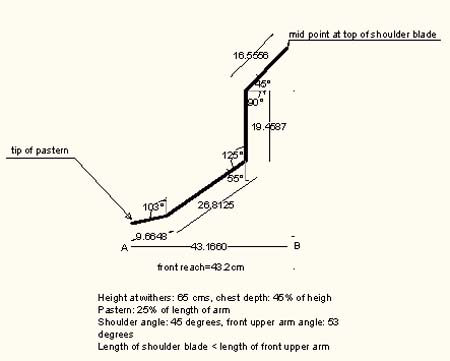 This is the front fore reach of the above dog in a trot, not flying trot. The software calculates this reach 43.2 cms.
by
Ibrahim
on 12 June 2012 - 15:17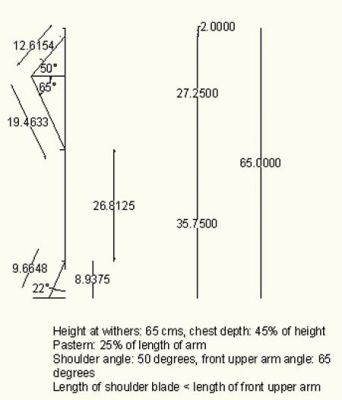 This is another dog of same height and depth of chest, pastern proportion and angle but of bigger shoulder and front upper arm angles, and mind you this shoulder is very common and not the worst available.
by
Ibrahim
on 12 June 2012 - 15:19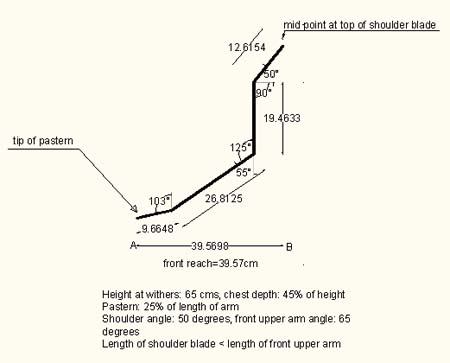 The software calculates its front fore reach to be 39.57 cms.
by
Ibrahim
on 12 June 2012 - 15:27
Difference in fore front reach between both the dogs is 3.5 cms, which represents 8% decrease in the 2nd dog from reach of 1st dog.
Supposing same difference is there in under reach, then that makes a difference of 7 cms in each full trot.

Now if both dogs in a certain daily work make 5000 trots then second one will lag 350 meters in addition to added fatigue.

Now can you say proper conformation does not ad to performance and efficiency?

Ibrahim
by
Ibrahim
on 12 June 2012 - 15:27
Thanks Markobytes, your posts are inspiring.

Ibrahim
by
joanro
on 12 June 2012 - 16:55
Ibrahim, my only remark to those posts by you is this: dogs are not diagrams and calculations on paper. I have never used or needed anything even remotely resembling those diagrams to see and know what any dog can do. Tact is not something I've ever been known for, but truth and honesty are. Being blunt and to the point can be misconstrued as aggressiveness and that is ok by me. I've never been known to sugar coat the truth. If you were referring to my current GSL dog when you said " be kinder at least in the words and expressions us (sic) use against this (poor) show gsd..." , I will say to you that Quest has not ever received anything but deserved praise from me both in person and in any post here about him. Please clarify your statement if I have misunderstood. I think I understand what you are attempting to do putting so much effort into those diagrams. But if you ever have the opportunity to see real life dogs of different breeds, lines (show and work) in real life situations, you will see that all those lines and calculations are for naught. A person cannot change reality with diagrams, no matter how intricate or detailed they might be. If I needed a dog by my side during a "Postman" (Kevin Costner movie) world, suffice it to say it would be my WL dog, Body (pronounced Boadie, like boat), and NOT my SL dog Quest. Best regards,Joan
by
Ibrahim
on 12 June 2012 - 17:32
Joanro,

No I was not referring to your own show dog, I was talking about the show dog you always criticize in your posts, anyway all I can say is that I respect you as a person and fellow member and I respect your own choices and it is healthy to differ in points of views and have subjective and conductive debates.
That said please know that it is true we have no clubs and no kennels or show rings etc in my place, but that does not mean I have no knowledge of dogs at all or does not own show and work lines both good and poor ones from both the lines, in our culture dog is an important companion since long history. I have learned a lot from my own dogs and I'm not selling knowledge through diagrams, these angulations and proportions constitute great part of the breed standard, understanding proportions, angulation and movement is a part of understanding and valuing the GSD. You may not appreciate structure and conformation or my sketches, it's a free world. Thanks for taking the time to look at them.

Ibrahim
by
joanro
on 12 June 2012 - 17:41
Thank you, Ibrahim. But I would like to set the record straight: you said I "may not appreciate structure and conformation..." That is an absolutely false statement. If you think that of me, then you have completely missed everything I have ever posted.
by
mollyandjack
on 12 June 2012 - 17:47
Ibrahim, I appreciate the effort you have made with these diagrams and I do agree with the point you are making in part, but I would argue that there is much more to correct structure than angles, length, width, etc. just like there is more to correct movement than one type of gait on an even surface. The overall dog in motion needs to be evaluated at a variety of tasks beyond gait and reach. This is the point that some members are trying to make, I think, when they post those old photos of the dogs climbing the wall (which was replaced by the easier a-frame).
by
Ibrahim
on 12 June 2012 - 17:48
It's a simple thing Joanro, I am not arguing, I showed how an increse of 5 degrees in the shoulder angle and 10 degrees in the front upper arm would affect the efficiency of the trot, the effect is 8%, doesn't that make a difference?

Please just imagine how big this difference gets if you add to it shorter pastern and deeper chest and or a shorter height at withers.

I would like to hear from others what they think of what those diagrams illustrate?
I'm not looking for personal praise on the drawings themselves nor am inventing something new, no it is all in the standard, I only made a demo.

Ibrahim
by
Ibrahim
on 12 June 2012 - 17:48
Molly, I agree
by
Abby Normal
on 12 June 2012 - 17:58
Ibrahim
Thank you but you credit me with way, way too much, I have not a millionth of Gustav's experience and knowledge, which he has always shared freely.



I thank Gustav for what I take to be an extraordinary compliment (who do you mean Gustav when referring to my 'caustic' countrymen LOL).

Ibrahim I too was actually was a little concerned when I read your post, I thought you sounded very upset and embittered, and so unlike the Ibrahim I know. I felt that we had perhaps pushed you beyond your limits! I was very pleased to see your post above.

I do now understand where your mathematics come into play! and where mine are left lying in a ditch somewhere LOL.

I surmise that you need the 'superior structure' as you perceive it, to transfer directly to superior functionality (as your profession tells you that it should) yet here you have people telling you that it isn't so and the actual real life performance of the dogs telling you that it isn't so, and this is what I feel was and maybe still is so disturbing to you. Functionality in terms of the anatomy of a living thing is very different to engineering based on static structures or mathematical calculations, whatever they may be. I have a very good book on canine anatomy (general, not GSD) which is very good if somewhat heavy going, and maybe if you have a good read about canine anatomy and link up the two sciences you may see it differently (I don't know). I don't intend this to sound disrespectful, as I know what an amazing mathematician you are, but I don't believe that this alone can create an overall picture of the dynamic function of a living organism.

In terms of the SL GSD it's beauty - or not, it's function - or not - What I would like it to be will never again come to pass, for me we had it and it has gone. What may come to pass in the future, well that depends on the eyes and minds of the breeders of tomorrow.


Edited to add: Performance being overall performance, not gaiting or simply length of stride.
by
Ibrahim
on 12 June 2012 - 18:17
Aby,

I will not claim I read all books on canine anatomy but I had the pleasure to read through some of what Linda Shaw guided me to. I don't know your back-ground on motion but there are principles of motion and principles of engineering that apply to the canine too, maybe not all but good portion do apply.
I understand that it's not a diagram or, lines and angles only when it comes to canine, it's more complicated than that. The amazing is some of us disregard the wealth of knowledge people, experienced people, not less knowledgable than Gustav and his equivalents put into the Standard of the German Shepherd.

Aby, I'm not speaking my own theories, I'm talking the standard itself. Above drawings are not an invention I made, standard talks about angulations and proportions, the experienced made books on them and some illustrations and explanations, they talked on some angles and bones proportions in general.
All I did is I drew two dogs bones, proportions and angles, one is the ideal and one has less ideal angles in the shoulder and demonstrated the difference in front reach between both. The difference is 8% from the fore arm front reach only, does that count or not? And please no one tells me about what adds to performance, I understood that, just answer the present point, PLEASE.

Ibrahim

by
Ibrahim
on 12 June 2012 - 18:26
I do not claim I know in which year nor which VA had it all, work ability, temperament and optimum structure, in regards to structure alone we need to correct rear looseness in the big population, withers, roaches and ligaments and see at what angulations we stop at, I will not make a immature assumption and say we will go back to Mutz or Quanto's structure.
In regards to temperament I am pro breeding back to the wl of as good structure as available and keep an eye on the temperament and re enhance the conformation.
If Gustav or anyone else has a better idea I am all ears, but it's not necessary that all take same approach, there could be several scenarios and then time will tell which will be more fruitful.

Ibrahim
You must be logged in to reply to posts