Hock walker?
by
GSDguy08
on 31 May 2012 - 20:42
Is this what they mean when they refer to a dog as a "hock walker"? I saw this in an advertisement earlier, this just didn't look normal to me. Not trying to stur anything up, but is this what they mean?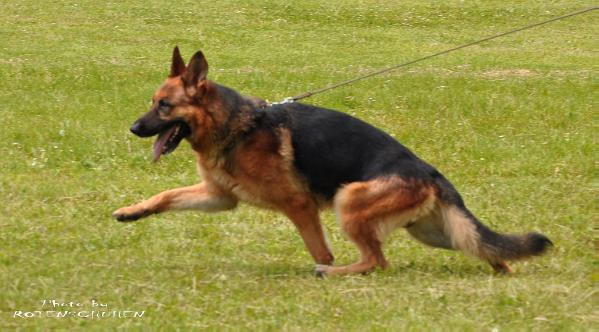 by
SitasMom
on 31 May 2012 - 20:58

no, a hock walker "walks" on its hocks this dog is gaiting.

gaiting is a learned skill where a dog reaches (front and back) as much as possible with pressure on the leash. notice how far forward the dogs hind leg is. there's no way for a dog to extend so far without looking like this.

this dog would look normal if it were just walking unleashed in a yard or field.


by
Til
on 31 May 2012 - 22:41
No, he wouldn´t look normal at all. This dog is overangled. We call it a "rabbit walk". That´s exactly what we don´t want to have in breed anymore.
This structure isn´t good for a "working dog" and that´s what GSD should be (even the show dogs).
A well angled dog has an extensive movement without walking on his elbows, just walking on his paws!

by
darylehret
on 01 June 2012 - 01:38
10 week old Sampson must be a genius then, for "learning" to gait on his paws.


by
SitasMom
on 01 June 2012 - 02:00
Which is a "hock walker"?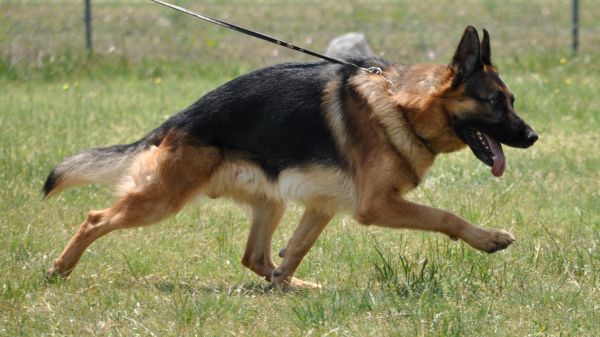 A.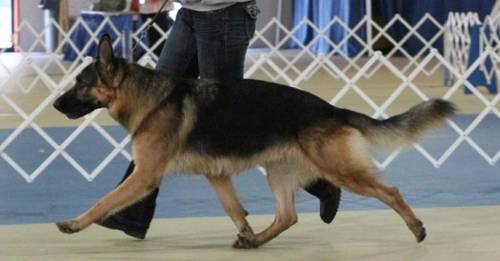 B.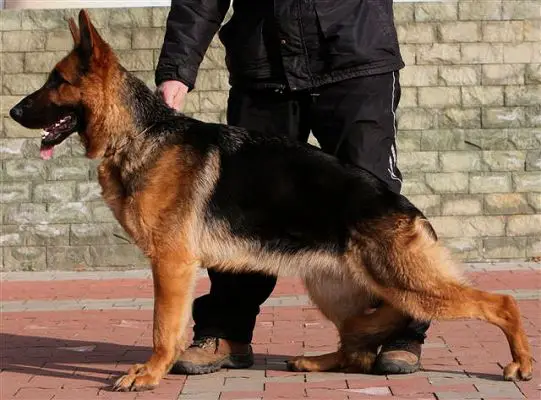 C.











by
troublelinx
on 01 June 2012 - 02:03
Til while it may be of the working breed it is not of the line, as you already know. I believe they should go by another breed name.


Can a regular/ standard working line GSD be trained to walk this way? Or do you have to change the stuucture over a period of time through selective breeding for it to be able to be trained to walk this way?
by
GSDguy08
on 01 June 2012 - 02:18
sitas mom, there is no way that's normal. And in your pictures neither A, or C are "should" be normal. The structure on C isn't so bad, but the leg closest to the person.... I will gladly stick to my straight back, nicely structured working line dog who walks on his paws.
by
SitasMom
on 01 June 2012 - 02:19

While conformation helps to accentuate this gait, many can be taught to walk this way. Encouraging a GSD to keep a taught lead, head higher and use its hind legs to be the power and not to scramble with its front. The dog must develop certain groups of muscles to do this. It takes lots of time and conditioning. I have seen working lines trained to do this, but not very often because its usually not a priority for working line people to do well in the show ring. Next time I see a working line do this, I will have to take photos!



by
Sunsilver
on 01 June 2012 - 04:53
I'd be VERY surprised if you DO find a working line dog gaiting this way.

To get the hock flat on the ground like that requires two things: overangulation (with a long upper thigh), and loose ligaments. The American GSD has been bred this way for many years, and breeders actually select for loose ligaments, so they can get that flashy extended trot. Of course, loose ligamentation of the joints means the dog is prone to joint problems if it should actually have to do anything other than trot in a circle as fast as it can.

Now the German showline people are going this route as well. Good luck...





Someone needs to show showline people the breed standard. I've highlighted the key points:

The German Shepherd Dog is a trotting dog. The limbs must be so coordinated in length and angulation that, without noticeable alteration of the topline, the rear legs can propel to the body while the forelegs extend to an equal distance. Any tendency to overangulation of the hindquarters reduces the firmness and endurance, and consequently the working ability. Correct body proportions and angulations result in a flat over the ground, far reaching, ground covering gait giving the impression of an effortless propulsion.

BTW, the trot is supposed to be a two-beat gait where diagonally opposite legs strike the ground at the same time. I don't know how or when the definition got changed by the GSD showline people. Or maybe they no longer trot. There's a gait horses do where the front leg is extended parallel to the ground like that. I believe it's called the Spanish step.

The gait that dog in the above picture is doing is certainly neither balanced, nor, by any stretch of the imagination can it be considered 'flat over the ground'!



by
AmbiiGSD
on 01 June 2012 - 08:05
No not a hock walker, but its not bloody natural either :(
by
Abby Normal
on 01 June 2012 - 08:09
I guess it's a case of here we go again, and I always vow not to bother, then find I can't help it.

This is my opinion:- The dog is very overangulated and dreadfully unbalanced. A normally structured WL dog could never be trained to gait this way because physically the structure could never accommodate it. As ever I despair that it is viewed that this is 'desirable' over all else.

Without the extreme overangulation that has become so prevalent in SL whether AM SL or WG SL, the GSD still has a beautiful unique gait, just not so exaggerated. Recently it seemed that the powers that be were speaking out against overangulation, as they were against other exaggerations in structure. As always these appear to be words alone as overly exaggerated dogs continue to be rewarded in the show ring. It's a path that has been travelled for so long now that no-one appears to be able to get off it and get the train back on track. It should be remembered that the dog is a digitigrade animal, not plantigrade like the kangaroo. Therefore at any pace it is the footpad/toes that should be in contact with the ground.

BTW gaiting should be done off lead, not straining against a leash which distorts the outline, pulls up the front end (hence the abnormally high front leg position) and can conceal many faults. A true picture of the gait and conformation can only be seen on a completely loose lead or off lead. Gaiting should be a natural pace, and should showcase overall movement and balance, not just the rear end, so if the dog is 'scrambling' with it's front, it is a movement/conformation issue, which shouldn't have to be corrected with a handler holding it up by the leash.

From this year the British Sieger will require off leash gaiting, to evaluate the dogs correctly, which is a move that I applaud.


by
Sunsilver
on 01 June 2012 - 12:29
[Agrees completely with Abby's post]

[Applauds British Kennel Club]

I hope they will also gait them slooooowly, as currently, the dogs are gaited too fast for the naked eye to be able to see what is actually happening.
by
VKGSDs
on 01 June 2012 - 12:59
GSDguy, is that your dog? I ask because if not I think it's unfair to post someone else's dog for a critique. It's just ONE picture. I've attended a lot of shows as an exhibitor, spectator, and photographer and in every class I see dogs doing weird stuff, especially ones that aren't ring trained well that dig into the ground and pull too hard. The dog *could* naturally be a hock walker or it *could* just be a bad picture taken at an awkward moment. Goodness knows I've taken far worse candid shots of my own dogs goofing off. Either way I'm not going to speculate unless the owner of the dog is offering that picture for critique.
by
Sunsilver
on 01 June 2012 - 13:24
It's from an ad on this site, VKGSD. He said so in his post. And I've seen DOZENS of pictures like it. The ads on this site are a goldmine for this sort of thing. If someone thinks that picture is showing their dog at its best, I think it's fair game to critique it. YMMV, but how else are we to learn about this stuff, unless we actually SEE what the person's talking about?

I've seen SO many pics of showlines doing this sort of motion with their front legs that it's painfully obvious it's the latest fad, and people think it looks 'flashy'.

It makes me want to vomit. It is totally contrary to the standard.
by
joanro
on 01 June 2012 - 15:06
Sun silver, you are spot on with your remarks. But the gait seen in horses you're talking about is not the Spanish step. Instead it is the "gaited" horse breeds, such as the Tennessee Walking horse and the American Saddlebred( some Americans seem to have an addiction to abnormality in animals' gaits :(
by
Abby Normal
on 01 June 2012 - 16:10
Sunsilver
The British Kennel Club actually don't have anything to do with the British Sieger event, they just give their 'permission' for it to happen. There is a British Sieger committee comprised of various representatives from some of the GSD breed clubs/organisations.

Totally agree about the speed too Sunsilver. Many experts and notable SV judges (especially of yesteryear) have been known to state that gaiting is done at a pace which is too manic and again, can disguise too many faults. The dogs own natural rhythm should dictate the pace, it is not a race. Off lead and at the dog's own natural pace, then is revealed the true beauty of the gait.
by
GSDguy08
on 01 June 2012 - 16:29
VKGSD, it's from an advertisement. Regardless of what angle, what my dogs doing, etc....I have NEVER seen him or any of my dogs look THAT extreme like that dog in the picture.

by
brynjulf
on 01 June 2012 - 16:33
gsdguy there was another thread on here that has a hock walker on it. I think it was titled "is this normal or something like that" He was definately walking on the hocks. He looked very sickly as well which may have been why he was down in the hock but the photos were a very good example of the term.

by
Abby Normal
on 01 June 2012 - 16:57
I know the thread you mean Brynjulf, it was about a puppy being 'weak in the rear'. If you look back a few pages you will find it GSDGuy, the title mentions weak in the rear. It is a very poorly looking pup, which I pray improves with time.
by
Sunsilver
on 01 June 2012 - 19:15
No, it's called the Spanish walk or Spanish step, and is done by the Peruvian Paso Fino horses. I'm familiar with the Tennesee Walking horse's gait, and it does not have the front leg extend straight out from the elbow. It's a four-beat gait, which is why I'm comparing it to the German showline's gait.





http://www.youtube.com/watch?v=lpCvQBALBX0&feature=fvwrel


















You must be logged in to reply to posts