German Shepherd Dog > Please read x-rays from today (41 replies)
Please read x-rays from today
by
Smiley
on 25 May 2012 - 19:36
Thank you very much...in advance!! Holy crap...I am a FREAKING BASKET CASE. I think it takes weeks before I will hear from OFA. I am praying so hard everything looks ok.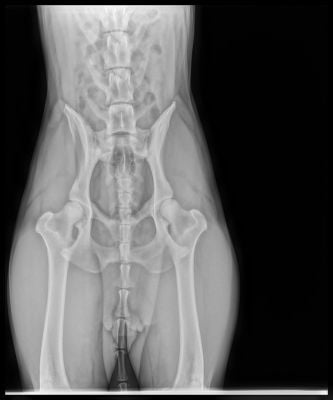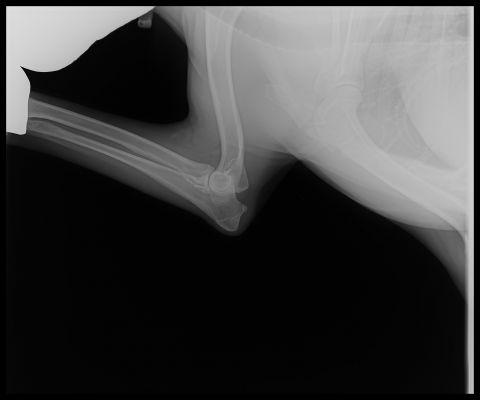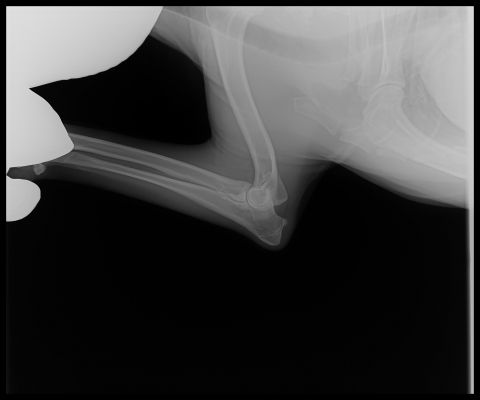 by
Smiley
on 25 May 2012 - 19:43
Oh, crap...that is a lot of views without comments. That must be bad. Oh, no.

by
SitasMom
on 25 May 2012 - 19:58

relax

is it possible to crop the photos and show close-ups?



by
Smiley
on 25 May 2012 - 20:02
I'm sorry..I don't know how. It's a miracle I could save the images from the disk thing at all. I am really stressed out.

To top it off, I filled out the stuff for the WDA "a" stamp and there were like 2 separate things that were all in German! I have no freaking clue how to read German. I wish they ahd provided a transalation page. So. if anyone knows the word for bitch/female please let me know. I don't know if I checked off the right box.

Lastly, all the vet did was digital x-rays so I need to, apparently, covert them to films for the SV. Has anyone ever done this before?

Thanks,

Sara
by
trixx
on 25 May 2012 - 20:10
from what i can see the hips / elbows look pretty good.
by
Smiley
on 25 May 2012 - 20:15
Really? Oh, thank God. I hope everyone agrees with you.....I am going too, officially, be a train wreck until I hear from OFA and the SV through WDA. OMG....I never thought the waiting would be so brutal and it hasn't even been 5 hours yet. Lord, help me.

Sara
by
Smiley
on 25 May 2012 - 20:18
Beetree..Holy poop...I don't know what the heck I am looking at. I can't see the difference between the two??



Sara
by
peter c
on 25 May 2012 - 20:18
every thing looks ok
by
fasteddielv
on 25 May 2012 - 20:22
Here you go, cropped and resized.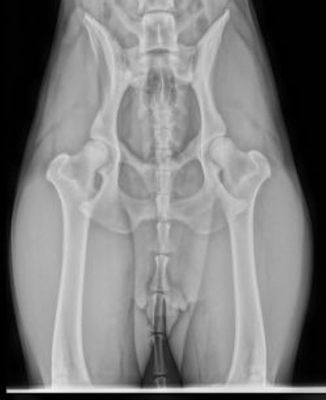 by
Smiley
on 25 May 2012 - 20:24
Thanks, Peter. Are you sure?

Thanks Fast for the enlarged image.....

I just don't understand what to look for. Just don't know what I am looking at.

But, on a positive note, she passed her OFA Cardiac today. *sigh*

Sara
by
beetree
on 25 May 2012 - 20:28
Smiley,

First off, take a deep breath, notice how the dysplastic example, the one on the right, how the leftside ball part of the joint is not seated in the socket? Now, look how both of yours are....and how they are similar to the good example?

I think Blitzen might be traveling today, she'd know for sure. And of course Molly seems to know her stuff...

Usually they like to see knees, but even I, with limited experience am thinking there is a good a sense of uniformity in what I'm looking at.
by
Smiley
on 25 May 2012 - 20:33
Beetree..deep breathe? IMPOSSIBLE!!!! I feel like puking as I don't know what I would do if the results come back negative.

I figured you all on the forum would know as you guys are so experienced......I guess if I knew she would fail I could mentally and emotionally try to prepare myself.

I went back and looked at pics and I kind of see what you are saying...sort of. Sorry. I just am clueless about what I am looking at. One of the balls looks ok to me but the other clearly doesn't. Maybe they are both bad and I just can't see it. I am trying!

Sara
by
trixx
on 25 May 2012 - 20:39
from what the bigger xrays looks the hips will go OFA good to excellent and A stamp A1 normal-
looks very good - dont drive your self nuts- i dont see anything less then OFA good and A1 normal.
by
Smiley
on 25 May 2012 - 20:41
trixx...Thank you! I hope you are right. I just let out the biggest yelp of my life!!!!! Please let it be true!!!!!

Sara
by
trixx
on 25 May 2012 - 20:43
you can convert to films through Xray express in texas for A stamp.
by
Smiley
on 25 May 2012 - 20:44
trixx....yes, I saw that on the WDA form. Have you ever done it? Also, do you know the german word for female/bitch? I don't know if I checked teh right box. Thanks again for your help!

Sara
by
trixx
on 25 May 2012 - 20:47
the hips are fitted nice and tight into the joint and there are no changes, the right side is a tiny bit lose but should not mean much as it still very tight. me looking at the xray -right side-
by
yellowrose of Texas
on 25 May 2012 - 20:48
We all know how you feel..

ALL of us were in your SHOES many years ago....so take a deep breath...WHY did your vet not show you?

I am a non vet person so do not get upset..Vets TAKE YOUR MONEY and why do they not tell you what to look for..?

Unbelievable...I am so lucky to have three great vets who can tell me if a spec on any exray means or does not mean...

WheW>..so glad I am retired.......lol

You just believe the ones here who know .....just be thankful for our DB...

IS your vet sending the xrays or YOU>>>

yr


by
Smiley
on 25 May 2012 - 20:52
YR..nope. didn't show me a thing. In fact, nothing is even labeled left or right. They are sending them in to OFA. They said I couldn't because they are digital. I have to send them to WDA/SV myself as I need to convert them to films.....apparently.

Sara
You must be logged in to reply to posts