by
CCole223
on 27 May 2012 - 07:16
Puppies are like babies. There's always an average on weight, height, how much they should eat, all of that. But everyone is different, everyone has their own growing pace. He does look smaller than some pups I've seen at 5 months, but he's not overly short. As for the feeding, I never believed in fully following the age/weight etc chart that is recommended, because like I said they are all different. Going off a chart is a good start, but seeing as every dog varies, their food intake does too. I'm not saying what you feed is wrong, but some dogs with his age will consume say, 1 cup a day 4x a day, whereas others may be fed 1 1/2 cups a day, 3x a day. All depends on the dogs, and their exercise too. He doesn't look fat or underfed, so I wouldn't change his diet but if you ever question yourself or see a difference in him you think is unusual, ask your vet. Just my opinion though :) He's very cute and I wish you luck with him!
by
seeofred
on 14 June 2012 - 15:46
Hello there,

It has been now 3 weeks since I posted my original question "critique my dog" and pictures.
As suggested by one of the forum members here is another picture of my dog taken yesterday. This is exactly 3 weeks after the original pictures in this post. In this latest picture my dog is 5 months and 17 days old. I did not have a chance to weight him but will do that in 3 days at the vets office as he is scheduled for his first rabies vaccination.

Feel free to provide your critiques again (I know that he is coated), they are greatly appreciated.

P.S. This is my dogs natural stance, I did not stack him or anything similar to that (fur not brushed). Picture was taken with my phone camera late in the evening of a rainy day.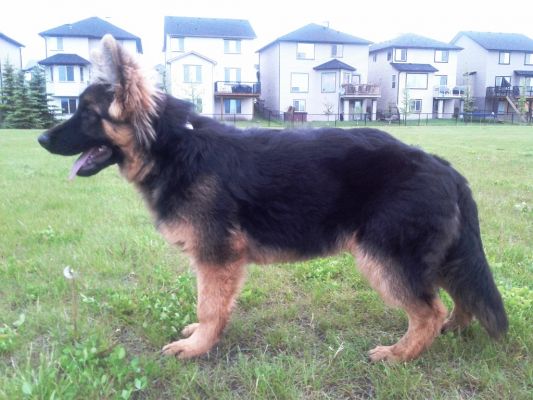 by
Cassandra Marie
on 15 June 2012 - 21:31
Hi Seeofred You have a lovely puppy. I would say that his age puts him iin the "gangly puppy stage" where the puppy's body parts grows in various stages. I would be very happy with a puppy that looks this together at this age. Right now I'd say that his body has to catch up with his head. I propose that Your puppy will have a very masculine look as an adult. He looks very similar to my coated Shepherds. The look they have is slightly shorter stature - which is an illusion created by their thick bones and coat. You will receive many compliments on your pup at adulthood. Be prepared- he will attract a crowd everywhere he goes! Send photos as he ages. I can't wait to see the final product. Cassandra
by
Ibrahim
on 15 June 2012 - 21:35
What Cassandra said is good, moreover the size looks better in this picture, please keep the pictures coming every now and then, lovely to see how he's developing.

Ibrahim
by
sonora
on 17 June 2012 - 01:06

Hi'
Your pup is a long coated male ,showing sl. long proportions.
With a good head and expression. He has strait fronts and shows good bone.
He has good front and hind angulations, with a good back line.

All this will probably change by next month, so don't worry about it.
Your pup is going through an accelerated growth period.
From about 4 mths--12 mths. you will notice changes every month.
If you are really interested, pl. take photographs of your dog every 2 weeks.
Take the profile and the front view, from the same distance every time.
You will see the difference.


Truckindog,

I hope you don't mind, me using your dog as an example.
My intention is purely to stress a point. No offence meant.

I always read and hear issues about ,the curve back,
the roach back, the banana back of the gsd.How ugly it is ,
why do people breed such dogs?

Looking at the photo of the dog ,Truckindog posted, you will see a backline that is concave.
This indicates a weak back.and it will take very much more hard work over a longer period of time to strengthen it.
and as soon as you stop work in strengthening the back, it will revert back.Thus hampering the working abilities tremendously.
So to ensure that the backline is strong to enable the dog to work,breeders bred for a slight curve over the backline.
I am of the opinion that, since the G S D has the brains and the strength there's no harm in adding a little glamor,
as long as it does not hamper the working abilities.
if you see the earlier gsds' you will know what I mean. Even the working dogs look better.

Once again no offense meant.


by
Cassandra Marie
on 17 June 2012 - 12:58
Hi again: I meant to say that IMO your puppy is a long stock coat as opposed to a 'long coat'. Stock coats have an undercoat. Stock coats are acceptable within the breed standard. Cassandra
by
SitasMom
on 17 June 2012 - 13:43

best to photo puppies at 6 weeks, 6 months or when mature......

when posing your pup, the hind leg that is stretched back is the leg closest to the camera.

you are doing a great job training your pup as i see it is standing without someone holding or even a leash - good job!





by
seeofred
on 25 June 2012 - 20:57
Hi there,
Here is another picture of my dog taken today - on these photos he is exactly 6 months (26 weeks) old.
Pictures have been taken in the full sun light with my phone so they are not perfect.
My dog has not been stacked , this is somewhat his natural still stance.
Grass on one of the pictures is really tall - approximately 3-4 inches so his feet are not visible - sorry for that.
I am guess-timating his weight at around 23 kg / 50 pounds.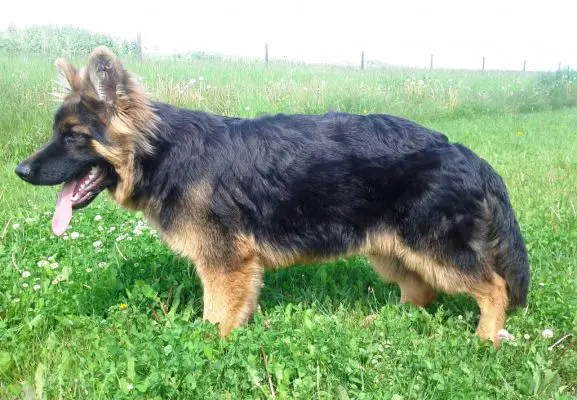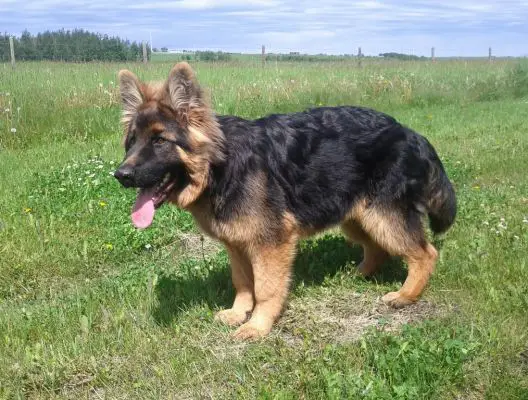 by
macrowe1
on 26 June 2012 - 02:07
Ha he's a nice looking boy! The grass in the first makes him look like a midget Shepherd, but glad to see he's growing good! 50 lbs is good weight for a 6 month old! He's got a good looking head. Make sure you're not overfeeding him (want to be able to feel the elbows but not see them), which with longcoats are hard to judge just viewing, especially in pictures. Love his coloring! Are you planning on doing conformation with him, or Schutzhund, or anything?
You must be logged in to reply to posts