Critique my dog
by
seeofred
on 23 May 2012 - 20:10
Hello all,

I would like to hear your opinions on my dog's structure and overall appearance.
Apart from obvious (he is coated), I would like to hear your knowledgeable critique.
In these pictures he is couple of days short of 5 months old.
Please note: I did not stack him (never did this in my life), this was his natural stance. Pictures and his stance are not perfect as they were taken from my phone camera. Hopefully you will be able to comment on his structure and overall appearance. I am not planning to compete in any show with him.

Thank you for your comments.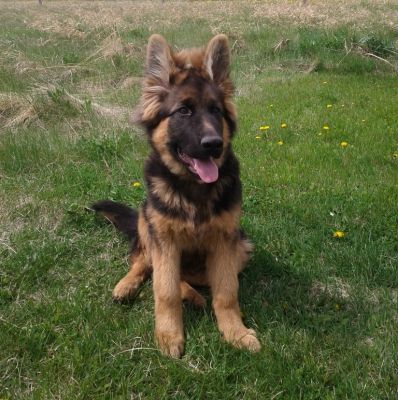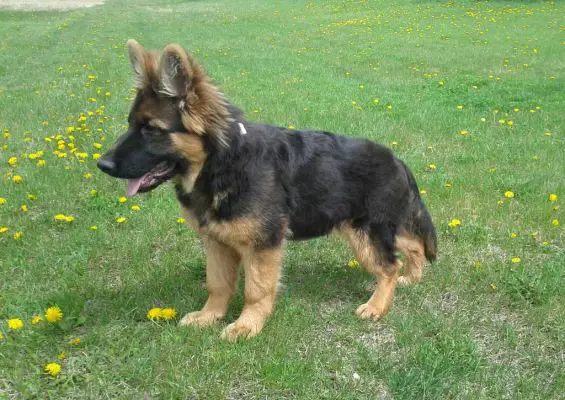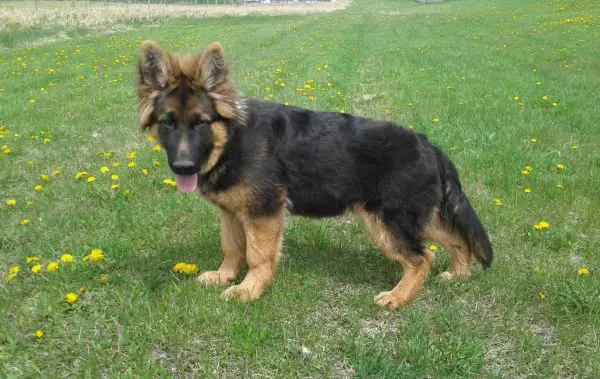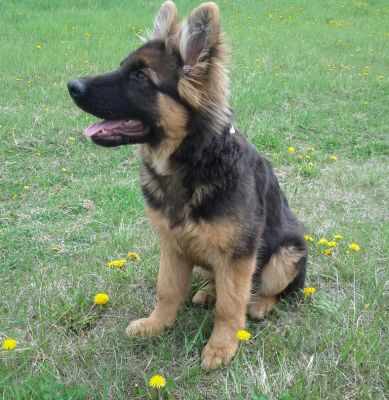 by
Ibrahim
on 23 May 2012 - 20:21
Nice looking male puppy, nice substance and good size so far, gorgeous head, nice topline, good angulations in the fore and hind, good hocks, pasterns will strengthen as he grows up, good tight feet, allover a very nice looking puppy with beautiful rich pigment, looks healthy and happy. Only thing for a 5 month puppy I was expecting him to be a little higher in height. Enjoy him.

Ibrahim
by
peter c
on 23 May 2012 - 20:21
he is very beautiful similar to my girl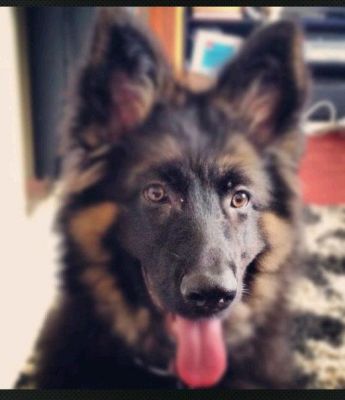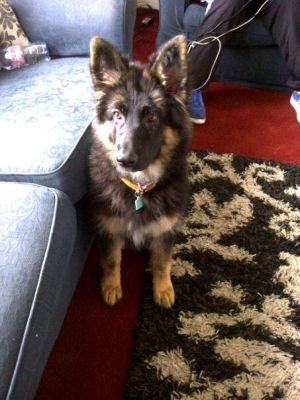 your dog looks very proud and very clever just beautiful
by
macrowe1
on 23 May 2012 - 22:05
He has a really nice head, but he seems a little small.
by
seeofred
on 23 May 2012 - 22:32
Thank you all for your inputs and critique so far.

As for him being small - I am not sure you might be right on that one - he is around 42-43 pounds right now - he is on ACANA Large Breed Puppy being feed 3 times a day following a specific food portion sizing developed for him by Champion Petfoods LP (maker of ACANA and Orijen) Customer Care representative and it is as following (goal was to have him around 88 lbs as an adult):


Weight of Puppy
Large Breeds
German Shepherd
Rottweiler
kg
lbs
40kg as Adult
10
22
2 1/2 cups (300 g)
20
44
3 1/3 cups (400 g)
25
55
3 ¼ cups (450 g)
30
66
4 2/3 cups (560 g)
35
77
3 ¾ cups (450 g)
40
88
3 1/2 cups (420 g)*


He might be a late bloomer when it comes to size - who knows - maybe he is following the "slow but sure" growing line.

P.S. Right now he is being feed 3.5 cups per day - I guess I am cheating this recommended feeding chart a little bit :)
by
aceofspades
on 23 May 2012 - 22:57
I think it is just that with the angle of the photo and there being nothing to gauge his size against he looks small. If you show him against an average size person it may be a different story.
by
e c street
on 23 May 2012 - 23:14
It would be nice to know his bloodlines. Is it possible that the hair around his jowels and ears could disappear after his first real shedding? Just wondering. ecs
by
swingfield
on 23 May 2012 - 23:50
Handsome boy! maybe the dandelions are just bigger than normal?? just sayin.. LOL
by
EuroShepherd
on 24 May 2012 - 00:28

I wouldn't say he looks small, given that he is a few days shy of 5 months old, well...he's still 4 months old then and looks size appropriate for 4 months.
He looks a tad short in height but his head and bone look fairly large to me, and he is slightly on the chunky side. Makes me think that he is on the verge of having a growth spurt.
He is a very nice looking pup, like Ibrahim says, good angulation, good topline, handsome head, good feet/hocks/pasterns, etc. For his age, there is nothing that I would point out as a fault. He looks like he's going to be a very handsome dog with good masculine expression.
Why not show him? If you are in the USA you can show him in UKC and in UScA or WDA long coat classes.

In two weeks, take some more photos of him (with at least one person in the pics) and post them here again.
by
macrowe1
on 24 May 2012 - 02:01
From what you're saying he doesn't seem small. It must just be the angle. I like the hair, kinda looks like a lion's mane in the first pic, too cute.
by
CMills
on 24 May 2012 - 02:56
He is quite darling, beautiful expression, lovely headpiece.
by
truckindog
on 24 May 2012 - 09:04

Nice yougster, I wouldn't worry to much about his hieght, he has loads of Knuckle and is well down on pastern so if managed his hieght will come.
I would give light exersise on concrete or tarmac. This will help his pasterns and feet. Below is our youngster taken at 20 weeks. We had to keep him on firm ground and manage his exersise but he has come to size and is extremely sound front and back. At this young age it is all about management.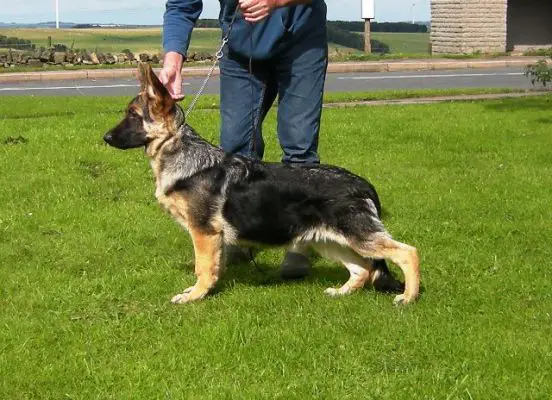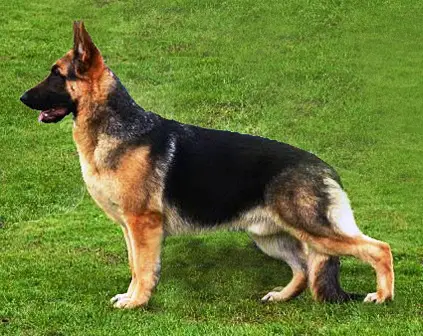 by
Assi
on 24 May 2012 - 10:29
Seems to have long hair..
by
charlie319
on 24 May 2012 - 13:10
Angle of the picture is important, but your pup looks like a nice dog. Pretty big feet. May be at the top end of the size standard. He looks a bit like mine did at 6 months:



Enjoy your dog.
by
seeofred
on 24 May 2012 - 15:18
Hi all again,

Thank you again for your comments and critique.

I will try to answer few questions in order to stay on the topic:)

Truckingdog - At this point I am not worried whatsoever about his pasterns as I think that for his age he is OK with his front and back.
Swingfield - heheheh I like you sense of humor :)
Ibrahim & Euroshepherd - thanks for your input and comments - I will try to post his pictures compared to average size person 2 weeks from now. I am 6.2 ft so not sure if that is average or not :)
E C Street - I think that he is coated so I don't think that the hair around jowls and ears could disappear after his first real shedding.
Charlie - Could you please further explain your comment "May be at the top end of the size standard" as everyone else is saying (because of the picture angle) that he appears to be on the smaller size :) I would be happy if he ends up somewhere between 63-65cm
I don't have problem sharing his pedigree so here it is:

http://www.pedigreedatabase.com/german_shepherd_dog/para.utkoma?fadir=570090&modir=745122

by
Rass
on 24 May 2012 - 16:34
Nice looking puppy. Really. :)

Sometimes I read things here that make me shake my head....

"I would give light exersise on concrete or tarmac. This will help his pasterns and feet."
Really? REALLY?????
And while you are at it you could be impacting the growth plates and rest of the dog's structure.

OP, Your puppy is pretty and looks good structurally. Let him be a PUPPY and play on the grass and play with him and enjoy him! Limit how much he goes up and down stairs and limit work on hard surfaces but don't put him in a bubble!



by
Blitzen
on 24 May 2012 - 16:42
If you know what he weighed at 16 weeks, double that and add 5 to 8 lbs. That will come close to his adult weight.

I'd never walk a puppy on a hard surface if the goal were to strengthen pasterns. Instead I'd walk it on soft ground, sand, or gravel. I don't think I'd worry about this puppy's pasterns.

I think he's a lovely puppy. He may be a plush.
by
Ibrahim
on 24 May 2012 - 16:46
Charlie319,

That puppy face expression is stunning, some puppies you can see intelligence in their eyes, That's one of them.
by
yellowrose of Texas
on 24 May 2012 - 18:51
Nice looking boy you have here.

Nice structure and he probably will be right at the 63 cm line.

I looked in his pedigree as I said immediately....Uran v Wildsteigerland is in this pedigree and he is on both sides....

nice line up of showlines in the boy.

YR

I would show him

forgot to mention....work on his " lazy sit"

In first pic, you see how he tucks under the leg and is leaning on his hip to the right from front view..??

always ask him to re sit...when he does that...clap hands and make him come to you with command to sitz. if he keeps doing the side sit..(.lazy) or work from the heel posiition(fuss)

Just step forward one time resit him and if need be pull up on the leash and say sitz pretty...use those two words each time and then praise him immediately for sitting correctly.

it is a habit they can get into and not good...doesn't mean his hips are BAD, either..NO way
Cola, my ofa excellent hipped female, sat that way until she was 1yrs old, us not knowing about how to correct and everyone at Spring Valley schutz club said HER HIPS ARE BAD!!!

THE day her papers came back we couldn't wait to go to practice that night..!!!
YR

by
EuroShepherd
on 26 May 2012 - 06:06

omg, he's a Ballack son...just a couple weeks ago I was wishing to myself that I had the money to buy Ballack!
Ballack has wonderful work ethics, great bitework, Universal Sieger type dog.
When I made my previous post, above, I thought to myself that I sure wouldn't mind having your male pup, now I really wish I do, LOL!
You must be logged in to reply to posts