German Shepherd Dog > Popping Sound when puppy uses voicebox? (71 replies)
by
gaf
on 23 May 2012 - 21:42
Cruiser (megaE & severe IBD) sitting in his Bailey chair. We took it in the car wherever we went since he ate 5 times a day. He almost always fell asleep in it during his 30-minute sit upright after eating. Yahoo Groups has a wonderful MegaE group with instructions on building the Bailey chair. It was hard on all of us. His developed @ age 6.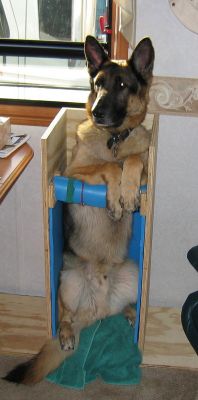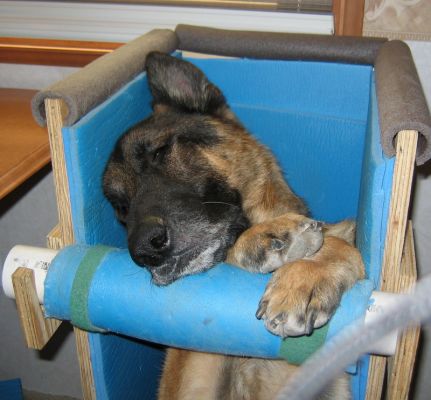 by
brynjulf
on 23 May 2012 - 21:43
over 200.00 here. ALot of pets are being dumped because of that :(
by
fawndallas
on 23 May 2012 - 22:07
That is why I am putting this information out to you who are experienced. I feel the same way about this vet...they are only in it for the money. I was trying to keep an open mind.

Nice to know that so many of you confirm my gut feeling about her.

~~~~~~~~~~~~~~~~~~`
Next issue is there is no other vet even close by as an option. They are even worse than this one about money and giving wrong information. (If I as a non-vet can recognize the information is wrong...thats bad).
~~~~~~~~~~~~~~~~~~~
I will have to wait until next Wednesday to take the puppy to my vet in Dallas. Mean time, I am pulling the puppy for the weekend.

~~~~~~~~~~~~~~~~~~~`
Thanks again for all you help. Yes, I do agree that if the puppy has this, tough decisions will have to be made and I will have to make them.

~~~~~~~~~~~~~~~~~~~
by
3Shep2
on 23 May 2012 - 22:27
I'm on my second dog with Mega-E; my first was the most serious-at 26 months of age she had her first real case of aspiration pneumonia-we pretty much fought it every month thereafter-she was happy and active until I made the mistake of allowing the University to install a Peg tube-she went from 75# in March to 54# in October when I decided I could no longer provide quaility of life and she was humanely euthanized-she was a once in a lifetime dog and six years later, it still hurts. She was just 4 years old.

My second Shepherd is not as severe and precautions are taken everyday-providing soften food fed from an elevated position, it is noted on both vets' records she is never to be anesthetize barring a life/death emergency-she leads a normal active life at 4 years of age-I monitor her well being at all times.

So the severity need to be access-then the decisions made.




by
dogshome9
on 23 May 2012 - 23:15

fawndallas,

When my puppy first started vomiting (regurgitating is a better word for it because the food just comes straight up and out with little or no stomach action)

I first thought ok she is simply pigging out and eating too fast due to competion from the other puppies so I isolated her so she could take her time and it still happened, next I gave her a bowl that is meant to slow down those dog who eat too fast (with bumps sticking up from the base) she still regurgitated.

After trying those things I knew in my heart that she had a problem and I also knew what that problem was. I took her to my vet (where I work) and simply told him that I wanted a barium xray for her and I was not surprised to see the resulting xray.
I took her home thinking that I would manage her but in all reality I was prepared for the final decision that I knew I would have to make.

As her breeder I was aware that if I could not care for her myself then I could not expect another to take her on. She was also the smartest pup in the litter, at 4 weeks old she was climbing out of a puppy run where no other dog has managed to escape from, it didn't matter where she was as soon as I walked away she was off and over the top used the fence as a ladder and smart as a tack. She really broke my heart.

Get an xray and then make the responsible decision ~~~~~~~~ Yes being a breeder really sux some times......

by
workingdogz
on 23 May 2012 - 23:42
Mega-E will usually start to 'show' itself
when the puppy transitions from 'mush'
to a more solid/semi solid food.

So basically, your puppy is showing this
at just the right 'time' for a Mega-E pup.
Usually at 5-6 weeks time.

It has nothing to do with eating to fast etc,
it is a deformation that will affect the pup
for the rest of it's life.

I'd bet my morning coffee this is a puppy
with Mega-E. Get the xray to confirm or
refute, then decide what direction to take
from there.

Welcome to the world of dog breeding.
It can really SUCK at times.


by
fawndallas
on 23 May 2012 - 23:56



Yes, especially when the puppy is asleep on my chest so i can make sure the food stays down.





I can't get the xray till next week. Meantime, I will error on the side of hope. Puppy is no longer available for any home but mine.

~~~~~~~~
thank you all.
~~~~~~~

Side note: For those of you who's dog fallas asleep in the baily chair....It has to do with side efects of the meds. It affects the dog the same way benadryl affects most people.
by
3Shep2
on 24 May 2012 - 01:47

This is the set up I've used for both of my girls-this photo is of my first Mega-e dog-her condition was greatly affected by all the procedures that the University Teaching Hospital insisted that needed to be done over the course of two plus years. I limit any procedures the vets want to do on the second dog-lessons learned the hard way-also in my experience--there's very few vets with much knowledge concerning Mega-e. Both of my girl had/have Congenial Mega-e versus Acquired.
by
yellowrose of Texas
on 24 May 2012 - 03:21
Sorry but this is not how the life of a german shepherd is to be spent.

Makes me sad.

yr
by
Rass
on 24 May 2012 - 14:23
Ultimately, it is your dog and your decision (PTS or attempt to manage) IF it is Mega E (sure sounds that way).

In your case, you need an X ray and this is a little puppy. That Xray, at this point, will simply confirm the condition (or not). Fully expect it will confirm. Due to the age of the dog, it is wise for you to get a diagnosis.

As to PTS.. well that is tough. In everything I have read, if it happens in a young puppy, there is a chance it WILL improve and it WILL not need life long treatment. The PROBLEM is that by the time you know, you love the dog and it is all that much more difficult.

Honestly? I think your vet is on the right track thinking wise, but I would WANT the Xray (and so would my vets). Other than that, the "lets wait and see and try tincture of time and management" is a VERY GOOD care process! This is not a rush to judgement on the dog or the dog's condition. Not a rush to PTS OR a rush to treat aggressively (not that Mega E has an aggressive treatment option).

As to doing the least first, I always opt for that. ALWAYS. As the mantra says, "First do NO HARM." Harm is cutting.. unnecessary surgery and so forth.

Maybe I am very lucky, but my vet clinic (I have used for 25+ years) is too busy to worry about "making money" on me. We work on any issue with my animals as a TEAM. If I have a sick/lame animal, we opt ALWAYS for the LEAST invasive first and then up the ante if there is no response to that treatment.

OF COURSE we try to diagnose if we can by testing.. but sometimes you have to realize if it walk like a duck, talks like a duck.. TREAT IT LIKE A DUCK!!! Animals can have a large range of disease but can only manifest symptoms in a limited way. Often a good vet will start by treating the symptom and give the animal TIME and the result can be an animal getting better.

After all, recovery is the OBJECT is it not?

by
fawndallas
on 25 May 2012 - 02:04
It was confirmed; the condition was so sever that my good vet said the pup would not make it to 1st birthday. ---------------------------------------------------------------------------- Pumpkin Pie may you R.I.P. Amber and Angel are waiting to teach you the best of the best. ----------------------------------------------------------------------------- Sorry, but I'm done for now. Talk later
by
dogshome9
on 25 May 2012 - 02:21

So Sorry for you and your little man. RIP little one.

Hugs to you fawndallas.


by
swingfield
on 25 May 2012 - 02:30
(((Hugs))) .. so very sorry.. ! We all feel your pain.. and you are in my prayers!! Be strong.. look forward, not back.. Being a responsible breeder can be extremely painful and it feels unfair !! Good luck with your other "babies" and their new homes !! <3
by
Spooks
on 25 May 2012 - 07:00
RIP Pumpkin Pie...



At least you can rest assured fawndallas that you have acted very responsibly with regards to this pup and I applaud you for that.


by
Conspicuous
on 25 May 2012 - 11:40
Aw fawndallas, I'm so very sorry for your loss. You must be completely heartbroken. :(

RIP Pumpkin Pie <3, may your spirit live on in your brothers & sisters.

Big hugs for you fawndallas. How terribly sad.
by
Rass
on 25 May 2012 - 11:43
So sorry for your loss.

As a retired farmer, I have so been there and there is no heartbreak like it.
by
Mel62368
on 25 May 2012 - 13:02
Aww so sorry! Thank you for looking out for that little ones best interest. Sometimes the Right decision is the hardest. Give Rose an extra Hug!

Melissa
by
Ramage
on 25 May 2012 - 17:34
That is heart wrenching, but you made the right decision. I am very sorry for your loss.
by
fawndallas
on 25 May 2012 - 21:09



Thank you for being so kind. I have lived on ranches all my life so I am not a stranger for making hard decisions. It never gets any easier though.

I have 8 other puppies that make my every hour today. I know the puppy is in a better place and having loads of fun. I made sure my other 2 girls from years ago were ready and waiting for him.

Thank you all again.





by
Doppelganger
on 25 May 2012 - 22:01
Sorry to hear the news, such a shame but you know you did right by the pup.
You must be logged in to reply to posts