German Shepherd Dog > Popping Sound when puppy uses voicebox? (71 replies)
Popping Sound when puppy uses voicebox?
by
fawndallas
on 22 May 2012 - 16:11
I know that I am a worry wart......If I am being overly concerned, let me know.

I noticed today that one of the puppies has an odd "popping"sound from his chest in front when he uses his voice box (barking, whining, any noise coming from the chest). The sound was loud enough that I heard it from about 12 - 14 " away and I heard it over the puppy crying (we are starting on crate and separation training this week). It sounds like someone popping their knuckles, only it is in the puppy's chest area.

Is this somewhat normal or could there be something wrong?
Is it worth the time and expense to go to the vet that will likely want to do Xrays?
The near by vet that we see is ok. I get the feeling though that "everything requires vet check and expensive exams." Vet's specialty is pet surgery.

When he made the odd sound today, he threw up a couple of times; mostly undigested food (he just eat). Problem is that the sound did not go away after he threw up.

When I watch the chest from the front, it seems to be moving very rapidly during breathing. When watching from the side, there is no indications of labored breathing.

~~~~~~~~~~~~~~~~~~
Medical background on puppy (for the whole story):

Puppy is 5 weeks old.
He has been eating solid foods since 3 weeks.
I have started making the solid food more firm; as goal is to get them to eat dry food.
He is the smallest of the litter, but weight gain is good.
He has frequently had what the vet calls "acid reflux." There has been no formal vet check though. The puppy just some times throws up any thing he eats (including mom's milk). This started during 2nd week.
1st puppy exam, the vet ran her finger along the roof of the puppy's mouth, looking for cleft pallet I guess and did not find anything wrong.




by
AmbiiGSD
on 22 May 2012 - 16:15
I'd get him checked for megaesophagus.
by
macrowe1
on 22 May 2012 - 16:24
Could he have been injured somehow? I've seen some come in who have injured their chest wall and it pops. I hope you figure it out.
by
brynjulf
on 22 May 2012 - 16:24
I second AmiiGSD
by
ecurry
on 22 May 2012 - 16:28
Yes, I agree. You should have your puppy checked for megaesophagus. There is a simple x-ray that can be done at the vet (feed the puppy and meatball of canned food mixed with barium)- and take the picture IMMEDIATELY after eating!!! (before it hits the stomach). This will give you an accurate picture of the esophagus.
I hope that that is not what you are dealing with, but dogs with megaesophagus can go on to live rather normal lives, with just a few adjustments (elevated dishes, smaller meals instead of large ones, no consuming large amounts of water at a time, etc).
Good luck.


by
UglyK9
on 22 May 2012 - 16:41
This is most likely Megaesophagus or whats called a right aortic arch (where the aorta of the heart grows over the esaphagus closing it off creating Meg-E type symptoms). The popping you are hearing is most likely undigested food and water "gurggling" as the puppy breathes. take him to the vet and ask for a barium Xray. they will be able to see if food and water is making it through the esaphagus to the stomach.
by
yellowrose of Texas
on 22 May 2012 - 17:33
Megaesophagus

Yr

smaller pup idicates first red flag. I will pm you.


by
fawndallas
on 22 May 2012 - 17:38
Thank you all...

No to the pneumonia. I have already been that round with another puppy a few weeks ago.
I do not think he has been injured. He is showing no other signs. There are 9 puppies though and they recently became little heathens (yes, you all warned me they would. I still treasure each and every one [except when one really chomps down on my foot, the choice words come to mind]).

I will get him to the vet for the Xray. I looked up Megaesophagus. I so hope the puppy does not have this.


Questions to breeders:
If the puppy does have this, how do you recommend I approach any new owners?
This is one of the puppies that is on the top 3 list for handicap service dogs from this litter. Should I even consider him for this work or just present him as a pet only?
Do I need to be concerned that other puppies in the litter may have this?
by
yellowrose of Texas
on 22 May 2012 - 17:47

Usually only one pup out of litter.. I pmed you . I had one in 21 years of breeding.


yr
by
fawndallas
on 22 May 2012 - 21:28
I am going to monitor the puppy for 24-36 hours and chart out just how many times he vomits the food. MegaE is too bad of a condition to jump into this. The puppy acts fine otherwise so a few more hours of closely documenting the situation will not hurt anything. Thank you all.
by
AmbiiGSD
on 22 May 2012 - 21:52
You should take all these pups to the vets and get them thoroughly checked over. Megaesophagus is also too serious a condition to delay diagnosis.
by
dogshome9
on 23 May 2012 - 00:31

Here is an xray of a pup of mine with a Megaesophagus, taken last year. Her symptoms were exactly as you discribe.

Sorry. I hope that your pup does not have this condition.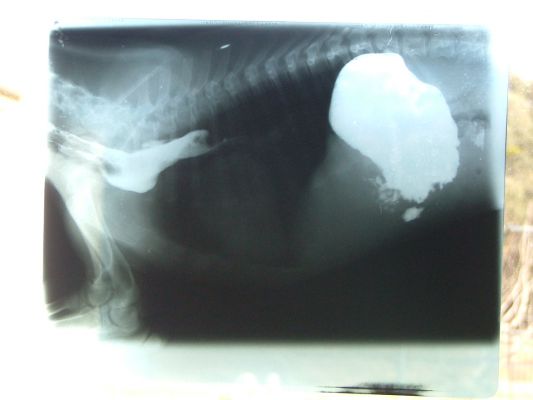 by
fawndallas
on 23 May 2012 - 02:06
Puppy threw up again tonight..... Wouldn't he throw up every meal and be loosing weight if it was MegaE? ------------ Also, does treatment alway require medication?
by
dogshome9
on 23 May 2012 - 02:21

No, they often do not throw up after every meal at first but as it progresses the trachea muscles become more relaxed and more food becomes trapped in the sac that develops and the food takes longer to reach the stomach and the puppy will vomit more often and it will lose weight.

After the diagnosis I thought that I could manage my puppy but the heart wrenching descisson was later made have her PTS when she started to lose too much condition.




by
aceofspades
on 23 May 2012 - 09:09
I am not sure what is wrong with your pup although MegaE sounds like something that a puppy I once had was diagnosed with when he was 9 weeks. This was about 25 years ago and he was PTS at the time of diagnosis. I did want to note the separation and crate training. Is this just a short time each day you are doing this? If otherwise, 5 weeks is too young to be separating them for any real length of time. They are just entering a critical learning phase where they will learn tolerance and manners, as well as critical play development and this is learned by them being together as a sibling unit. This is also when mon will really start weaning the puppies and will start to growl and possibly snap at them. It may neem scary to you but it is a very important stage. It teaches the puppies about their role in the pack as well as the things I mentioned previous, tolerance, manners etc... Anyway. I'm sure we are only talking like 10-15 min here but I just couldn't read this and not say something since no one else brought it up. I hope you are able to find out what's going on with the pup and that it is treatable as it apparently wasn't 25 years ago when my pup had it.
by
fawndallas
on 23 May 2012 - 11:47
Oh yes. 5 - 10 min are these training sessions and they usually include the stabilizer puppy. Full 20 minutes sessions do not start till 7 weeks. ---------------------------- As for MegaE. From what I have read, still no cure and still a long road for the pup and the owner. I am trying not to cry, as the pup is so full of life. He is going to the vet today. I have puppy viewing this weekend and already have 2 families interested in him. As a breeder, I need final results before then.
by
fawndallas
on 23 May 2012 - 11:56
Breeders question:------------ if this is worst case, do I let the interested families know or do I simply make the puppy no longer available? Obviously I am not going to ask anyone to pay money for a puppy with a medical issue.
by
dogshome9
on 23 May 2012 - 12:04

Good luck with your puppy I hope that he is healthy, though from what I have read here and from what I know first hand I doubt that you will be able to rehome him anytime soon if ever unfortunately.

I knew that for me rehoming was NOT an option even though the emotional part of me said yes I could not allow anyone else to have that responsibility.


by
AmbiiGSD
on 23 May 2012 - 12:09
Worst case scenario you keep the pup yourself and try to raise it, it can be done, but it takes real dedication. You can't ethically pass this pup onto anyone if it has megaE unless they are 1.willing to try and raise it or 2. experienced in raising a pup with MegaE.

Me personally, if a pup of mine was diagnosed with megaE It would be PTS and my bitch spayed and the stud dog owner informed of the pups condition. It is unknown if megaE is merely a congenital deformity or hereditory, however it does seem to pop up in certain lines. I wouldn't take that risk. If my stud sired one, he's be neutered.
You must be logged in to reply to posts