German Shepherd Dog > German Sheperds and Cats (21 replies)
German Sheperds and Cats
by
JonTempleton
on 18 May 2012 - 17:37
Is it just me or do German Sheperds have an innate hatred of felines?
by
Conspicuous
on 18 May 2012 - 17:45
I hope not! I'm getting a pup and I have an adorable barn cat - I was hoping they could be friends!

I think it's how you introduce them. GSD's have a strong prey drive.
by
aceofspades
on 18 May 2012 - 17:47
Of mine 2 could not care less about the cat. It could walk right across them and they wouldn't even prick up an ear. Janna knows she isn't allowed to chase the cat but she always likes to follow it and is very attentive to it. The cat is faster than her though. If tw cat is jut sleeping she doesn't pay attention but when it starts walking around she stalks it.
by
RLHAR
on 18 May 2012 - 17:48
My female raised a litter of kittens and still dotes on them and gets extremely agitated if one of her 'babies' is upset.

The male is a little more of a galoot about wanting to play with the younger crew but he is very respectful and gentle to the elder citizens who have put a claw across his nose when he was a puppy.

So no. Neither of my high drive WL GSDs has a problem with cats.

Squirrels on the other hand ...
by
fawndallas
on 18 May 2012 - 18:01
Same here. None of my dogs have an issue with my outdoor cats. That actually play together. I do have to be careful if the cats run though. At that point, all bets are off and the dogs give a full chase. If the cat is caught, the dogs step on it and hold it down. It is very funny to all, but the cat. Once I have regained my breathe I have to go rescue cat from being held down. It seems that a MEOW does not mean uncle to the dogs. :-). -----------------------------------2-- I would not recommend letting the play time be unsupervised though. By nature, if it runs, the dogs will give chase. GSDs are bigger and can hurt, even unintentional.
by
fawndallas
on 18 May 2012 - 18:03
Also, I have never stopped the dogs from chasing the cats. I live in the country and the cats need to learn to run and win because not all dogs are ice (we have coyotes)
by
melba
on 18 May 2012 - 18:20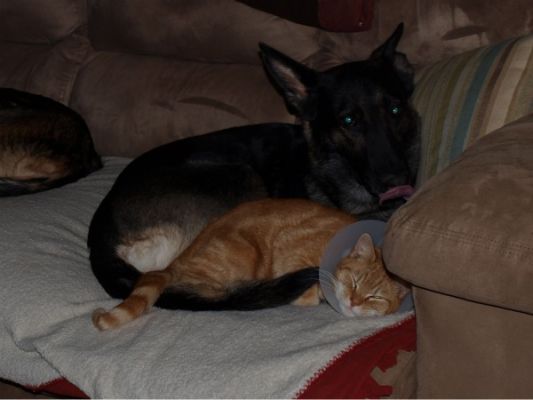 Does this look like hate to you? LOL Some get along with cats and some don't, just the same as any other breed of dog. I have 4 GSD here
that like the kitties and one that would like to eat the kitties.

Melissa
by
Bob McKown
on 18 May 2012 - 18:26

My dogs love cats. I think they taste like chicken. It,s just the hair ball thing that gets to them.
by
CMills
on 18 May 2012 - 21:56
I've never had any problems with my dogs not getting along with my cats, they eat/drink and live together in harmony. One bitch I had even raised an orphaned kitten along with her own litter. So I think it's just the individual dog.
by
swingfield
on 18 May 2012 - 22:10
Awesome Melba !! I love that picture! My cats literally run to my shepherds when a stray dog happens to wander by.. they know who's "your daddy".. my cats sleep and 'knead' on them when they lay down.. I guess establishing their connection.. I dont allow my dogs (or rather try not to encourage) to chase rabbits or squirrels or cats.. they have enough drive !!
by
destiny4u
on 18 May 2012 - 22:19
some do some dont my dog extremly protective of my cat

most dont like stranger cats though but most dogs in general dont like stranger cats ?
by
Ninja181
on 18 May 2012 - 22:21
My daughter has a cat and the dog & cat get along fine. I think the dog knows the cat is part of the family and totally accepts her.

But, let a different cat come in the yard and the chase is on. LOL
by
destiny4u
on 18 May 2012 - 22:32
some gsds seem like they hate them have you seen a cat walk by a yard? they are not phased by the meanest barking gsd they walk by the like gsd is not there lol they will walk a few inches from a fence so calm while the gsd goes totally insane. I have seen cats do it to my dog lol If it is my cat my dog will wag her tail and want to lick her but another cat will make her go crazy.
by
BoCRon
on 18 May 2012 - 23:46
We have 8 GSDs, 1 Lancashire Heeler and 2 cats. The cats generally ignore the dogs, the GSDs like to watch the cats but pretty much leave them alone. The Lancashire Heeler loves the cats, especially the big male feral cat who now lives in the house. He resource guards the cat whenever the GSDs even look at him and his cat. The GSDs are basically baffled by this attitude ;).


by
Sam1427
on 19 May 2012 - 01:22
Some do and some don't. Most of my GSDs have either liked cats or at least learned to live with them. My male GSD chases "his" cat, but he also defends her against other cats (the fastest way to break up a cat fight is a GSD rushing to the scene). And they sleep together.
by
Hundmutter
on 19 May 2012 - 10:03
BoCRon if you have 8 GSDs and a Lancs Heeler ... why have a Dobie as your avatar ??? Just curious :D

Bob McK I was once assured by a friend who had to eat cat while on ambassadorial duties that they taste more like pork !

Generally and to the OP: IMO its all down to individual personalities, in that some dogs have a higher desire to chase cats than others; some cats are more laid back around dogs than others; you just have to know your animals. If its any help,
I once put a 3 1/2 year old bitch (whose dam and granddam had both been inveterate cat-chasers) together with my 13 year old moggy who up till then had not lived with dogs on anything other than a short-term basis, and that worked out ok. They never became BFs, as in curling up to sleep together, but they lived peaceably together for 4 years until he died.
by
destiny4u
on 19 May 2012 - 12:49
that is not a dobie in their avatar lol silly
by
Hundmutter
on 19 May 2012 - 14:03
Sorry ! What is it then? Beauceron ? Certainly ain't no Shepherd. (Or a Lancashire Heeler !)



O - now I think I "get" their user-name ...

by
ggturner
on 19 May 2012 - 14:19
All three of my shepherds love our two cats.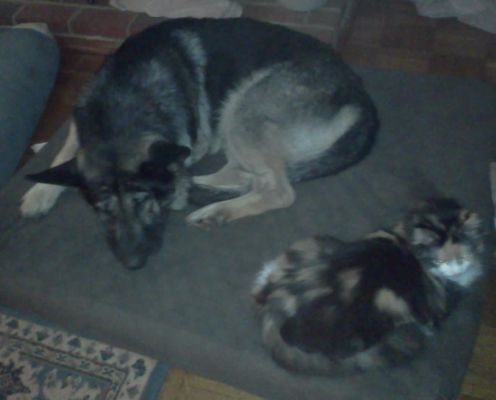 by
jra
on 19 May 2012 - 16:31
We have a cat (18+yo) who is in charge around here. Our Lab adores and showers him with love and affection - a little too much at times. When we got the GSD, truthfully, I just didn't think about any potential problems because it's never been an issue. At their first meeting, the GSD was coming around a corner when the cat came out from behind the couch to figure out what the heck all the ruckus was. The cat came out, saw a new something in his house, went all hissy up on the hind legs....the GSD tried to stop in it's tracks and ended up trying to backpedal on her hind legs and they both went to their respective corners. Not the best meeting, but quite the sight to see. From that point and after a few supervised introductions, everything has been fine - and the GSD has followed the Lab's lead in relenquishing all power and control over the house to the cat. We think he (the cat) is working on a harem. Seriously though, we've paid attention to how the GSD interacts with/responds to the cat, and to date have not had a problem. After reading about all the problems with GSDs and cats, it is something I'm grateful we didn't have a problem with, but will be aware of and watching for....just in case.


You must be logged in to reply to posts