6 Month Old--Weak Rear
by
CMGSD
on 16 May 2012 - 06:24
Male German shepherd, 6 months old, has had downed pasterns, weak hocks and a lack of muscle development in the rear for the past few months. I noticed, my vet noticed, several people who are very familiar with the breed and raising young puppies noticed, and even complete strangers who weren't too familiar with the breed noticed. Looks like he has a bit of a steep croupe (pics below).

He has trouble pressing up off of his rear legs and will drag the tip of his feed off the ground when he walks. He looks fine stretched out but will constantly try to tuck his butt underneath him (really bad posture) and does not like having his rear legs moved (we've had a very hard time stacking him because of this). Tomorrow we'll be getting a PennHIP and spinal x-ray to find out if there's anything wrong with his bones, though we're not sure what to do after that. He'll often do a "lazy sit" (feet to the side) and a lazy platz (again feet off to a single side) and while I can get him to do it straight, it's not without some coaxing. He doesn't like to lay down straight on his own.

He has a longer stock coat, but he's actually very skinny underneath all that (we just upped his food). When he gets wet his legs become essentially sticks with no definition to them at all, as does his rear. He acts tired, almost like he's making the front of his body do all the work.

I've tried going to talk to the breeder about this but the breeder actually acted offended that I would "insinuate" something was wrong with their dog. They wouldn't work with me to figure out what was wrong and didn't want to hear that there might be some kind of inborn condition with one of their dogs. They just kept offering to give me a replacement puppy.

These are flattering images of him. But usually he looks like he has really bad posture or he's trying to compensate for some kind of weakness somewhere, but I can't figure out what it is. It doesn't appear to bother him too much, since he has high energy levels, but it's still completely off. His brother looks nothing like this and is much more muscular while still being the same height/size.

Any feedback on what this could possibly be, or what to do, would be greatly appreciated.



by
Ibrahim
on 16 May 2012 - 06:39
What do you feed him and what is the quantity/day?
He looks under weight.
Do you keep him for long hours in that box?
Why don't you accept replacement from the breeder? if he's born with a sort of defect it's the responsibility of the breeder to take care of him.

Ibrahim
by
CMGSD
on 16 May 2012 - 07:13
He's in there at night, but during the day he's never in there for more than three hours at a time. I'm already addressing the underweight issue--it turns out I was feeding too little without realizing it (in my defense I've tried to alter his food and keep a close eye on things but I thought that you just fed young dogs the same as adults, which is 2-3 cups a day). I feed California Natural and I was doing 2 1/4 cups a day until a few days ago. It's now being upped to 3 cups a day and we're going to play around with 3-4 cups and see what that results in.

Honestly, because I love this dog and he has a fantastic personality. I'm not going to return him and get a replacement dog unless I can't care for him myself (or he'd be worse off in my care). Besides, if I did return him, I would get my "replacement puppy" from a different breeder and would not go with the same breeder again. I'm concerned about his health, but I'm also concerned about him being able to compete in dog sports (that's what I bought him for). I couldn't live with myself if I sent him back. I would just make the most of it with him as a family pet, doing what sports I can and getting a 2nd dog (I had planned to get a working line shepherd in a few years anyway) to do all the serious stuff with.
by
Ibrahim
on 16 May 2012 - 07:26
Don't you worry, we have on board very well experienced members who will offer you the right advice in regards to that type of food and appropriate quantity required at his age plus useful tips on strengthening his muscles and those who are experienced in the medical aspects will share their knowledge with you. Be a little patient and help will come. Good luck

Ibrahim
by
Kaffirdog
on 16 May 2012 - 07:50
From my contacts with WGSL dogs, it seems to be common for the pups around this age to be very loose at the rear, looks wrong to me as my working line pups are a lot firmer at the same age, but I am assured by people who I respect that have extensive experience of rearing showline pups, that it is normal development for them and they do firm up as they get older. Maybe you just need to give him more time and address his diet.

Margaret N-J
by
Rik
on 16 May 2012 - 07:57
I expected to see an American bred puppy from your description. The pasterns are weak, but not "down". X-rays will tell the story on hips.


The best case would be just an extremely over angled puppy with a loose rear that most likely will tighten up some with maturity.


Probably a good decision to choose a different breeder for your next puppy.


here's hoping for a good outcome on the x-rays,


Rik
by
leoetta
on 16 May 2012 - 08:21
I agree he is definitely underweight which you have said you are addressing, most of my young showline dogs are eating 4-5 cups per day, usually only four though but no less. Get a fecal exam done to rule out any parasites or giardia/coccidia bacteria as well, that way you are feeding him and not any critters. You may also want to add a probiotic for a week or so to make sure the gut is in good shape especially if you have to medicate him for any parasites as that can throw the gut enzymes out of whack. Vitamin C is also good to add while they are growing or if you have someone that is just not feeling their best or is just not in their best condition, I will grind it up and put it in their food, all of my dogs/puppies also get NuVet. He is very angulated and should firm up some with age, swimming in moderation will help, but do not tire him out. But he is very angulated and that's not going to change a whole lot. His long and steep croup accentuates it and is going to give his movement a strange look at this age and especially with the weak state of his muscles. Not that this affects his structure at all but if the crate that is in the second picture is his, it is much to small for him at this age, he should be in at least a 42 inch long wire crate, a 48 would be better as it is taller and that way you don't have to buy another in a few more months. Just be careful with the Penn-Hip x rays, I've heard they can be dangerous if not done correctly especially on a young dog. I personally would do a normal prelim x-ray with the puppy awake, but that is just me. Good luck and please be sure to let us know how the x-rays turn out.
by
Hundmutter
on 16 May 2012 - 08:45
Sorry, but in the photos he seriously does not look very "well" to me, for a puppy of that age; something in his expression. What does your Vet say ?
by
Hundmutter
on 16 May 2012 - 09:36
To clarify: as in SYSTEMICALLY unwell, not just a musculoskeletal problem. HM
by
NigerDeltaMann
on 16 May 2012 - 09:39
cmgsd, just do your home-work well as per feeding, those weak limbs will firm-up as he matures, and definitely into a handsome adult male, but of pet/family quality. Try and deworm him if you haven't. Exercise him optimally. Quote me; you'll see a handsome adult male that you'll be proud off. My regards n best of luck.
by
magdalenasins
on 16 May 2012 - 10:17
You bought a pup that looked like that for dog sports? It looks like he can barely walk? Hope his vet stuff comes back ok but I too would be looking for another breeder and doing some more research.
by
guddu
on 16 May 2012 - 11:02
If the pup is not dragging its legs, chances are that this is just a typical show line pup, which will firm up with time. Under feeding is not the culprit, infact if he puts on weight, the problem may only accentuate (until he firms up). There is not much that you can do at this stage, so sit back and enjoy the puppy.
by
Sunsilver
on 16 May 2012 - 12:23
My Sl pup was up to at least 5 cups of food a day during her adolescence, and she STILL looked skinny!

Just give him time. He looks like a typical German SL. That's the way many are being bred now: steep croups and overangulated, weak rears. He's a long coat, isn't he?

The pasterns don't look as bad as some I've seen, and will firm up with age.

I agree about the size of the crate...WAY too small! If there's some way you can secure an x-pen to the crate, so he has more room to move around, but still be kept out of mischief while you're out, that would be a good idea.
by
AmbiiGSD
on 16 May 2012 - 12:23
I agree with Hundmutter. The pup looks more than just underweight, he looks unwell. He has little to no muscle tone so no wonder he is suffering on his legs. Please get your vet to check pup over thoroughly for digestive issues etc.
by
Bob McKown
on 16 May 2012 - 12:32

Bigger crate to start and a good vet check with some blood work. But it looks like the average show dog puppy a little under weight. If you plan on working this dog in the sport you started with the wrong lines. He will probably make a fantastic pet. It is what it is. Good Luck.



by
Hundmutter
on 16 May 2012 - 15:09
If ShowLine puppies in America often look as miserable as this example, the US has more of a problem than I thought.
UK Show-bred puppies, even undersized, skinny, mediocre-bred ones that this observer has had serious worries about,
usually look brighter and happier than the pup pictured here. Am not setting out to be nasty to the OP, just can't find any better way to express this concern !!! Booking prelim hip Xrays etc with the vet is all very well, but as Ambii says, some serious consideration to e.g. digestive issues is definitely in order - and quickly. Linda Swift.
by
joanro
on 16 May 2012 - 15:52
With apparently loose ligaments ( even toes are loose), it looks like this puppy is not only underfed, but not enough exercise. Does he get outside to walk and play on natural ground surface a majority of the day ?
by
Sunsilver
on 16 May 2012 - 16:07
Believe me, I've seen many puppies for sale here on the PDB that looked a lot like this one. Other than needing more grub, I don't think there's a lot wrong with him health-wise.

Conformation-wise...well, that's another story.

And yes, exercise would definitely help, but moderate exercise, so as not to damage those young joints!
by
Smiley
on 16 May 2012 - 16:10
Yikes!! That is normal for a showline dog??? And, everyone is ok with that..Holy S#!T!! That's messed up. :-(

Sorry to the OP....hope you figure it out. I, honestly, don't know what I find more atrocious...the fact that he is, apparently, a "normal" showline example or the potential that he may have something really wrong with him. I hope the vets can figure it out and that he will get better. My heart goes out to you as clearly you love him very much. The fact he drags his hind feet and is in pain when you try to move hind legs really worries me. I wish you the best of luck and please keep us posted on what the vet says....

Here is what my bitch looked like at exactly 6 months old for comparison (ignore bad stack):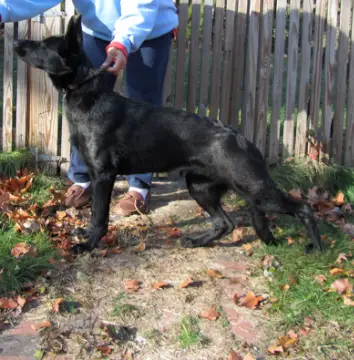 by
Jenni78
on 16 May 2012 - 16:16
What formula, exactly, is he eating. If you could post the nutrient analysis, I'd appreciate it. Also, what, if anything, are you supplementing him with?

I had a similar situation with a breeder friend's dog recently. Turns out it was food, vitamin, and lack of exercise-related. Ligaments had grown disproportionate to bones due to improper nutrition. Not enough food, but too many vitamins was the culprit, plus keeping crated much of the day.

As much detail as you can give, even if it seems unimportant, will help.
You must be logged in to reply to posts