WL + SL = BL???
by
nypiper127
on 11 May 2012 - 23:39
BL meaning "Balanced line" HA! I have been reading some threads on genetics and the old WL vs SL arguments. Without beating a dead horse, I would like to ask the obvious question. Now before I ask said question, I would like to reiterate that I said "reading" about genetics. I did not say "understanding". This humble civil servant will have to read it some more and read it again and ask some more stupid questions before he understands it just a little!
I currently own a half Czech half West German SL that by pure luck has everything I require in my GSD. He has the classic "saddle back" look but his tan color is darker in color like WL colors. His focus and drive is amazing and his temperament is perfect (IMHO with 4 kids in house). I do not do schutzhund (see 4 kids) but I know he could. The president / helper of my local club evaluated him three yrs ago and agreed that he had drive, focus and potential. His obedience is impeccable...but I am bragging now...HA. Before becoming interested in shutzhund, I thought WL GSDs were ugly and looked like junk yard dogs (please remember this is my opinion not a knock). After watching these dogs work, I quickly forgot how "ugly" I thought they were and was amazed by their athleticism (which = beauty) on the field. I still however love the saddle back look with a preference for a plush coat. So here is the question:
With the amount of knowledge and experience out there (as evidenced by this site), why aren't there more breeders moving towards the happy medium? Why can't I easily find breeders that are mixing both...giving me the SL look with WL drives (that are not "off the hook"). Or, why can't those that like the WL look get the same with SL gait structure etc? I would like to add a few things before everyone tears me apart for being such a simpleton.
1) I believe a sound balanced temperament is THE most important aspect of any dog, GSD or not, WL or show line.
2) I believe (as mentioned in previous threads) that breeding for a specific quality can be detrimental to the breed in the long run.
3) I also believe there is nothing wrong with having an "aesthetically pleasing" dog! If I have to look at the bugger for 12+ years...I may as well enjoy it! I never understood why some people think that is wrong!
One final note...and this is by no means original...A woman posted on an earlier thread (and I apologize for not getting her name) that while our GSD WL and SL sides were busy picking each other apart, the malanois was busy taking over...I loved that post!
Can't we all just get along? Ha
Can't
But seriously, and again I apologize if this has been covered, is there a movement towards the middle? Or am I clueless?
As the above mentioned 4 kids are now moving on to college, I plan on getting a dog that can perform easily on the shtz field...but looks great (to me). If you know of any reputable breeders combining both please let me know (pm or on board). Any good books articles on canine (GSD) genetics, Im interested.
by
Sheesh
on 12 May 2012 - 01:53
I personally love this idea and plan to do a WLxSL breeding in the next year or so. There are a few breeders on this board who have been doing this for quite some time and have been very happy with the results. Hopefully they will chime in. This idea is indeed growing, but it takes generations. Check out the thread "The Complete German Shepherd" from January. It had some good comments. Theresa
by
nypiper127
on 12 May 2012 - 01:55
PL being "Pot Luck"????
by
Rik
on 12 May 2012 - 02:05
pet line, and nothing wrong with a good pet. I do like pot luck though and may use it in the future and of course give you no credit.



here's hoping you find another GSD that is your perfect dog,

Rik
by
Ramage
on 12 May 2012 - 02:09
The cross either seems to go very well or very badly. Just what I have seen with my own eyes and only out of a handful of dogs.
by
darylehret
on 12 May 2012 - 02:20
I'm just trying to figure out where all these "ugly" workingline dogs are. I suppose I've seen a few, but not enough to stereotype the workinglines in such a way. There are plenty of disgusting showlines, for sure.

And what, exactly, is a "balanced temperament"? I wouldn't categorize very many dogs as "imbalanced", and some of those I would, happened to have been actually high level competitors and even national champions!

I have not myself bred a cross of the two, but my stud dog has participated in such a breeding. The showline female was confident, with very focused drive, so I didn't view it as a wasteful attempt to experiment. The male I personally raised of that breeding from 3 to 6 months of age was nice, but "too nice" for me. His drive was not pronounced enough, for my preference, and his aggression was virtually nonexistant. Made a nice dog for someone else, I'm sure. Another male of that litter (pic below) is going to be a certified patrol dog by the end of the month (at only one year old!), appearantly able to detect marijuana as well as track and apprehend suspects.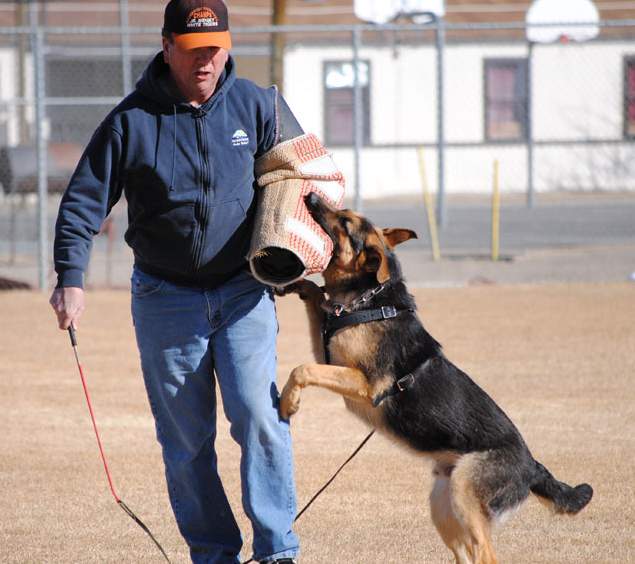 The reason why I myself would never conduct such a breeding is primarily because it was such a completely diverse outcross, with unpredictable results, and a greater potential for less uniform characteristics, both physical and temperamental. They say "cull hard" on your line bred litters, but on the total outcrosses, I say "cull harder"! I would recommend anyone that does a show/working cross, go directly toward inbreeding rather tightly afterwards (with a workingline dog, of course), perhaps a 2-3 or 3-2 on some given producer who is prolific (widely used), so that with greater certainty can help to re-establish a more predictable homozygous genotype.

by
nypiper127
on 12 May 2012 - 03:07
I have been working narcotics for over 20 years and even I can detect marijuana!!!! Ha I understand the unpredictability of the outcrosses...but sooner or later if enough are done...with high probability research of pedigrees...one would assume that sooner or later some successful breedings would occur on a consistent basis. Maybe I am just not grasping the genetics thing well enough. I read in one post where a guy was able to tell how many gererations it would take to correct things like "length", hocks, said shoulders were hard to correct...I would just assume that the RIGHT people (not backyard breeders) would be able to study lines, observe litters and come up with a nice mix that consistently produces good looking sound working dogs. As for "ugly"...I did mention it was my opinion...I do not expect people to think what I find pleasing should be pleasing to others. I am partial to the SL look. Others partial to WL look...I get it. Just saying...with all knowledge and experience out there it would something that could be done. A balanced temperment...subjective I know...but I would say a great dog with awesome drives, focus, grip that is completely trustworthy around kids, dogs, livestock (too much to ask for)?
I asked this because in the last 25 yrs I had three AWESOME show line GSDs that all had great drive focus and natural protection instincts. In the last few years I have read on here the debates and knocks on the current SL dogs and their "lack" of good working drives and couldn't understand it. Nine months ago I bought my daughter a puppy from a great looking litter with a sire I thought to be a nice SL look with great work titles (I know...a whole other debate):http://www.pedigreedatabase.com/german_shepherd_dog/dog.html?id=614823
Well...great looking puppy dog with poor focus, very little ball drive and very low prey drive. He does however have strong herding instincts and is very intelligent. I was shocked...it was almost exactly what I had read on here. So was just figuring on re-stacking the deck.
.
, ver mjjmjm v,,,,,
by
RLHAR
on 12 May 2012 - 05:28
I would say a great dog with awesome drives, focus, grip that is completely trustworthy around kids, dogs, livestock (too much to ask for)?
You just described both my dogs to the point and both are 100% working line.
by
ziegenfarm
on 12 May 2012 - 06:23
the problem is that people are too eager for results. most folks don't have time, patience and kennel space to devote to this endeavor. success cannot be achieved in one or two generations. i can see some merit in doing this, but honestly, most folks don't have enough background on the dogs to be able to produce any kind of consistent results. people are far too focused on the male whether a top winning showdog or a multi-titled sportdog. that is not a real breeding program --- that is will of the whisp, flitting from one winning dog to another. it also requires that the breeder be able to read the dogs accurately; to know the difference between what is genetic and what is trained. crossing the two can certainly be done, but best done by someone with a lot of experience.
pjp
by
Nellie
on 12 May 2012 - 10:40
I would say a great dog with awesome drives, focus, grip that is completely trustworthy around kids, dogs, livestock (too much to ask for



You have just decribed both my dogs and both are working line, along with the requirements you have stated both mine are very nice looking dogs and i get stopped all the time with people paying me complements on there beauty and temperment, both have been Schutzhund trained, and both live as family pets
by
nypiper127
on 12 May 2012 - 14:14
RLHAR amd Nellie, That's awesome that you have the perfect dogs!!!! Now where do I find your dogs with the SL saddle look? :) As I said, I also have the perfect dog I think "luck" had a lot to do with it. He is a mix of WL and SL but again I got lucky. Just wondering why there hasn't been a clear defined movement by several well respected top breeders to mix the two or are they always going to be mutually exclusive? It is interesting to me but it is definately something that should be done by breeders who KNOW and UNDERSTAND the genetics, backround and ramifications / benefits of these breedings (outcrosses). Is it that those with the most knowledge needed for such an undertaking are all such purists that they do not see the benefit or need to mix both. Maybe there is no need to mix both (again I know there are perfect dogs in some litters out of pure WL and SL dogs). I was just thinking that in another three generations in a worse case scenerio....most SL dogs will be low drive etc and most WL dogs will have over the top drives and looking less and less like the classic GSD. Again...the last sentence was an exxageration but it is to make a point. If there is a perceived problem looming on the horizon, wouldn't it be best to take corrective steps BEFORE it becomes a serious problem? Judging from the amount of threads on here by people A LOT smarter than me...I would say SOME people are at least worried about it.
Another question. Since the sable gene is a dominant gene (I think) does that mean that if a sable is mated to a saddle back...will the offspring ALWAYS be sables?
by
GSDguy08
on 12 May 2012 - 15:43
I've never understood the appeal of the saddle back look. I've always thought the majority weren't that attractive.....just sayin... But there are plenty of working line dogs out there that have everything you're looking for in them.....other than the "look".

I was just thinking that in another three generations in a worse case scenario....most SL dogs will be low drive etc and most WL dogs will have over the top drives and looking less and less like the classic GSD

Well, judging by many videos and the show lines I've seen in person....most of them already seemed to be low in drive, low intensity, couldn't handle pressure, etc. Of course not all are like that..... Most WL becoming over the top? I disagree with that.......My question to you, what is wrong with having a high drive dog? I don't mean hectic, crazy, so high drive that it's actually a problem.... Of course there are some like that, but I highly disagree that most will become like that. There are plenty out there with high drive WL dogs that live with the family, compete in SchH, and have no issues whatsoever in doing so. And looking less like the classic GSD? Do you feel that the "classic" GSD is black/tan saddle back? Friend, go look back at the start of the Shepherds, take a gander at the dark sables in the very, very old pedigrees going back to the late 1800's, the ones who helped "start" the breed..... Black/tan isn't necessarily "classic"...it's just what the public thinks all Shepherds look like, and anything else must be a mixed breed, wolf hybrid, coyote, or some other mutt.
by
joanro
on 12 May 2012 - 16:59
Breeding for color and "gait" has been the demise of many ,many breeds. The same problem has happened with horses...breeding for palomino, Appaloosa coat pattern, paint. All the traits that make any of these animals "using" dogs, or horses were and still are overlooked and ignored for "the right look".
by
AmbiiGSD
on 12 May 2012 - 17:49
Having bred a WL x SL litter I'm going with Pot luck LOL
by
nypiper127
on 12 May 2012 - 20:27
I knew the "classic" look would cause a stir...I didn't mean that the original GSD was a saddle back...just chose the word to make a point. I am NOT knocking sable look...I just prefer the "saddle back'. Why...cause I was raised with them...that simple. There are some sables WL dogs that are beautiful...love the "wolf" look, but I still prefer saddle back. So please do not think I am knocking them. From all the threads I have read on here it seems more people knock the SL than the WL...so this causes me some concern...not because I am thin skinned, but because where there is smoke there is usually fire.
There is nothing wrong with high drive...I am around them all the time. One of the best drug / attack dogs I have EVER seen was about 18 yrs ago and sable. I have NEVER seen a better drug dog! But..we could NEVER bring that dog into a school for demonstrations because one of the kids might become a chew toy!!! HA This beast would go through one of those "indestructable" stainless steel food bowls a week! If he was bored...the dish was history looked like a crushed up aluminum can by the time he was done!!! Knew another "high drive" GSD that gave his handler 120 stiches up one arm and down the other....because the dog apparently did not like being hugged. I KNOW this is not the norm...just something to pay attention to.
I was actually hoping that by now someone would have responded saying.."Get with the program, there are several notable breeders already working on this" Kind of worries me that I haven't heard that. And to my WL friends...I am NOT knocking your dogs...you should take it as a compliment that I think you side can save the SL side...to some extent!
Still curious if a Saddle back is bred to a sable...will all puppies always be sable?
by
GSDguy08
on 12 May 2012 - 20:41
The "stories" you mentioned about the guy needing stitches and the other dog would make kids a chew toy sound like training issues to me, high drive or not. I've known plenty of high drive dogs that could be around kids, do demonstrations, etc, and I know a SchH trainer around here that actually does take her dogs in to schools. In fact one GSD who was here in the past was extremely high drive, took him to stores......kids could literally hug him. He was very high drive, but he wouldn't lash out if a kid had a toy, or if someone yelled, or if someone ran around, or whatever it could be.....totally stable in every store we went to no matter what was going on.
by
Gustav
on 12 May 2012 - 20:41
There used to be plenty of Saddle back dogs with great nerves, drive, and temperament. My saddleback dog in the service had incredible working traits. Out of over 200 working GS in Ft. Benning in the seveties, probably only 20 were sable. And these were really working dogs!! So there is nothing new under the sun.
Think about this.....Suppose you had two glasses of 20 marbles. The one glasse had 18 black and 2 white, the other had 10 white and 10 black. Then you randomly let 10 from each jar roll onto the floor to start a new jar. Do you know how difficult it would be to get a "balanced" jar??? This is similar to the genetics of the two lines and makes the "fantasy mix together have very poor chances of acheiving this middle you want. The savy breeders understand this and depending on their preference won't take the chance of mixing the jars for either balance or beauty.
by
Felloffher
on 12 May 2012 - 21:38
That's awesome that you have the perfect dogs!!!! Now where do I find your dogs with the SL saddle look? :)

This quote sums things up very well. Crossing WL's with SL's has nothing to do with improving the breed as a whole, it only serves to correct severe shortcomings in SL's, while attempting to maintain a specific color and conformation. It's a flawed endeavor from the start and will never have any significant impact on the overall improvement of SL's.


The balance so many claim they are striving/looking for already exists, it's to bad most SL people choose not to see it.



by
darylehret
on 12 May 2012 - 23:54
Felloffher, I gotta agree with that, and with rare exception.

I have the feeling there'd be less complaining, if we'd just ignore the conformation and hear the cries to get the saddlebacked color pattern more widely spread through the workinglines. There aren't many strong bloodlines that represent the B&T pattern; Tyson von der Schiffslache, Eick von der berger Hochburg, Dasty von der berger Hochburg are the only few I can think of at the moment.

But take note that it seems that the saddle is less defined when the genotype for the color is NOT homogenous for B&T alleles, making dogs that are black-factored (as the one in the pic above is) take on a blanketbacked appearance, instead of that "classic" (ha ha) saddlebacked look.

So, because of that, you're looking at requiring a couple generations to get at+at genotypes assembled. This is all assuming the results have retained their best working qualities and are worthwhile to breed to when you get that far. That's a lot of long term risk for a breeder to be focusing on color.

You must be logged in to reply to posts