German Shepherd Dog > Daisy the German Shepherd, rescued but not safe (25 replies)
Daisy the German Shepherd, rescued but not safe
by
gagsd4
on 09 May 2012 - 17:40
Daisy is literally starving to death. She was pulled from the humane society on May 8th. We think she may have Exocrine Pancreatic Insuffiency. This has been going on for so long, that she weighs only 34 pounds and is extremely malnourished and dehydrated. The wonderful staff at http://www.affordablevetservices.org/ is currently treating her with IV fluids and medication.

We think she was born in the Dakotas, sold through the Hunte Corporation to Petland. Her uninformed and unsuspecting owners thought they were buying a healthy German Shepherd. They took her home, paid for special training classes. But Daisy started to lose weight. Her owners tooks her to the vet several times and could not find out what was wrong with her. They gave up, and turned her in to the local humane society.

She sat at the humane society for two weeks. She lost more weight, became more despondent. Finally the humane society called a local German Shepherd lover who came within hours to pick her up. Shocked by Daisy's condition, the very next morning she was at the vet.

If you would consider donating to her care, her foster family would be so very grateful. Donations can be made directly to the vet clinic at (706) 221-7600. Her foster family can be reached at gagsd4(at)yahoo dot com.
Please feel free to cross post and forward, thank you.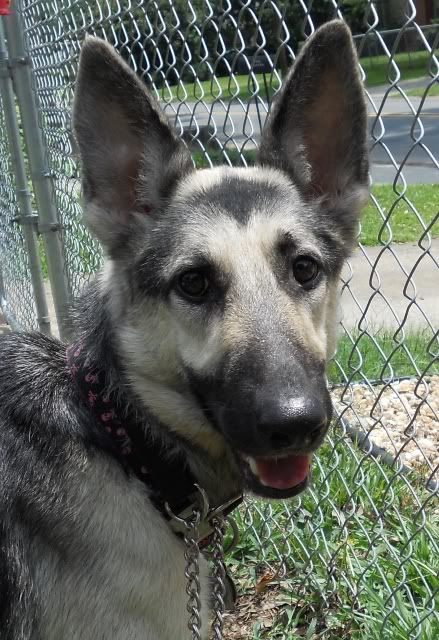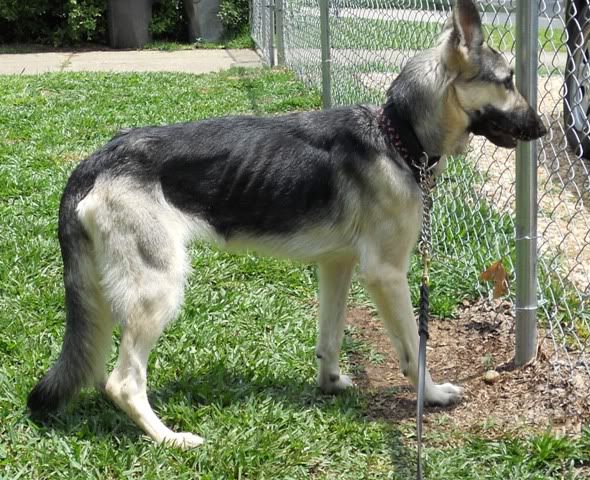 by
Abby Normal
on 09 May 2012 - 18:32
Poor girl. Has EPI now been confirmed, and is she on enzymes?
by
gagsd4
on 09 May 2012 - 19:00
Bloodwork was done today. TLI has to be sent off, but she has been started on pancreazyme as EPI is most likely.
by
Abby Normal
on 10 May 2012 - 12:17
I can't believe that vets didn't consider this possibility before! or the animal shelter......what are they all thinking? Even without the test as soon as she is on the enzymes you should be able to tell by her stools alone whether she is absorbing the food.

Hope this is what it is, at least then she should start making good progress soon. Please keep updated.
by
Blitzen
on 10 May 2012 - 13:27
Sigh............
by
OGBS
on 10 May 2012 - 15:54
Maybe you already know this, but, let the enzymes soak in to her food for about 20 minutes.
That is how they work the best for absorption.
The enzymes can also cause discomfort in her mouth and throat if you don't let them soak in to the food first.
Best of luck with Daisy!!!
She will come around!!!

by
gagsd4
on 10 May 2012 - 20:23
OK.... well not as significant a change as I had hoped (yet). Stools are still pretty soon after eating, and loose with a little shape. Up several times during the night because she had to go potty.
Feeding salmon and boiled, mashed, sweet potato right now. Warmed to body temp, add water, mix 3/4 tsp of the powder in each meal.... which is 5 times a day today.
I am sure all of the diet changes are not helpful, but just in case this is severe food allergy I thought I would go this route. So if you have some extra cans of salmon around, feel free to send them my way:)
Still ravenous!
Back to the vet again in the morning.

I am frustred that it seems no one really DID anything. I do not know the whole story, but I was told her last two weeks had been spent at the humane society. They have a veterinarian on staff. Not sure why anyone would think some dewormer and I/D food were enough, when they told me point blank she had lost more weight while there. The dog is just breathtakingly skinny.
by
starrchar
on 10 May 2012 - 22:18
Heartbreaking... Will call in a donation tomorrow for this poor girl.
by
gagsd4
on 10 May 2012 - 22:44
Starrchar, that would be SO appreciated. We will be there around 9am EST so hopefully there will be better news on her bloodwork.
by
Abby Normal
on 10 May 2012 - 22:49
A little shape to the stools is good, if there was no shape before. I have seen an EPI dog look just like this poor girl, and she was drawing on her last reserves to stay alive. Even the flesh around her face and eyes was being utilised by her body for sustenance, and I can see the same in this little girl's face.

She will be ravenous for some time, her body is in panic mode, and is sending out frantic signals for her to eat, because it isn't recognising that she actually IS eating. She is desperate. Once the enzymes start to work and she digests the food and gets the weight on, the body will relax, but she has a way to go, bless her.

The EPI dog that I helped someone work with did very well on green tripe, it is a perfectly balanced food (calcium:phosphorous) and is good for putting weight on too, if they adapt well to it with the enzymes. What will suit the EPI dog is trial and error, and sometimes tney need slightly more enzyme than is first recommended. The only thing I would say with the diet that you have her on for now is that it could be a little light in some nutrients and also she could be very slow to gain weight on it once the enzymes kick in, if it turns out not to be a severe food allergy. I appreciate you don't want to keep chopping and changing her diet, but I would be maybe looking to go with something with a bit more substance to it. Perhaps you could have a look at some EPI support sites for some ideas about diets for EPI dogs. A good one I remember is www.dogaware.com. It used to be thought that a low fat diet was best for EPI dogs, but it is now thought that medium fat diets are better, and are generally tolerated OK. Hopefully the vet will give you a firm diagnosis tomorrow.

Don't lose heart, and thank you for fostering her, she certainly needs someone on her side. For those of us not in the USA does the vet have a paypal account or similar for donations?
by
gagsd4
on 10 May 2012 - 23:06
Abby normal, very good information. I will give her another day on this salmon slurry before I start adding. My concern now is.... What if it is not EPI? I don't know what else it could be. I was told she has been dewormed and treated with metronidazole multiple times by the previous owner. We dont have the TLI results back. Not sure about the vet having a Paypal account. I do personally, but did not think it appropriate to post. By making donations straight to the clinic people know where there money is going. Thank you all for your support. I will update again tomorrow we know more. Mary
by
OGBS
on 11 May 2012 - 02:53
Mary,
Keep your chin up with this girl.
She will come around.
I have taken in two GSD's with EPI.
Both came around, one, a male, the vets thought never would.
He is living a very happy life now.
Summers in Chicago, winters in Arizona.
You may want to think about canned whole pumpkin as an additive.
It will help firm up the poop. Tablespoon per meal.
--Steve
by
gagsd4
on 11 May 2012 - 03:09
She had a REAL bowel movement tonight! Never though dog doo could be so exciting:).
by
Supertanker
on 11 May 2012 - 04:02
Awesome!!!
by
Abby Normal
on 11 May 2012 - 07:53
Mary
That is wonderful! The lady I mentioned with her EPI dog, actually saved the first 'real' solid poop in a bag to show me - YES it is a cause for great excitement and I was just as excited too LOL. She went from 37lbs to over 60lbs in less than 3 months. It got to the point where I could barely pick her up any more to stand on the scales without doing myself a mischief LOL.



What I felt was how important it was to that poor body to be able to utilise that little bit of nutrition properly for the first time in so long! You will have the odd setback, especially if she eats something she shouldn't, but so long as in the main she is going in the right direction. Remember treats are pretty much a no-no. Everything she eats has to be 'enzymed'. Don't worry about it not being EPI, if it isn't - worry about that then, but especially with the news about her poop...... I would be surprised.

BTW at the very end of the EPI page on the Dogaware site, there is a list of suppliers where you can get the best prices for enzyme supplements. I don't know how it works in the USA, but in the UK, we can get a private prescription from our vet and then purchase from the cheapest supplier. You can save a LOT on the cost this way. HTH.

If I were you, I would now start to keep a note of her weight too, weigh her once a week if you can. I am so pleased to hear this. I will be away for a couple of weeks, but please keep updating, so I can check in to see how she's doing when I get back. If you find the vet has a paypal account, please let me know.
by
gagsd4
on 12 May 2012 - 18:29
Update- I am not feeling really positive.
Have added scrambled eggs and Kefir (just now) to the mix. Letting the powder sit on mix for about 20 minutes.
Vet pulled catheter Friday. But I still had concerns as we had only 1 normal BM, and she did not seem to be drinking enough.
Friday afternoon and Saturday, back to watery yellow stools. Urinating frequently and not drinking very much.
Still bright, alert and ravenous.
by
Eldee
on 13 May 2012 - 04:04
k9-epiglobal@yahoogroups.com is the suppott group you need right now.

enzymediane.com is where to get the enzymes to help the dog

A good quality grain free low fiber diet is what to feed.

Soak the kibble for an hour or so in warm water, then add 1 tsp of enzymes to 1 cup of soaked kibble. She will probably need 2 cups of soaked kibble per feeding 4 times per day to get the weight back on.

You can premake the food at night then refridgerate it over night for the next day,. they can eat it cold. She will need vitamin B-12 with intrinsic factor from wonderlabs.com as EPI dogs need Vitamin B12 with intrinsic factor ( the enzyme that helps them absorb the B-12 is the intrinsic factor). She may have SIBO ( small intestine bacterial infection ) and may require some antibiotics to help with this ( Tylosin ). If you do this and follow the regime as best you can, she will be fine in a few weeks and start to look much better. Also salmon oil capsules should be added or 2 teaspoons of coconut oil for skin and coat as they don't absorb much of the omega 3's from their diet. EPI is a digestion issue and vitamin supplements are required for health and proper digestion. you will be fine. I thought my dog was going to die, but she pulled through.
Remember, grain free food. Low fiber.



by
Eldee
on 13 May 2012 - 16:59
How is Daisy doing??? Are you looking for a home for her? Do you want me to post this on my EPI yahoo group to see if anyone could take her???
by
gagsd4
on 13 May 2012 - 17:30
I have seen the enzymediane recommendation and will look into that.
She is currently eating grain-free.... but homemade. Thinking about adding a little liver to the diet for iron/b12.

She is on metronidazole, as the vet clinic did not have Tylosin.

Also will look into joininig the Yahoo group. (pain to do that on a handheld)

I am still pretty concerned about her lack of drinking. It is as if she cannot be bothered with a WATER bowl. All she cares about is the food part.
We will recheck weight and probably do B12 at the vet tomorrow.

She has not had a BM (that I know of) since the watery one yesterday around 4PM. This worries me, but also I am thinking it may be a good sign????

(If anyone feels the desire to donate, it would be SUPER appreciated as my personal doggy funds are pretty depleted and we have already run up a few hundred dollars. Vet clinic is http://affordablevetservices.org/ .
I am not really big on asking for assistance, but this case is exceptional, IMO.)

Eldee.... Absolutely YES I am looking for her a home. As stated above, I thought I was taking in a behavior case to work with, not a major medical, and I am just not equipped to deal with it. Daisy has been very, very nice with me and my family and does not appear to have any dog aggression. She has shown reactive aggression to vet clinic staff (initially) and the staff at the humane society.
Her birthday is 7/10.

---Mary
by
Bhaugh
on 13 May 2012 - 17:32
Did I miss that she was indeed CONFIRMED EPI? IF not then the enzymes your feeding could actually make the situation worse. I had something like this happen to a dog I bought. I bought a puppy from the breeder and spent a pretty penny on her until it was confirmed she had EPI. I returned her through the contract and the breeder sold her to someone else. The new owners tracked me down and had 1000 questions as to what was wrong with the dog. It was very sad that the breeder NEVER said a thing. Maybe the prior owners DID do all the tests but felt that if they told the humane society where she went , they wouldn't take her so they said nothing. OR the humane society knows exactly what is wrong with the dog and they didn't say anything either. Not all dog groups are on the up and up.

I wouldn't be changing her food at all. Stick to what works and don't variate. What are her labs? Did the vet test for coccidia or girardia (sp). Those two are not routine tests. Once a system has been starved for a while, it starts to shut down. Some animals do not recover from it and even though they are eating and taking in food, they die anyway. Sorry to be such a bummer. Lets think positive.


You must be logged in to reply to posts