German Shepherd Dog > Hip X-Ray Opinions Please....and Thank You (16 replies)
Hip X-Ray Opinions Please....and Thank You
by
aceofspades
on 08 May 2012 - 00:57
I know, another hip x-ray opinion request. I've been on pins and needles all day and my anxiety is running high. Just wondering what you think about these. I'm thinking they are shallow but not dysplastic. Fair to good? Uneducated of course, I am basing my thoughts only on the x-rays I have seen posted here.

Would love to see what everyone else has to say since I could be barking up the wrong tree. Ace turned 2 on Friday and we had his X-Rays done today.

Their digital X-ray machine is undergoing repairs so this is a cll phone photo of the actual film. Thanks in advance for your opinions. This is the dog in my Avatar to the left. Comments on the quality of the positioning would be nice too. He was under a full general anaesthetic as I had to have a X-Ray taken of his front leg too due to a swollen toe that we could not find a reason for swelling.....even with x-ray could not find a reason for swelling and tenderness but that is another story.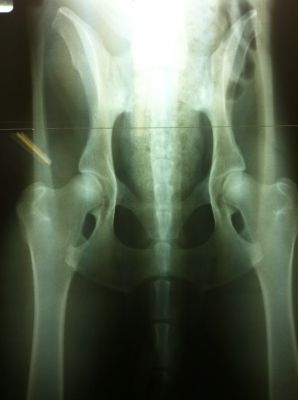 by
Ramage
on 08 May 2012 - 01:05
They are a tad shallow, but plenty of coverage and nice and tight. I do see a flat spot on the heads, but so many of the GSDs seem to have that. Positioning looks pretty good. Might be a hair tilted. All of this is JMO but I'd say Good, on a good day, and Fair, on a very bad day.
by
GSD Admin
on 08 May 2012 - 01:14
Combining threads.



Hip X-Ray Opinions Please....Thank You

Hips look good to me.
by
aceofspades
on 08 May 2012 - 01:24
Thanks admin. I accidentally posted in the all breed forum when I meant to post here. Thanks Ramage. So I am on the right track then. All I have to go on its what I have learned from other X-rays posted here. Looking forward to hearing what others have to say.
by
Blitzen
on 08 May 2012 - 01:34
Best guess, OFA fair to good. Flat spots are normal, that's where the ligaments attach.
by
Ramage
on 08 May 2012 - 01:48
I agree they are normal, but some people seem to dislike them. Of course, some dogs have worse flat spots than others and I suppose this is where the confusion comes into play.
by
Blitzen
on 08 May 2012 - 01:50
OFA likes to see flat spots since that is an indication that the knees are rotated inwardly.
by
Ramage
on 08 May 2012 - 02:15
The trick is to differintiate between a normal flat spot and a flattening or remodeling of the femoral head due to dysplasia. A significant flat spot can indicate remodeling. It seems like some vets don't understand what they're looking at. I've seen 4 vets look at the same x-ray (in particular a dog with flat spots) and two will say Good, one say Fair, and one say Borderline. So, the issue is whether the OFA vets are having a good or a bad day IMO. That said, I use OFA so I am not knocking them down but am calling it like I see it.
by
ziegenfarm
on 08 May 2012 - 06:41
maybe i'm too optimistic, but i'd say ofa good. please let us know when you find out.
pjp
by
Blitzen
on 08 May 2012 - 12:32
Depending one where the flat spots are located, they can be indicative of a dysplastic hip. I don't think that applies to this xray, but OFA can be fickle sometimes and difficult to second guess.
by
aceofspades
on 08 May 2012 - 13:52
Thanks for the information. I am really learning as I go. I will definitely share the official results. How long do they generally take? The films will be sent out today.
by
Ramage
on 08 May 2012 - 14:17
Ace - you can pester them at 2 weeks and they will tell you the results. I always call at the 2 week mark and get the results before they're mailed to me.
by
aceofspades
on 06 June 2012 - 00:35
Well the results are in. We have an OFA GOOD on Ace. Thanks so much for all of your input.

Here it is if you care to view.

http://www.offa.org/display.html?appnum=1522836#animal
by
gagsd4
on 06 June 2012 - 00:54
Congrats!
by
CMills
on 06 June 2012 - 01:39
Great news! Congrats.
by
mirasmom
on 06 June 2012 - 02:07
Way to go!
My Lab just got good and she came into heat a few days after doing the ofa,
so I was very happy, I love looking at hips, I just tuned in to see your post, my
guess would have been good to excellent, they are pretty tight,
Congrats!

by
aceofspades
on 06 June 2012 - 02:19
Thanks. My initial thought was fair tI good only because I thought the sockets were a touch shallow. So needless to say I am very happy with an OFA Good.
You must be logged in to reply to posts