German Shepherd Dog > Looking for a European German Shepherd excellant breeder. Bullinger Shepherds? (104 replies)
by
brynjulf
on 29 May 2012 - 00:14
Kim, why would I post the information you have requested on a public forum? If the original poster would like some info, more than happy to PM it to them.
by
brynjulf
on 29 May 2012 - 00:36
Oh and those of you who are wondering yes Kim is an actual person. Not quite sure what the affiliation is with Tony at Canczech. Not my business anyway. They are more into PPD type dogs ( not my area of interest or expertise) than sport dogs and Kim is ( was) more into movie work. He can correct me if I am wrong. Anyhow I am just here to say that he is a real person. As to what dogs he has titled, no idea. Just remember his wife talking about him training or raising wolves for some movie work, that was a zillion years ago to so???
by
ShelleyR
on 29 May 2012 - 01:02
You never answered my questions, Kim.

by
yellowrose of Texas
on 29 May 2012 - 01:31
BRYNj:

THIS IS FROM HIS POST ON DATABASE:

Question for Police K9 folks!

Kelly

I can answer some of your questions (I am a former LEO K9 Handler) Slamdunc will be more up to date on Rules of Evidence pertaining to the search of a vehicle.

skipping to signature


JMO

Kim
by
ShelleyR
on 29 May 2012 - 01:38
Former K9 handler.
BFD
Slamdunc is UTD on everything K9, nothing "former" about him.


by
brynjulf
on 29 May 2012 - 01:41
YR, I don't ever recall his wife mentioning he worked for the RCMP, movie work is what she said. I have never met him in person, I just know his wife well. But he certainly could have worked for the RCMP, we are all old enough now to have spanned a few careers. Eep did I just say that out loud.
by
yellowrose of Texas
on 29 May 2012 - 01:44
Hey I know that..

I was just doing RESEARCH....SINCE I have eaten all my ice cream, HAVE 4 broken ribs, healing partly, and it is a holiday ,

Do not know where the OP is but maybe you ought to STAY IN TEXAS or Stay in the USA FOR A BREEDER.

yr
by
yellowrose of Texas
on 29 May 2012 - 01:53
yip YOU DID.. I am retired from anything that I do not want to do.

I wanted to one day go meet Jane SteffenHagen and she left this world before I got to. Maybe I ought to go visit Canada , on my way to Cambsport WI. and visit the Bullinger campgrounds.

I first have 8 other people here in USA I have to stop along the way to visit..

Got to raise some funds for this first...so I better get movin..

YR
by
Darka
on 29 May 2012 - 02:31
Maybe we could keep to the topic at hand?
by
kitkat3478
on 30 May 2012 - 18:28
This is my Bullinger male. He is EVERYTHING a person could want in a German Shepherd.
When I got Duke,"Xoltan V Bullinger", he was EVERYTHING Tracey said he would be, and more. I have NO doubt, that this dog could have been everything his father, Kevin V Murrtal was, and his Grandfather, Rikkor V BadBoll was.
The only thing that stood between Duke and V rating, was me.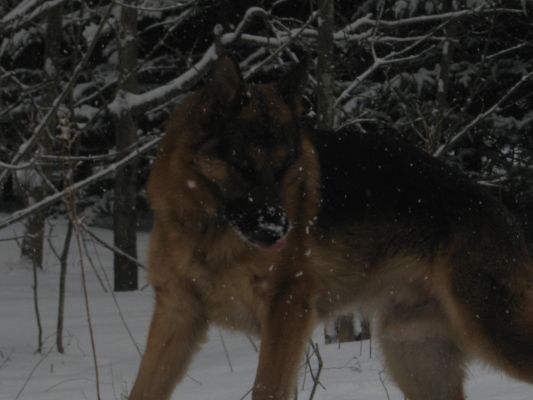 Duke is a very dominant male dog. he is very protective, while at the same time GREAT with ALL children.
He seemed to be fully trained when I got him at almost 5 months old, housebroken, and OB trained. His intelligence and eagerness to please is unbridled.
I could not be more pleased with my dog. I bought him sight unseen. I told Tracey what I wanted, and that is what I got.
No matter when I correspond with her, she replies, very promptly to me.
if you are looking for GREAT Showline, Bullinger is the place to go!!!! joni
by
kitkat3478
on 30 May 2012 - 19:21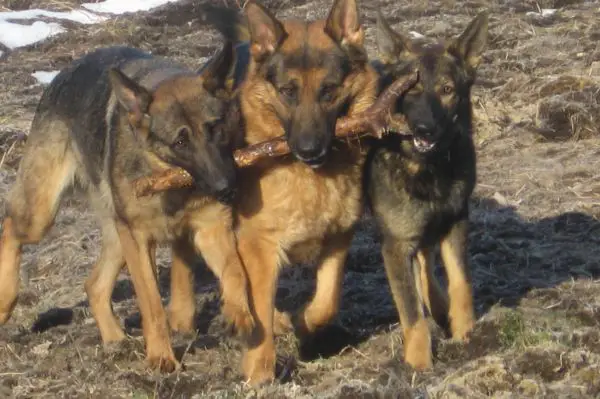 by
kitkat3478
on 30 May 2012 - 19:25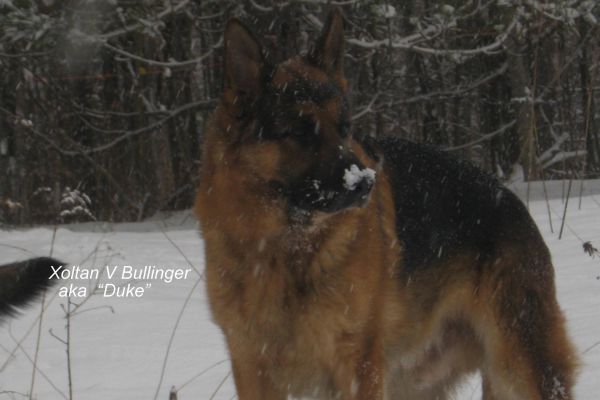 by
GshepDogs
on 30 May 2012 - 22:09
I've known Tracy from the start. I have bloodlines from her A litter. I've watched her work and show her dogs for over 25 years. Tracy lives and breathes her dogs, that is ALL she does. She is NOT supported by a husband, she does it all herself. Her 2010 Canadian Sieger - VA Ichi v Bullinger - is the grandson of Canadian Sieger Brew v Bullinger. I was there when Tracy, herself, put a SchH3 on Brew over 22 years ago. He ended his years, living in pampered comfort and style on a cozy bed in her living room.
I have seen Tracy receive honours from top German judges, trainers, and handlers. You don't get to be as successful as Bullinger Shepherds - with the first class reputation that Tracy has single-handedly built - without also having first class ethics and integrity.
Her idea of dogs with beauty AND brains sounds pretty good to me. And, apparently, to a whole lot of other people!
by
GshepDogs
on 30 May 2012 - 22:16
Gorgeous dog, kitkat!
by
zdog
on 30 May 2012 - 22:51
I don't take anyone's word for shit when it comes to dogs, unless I know that person well and I know what kind of dogs they like. I suggest doing to look at plenty of dogs and decide what kind you like. What is "Everything a GSD should be" to one person, is a dog severely lacking in several areas or a dog that is over the top according to someone else.

Go see what kind of dogs they are and decide for yourself. I've trained a few Bullinger dogs, definitely not my style. While the owner was very happy with her dogs, i can't say I would have the same descriptions of them that the owner gave everybody, not by a long shot.
by
Chaz Reinhold
on 30 May 2012 - 23:27
Zdog, that's the second post I've read today ,by you, that is spot on.
by
zdog
on 30 May 2012 - 23:28
I have my moments, but it's probably all downhill after this
by
brynjulf
on 30 May 2012 - 23:43
The question was is the kennel reputable. The answer is yes.
by
brynjulf
on 30 May 2012 - 23:44
Zdog, the poster is looking for a showline kennel. You arent fond of Bullinger dogs so perhaps you can recommend a showline kennel that does have the type of dogs the poster is looking for.
by
zdog
on 31 May 2012 - 01:38
how do I know what the poster is looking for? That's why I told them to quit listening to people they don't know and get out and see dogs. Find the dogs THEY like then get one. The poster doesn't know me, I don't know them. Bullinger could very well have the dogs they love, but seriously, how people describe them (any kennel) and how someone else might describe them are often worlds apart. The only way to know is to get out and see and experience.

Where those people I train with use words like outstanding and strong, I see barely passable and pretty weak. My fun dog is a huge pain in the ass to some, not enough for others. If you don't know me personally how are you going to know how to take my assesment of a dog? WHen they're just people on the interent talking about dogs they like, people need to take it for what it's worth, and it's not much, at least not when it comes to the substance of a dog.

Sure the comments about being upstanding and standing behind their breedings and stuff are important, but unless you know what you're looking for in a dog and have found someone producing those dogs, you have a lot of searching to do and it isn't on the internet.
You must be logged in to reply to posts