GSD HELP NEEDED
by
peter c
on 05 May 2012 - 13:37
HI THIS IS MY beautiful girl jessie she is 15 weeks old now i need help with her feeding im feeding her on james wellbeloved puppy kibble mixed with james wellbelove pouches 3 times aday do you think what im giving her is ok she was scratching a lot with pedigree puppy food so changed it to james wellbeloved seems to have calmed down abit they do say german shepherds tend to get allergies to most food is this true? she currently weighs 16kgs which i think is about 35lbs also i would love to know what colour i can expect her to turn out when shes older not that it matters just curious many thanks inadvance for your help.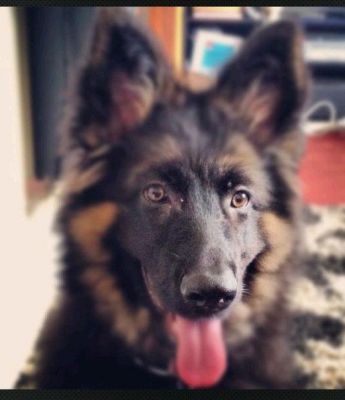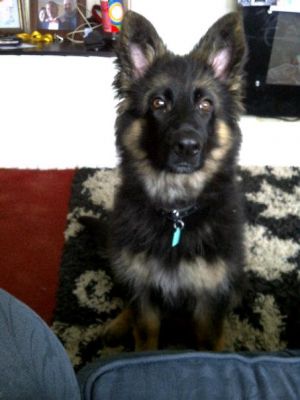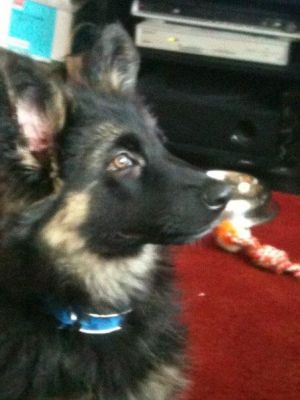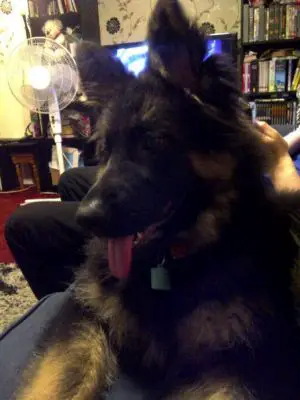 by
magdalenasins
on 05 May 2012 - 14:50
How much are you feeding her? 16k is pretty hefty for a female 15 week old I think? I have a very stocky male that is 15 weeks and 15k and I would like him to be a bit slimmer. Should come out a nice black and tan long hair, lovely pics.
by
peter c
on 05 May 2012 - 15:25
hi yes i feed her 3 times aday about cup and half with the kibble and its only a little pouch of meat food added the vet said she would be a big girl her feet are that big she could wear my shoes lol have you got any pics of your GSD ? would love to see them
by
Hutchins
on 05 May 2012 - 15:56
Peter, She is gorgeous...Its always best to keep young puppies on the thin side because of their growing bones. Being heavy could possibly lead to HD...Of course weight is not the only factor that determines the possibly of developing HD. Keeping them alittle leaner is one way to eliminate the possibility.

Good Luck with your beautiful girl...
by
peter c
on 05 May 2012 - 16:02
hutchins thank you for your help
by
magdalenasins
on 06 May 2012 - 06:05
That seems like a good amount to feed, honestly I haven't fed that though so I don't know-if I feed kibble it is EVO or Orijen and most of my dogs have done well on about 2-3 cups a day whatever their ages. I posted pics of my pups in the other thread for pictures you started. Will include Pan here. He's probably about 16 kilos now at 15 weeks. Definitely ribby and lean but huge bones and head for a pup (bigger than I prefer really). We have his brother who is a good 2 or 3 kilos lighter than he is and not as big boned which is nice and sporty. We feed raw though so it's sort of random as far as how much they get daily, mostly they just stop eating when they are done though I try to feed about 2.5% of their body weight a day but see how they are looking and adjust as needed.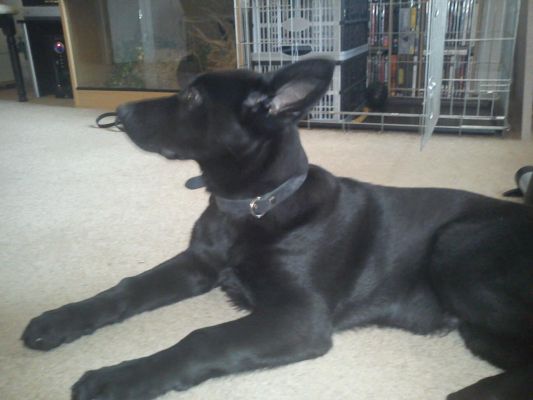 by
Blitzen
on 06 May 2012 - 11:31
Yes, allergies are very common in this breed, mostly inhaltion, but food can be the culprit in some cases. I think you've already received some good suggestions for her diet and I would only add that dogs with any sorts of allergies should never be bred, it is genetic.

Enjoy your dog, she's very pretty.


by
fasteddielv
on 06 May 2012 - 17:09
magdalenasins, did you mean 2.5% of projected body weight, i.e. 2.5% of 90 lbs.?
by
peter c
on 06 May 2012 - 18:30
magdalenasins thank you so much for your help
by
magdalenasins
on 08 May 2012 - 10:41
Not sure if this is still the number but 2-3% is what I have reqad on raw sites (prey model). Puppies can get as high as 10% of their own weight but yes it would be about 2.25 pounds a day if you think your dog will be 90 pounds. That obviously gets adjusted with the activity level and how the dog looks. Here's an easy calculator:

http://www.raw4dogs.com/calculate.htm

(that's just for raw thoug not sure what figures James Wellbeloved posts-usually when feeding klibble less than what the bag suggests has been the just right amount for me)
You must be logged in to reply to posts